Why I'm Glad My Daughter With Special Needs Stands Out
---
As a parent to a child with special needs, you come across many moments that bring out the best in you (or the worst). If I had to pick just one, I'd have to go with the very first day I stood up for my daughter.
 I was  six months' pregnant and headed for my first ultrasound (ever). I had an array of emotions coming over me. As a first-time mother, you don't know what to expect, but at six months, you know one thing you can get out of it: gender! My fiancé and I both wanted a little girl. He was sporting a handsome little man I was privileged enough to know, and we wanted the matching set. So we hoped for a little girl with my fair skin and long hair and his smile and curls. We knew exactly what we wanted her to look like, detail for detail. The extra details that may come never crossed our minds.
It was the moment of truth, and with my aunt by my side, we began the endless clicking process. After what seemed like an eternity, the technician said she'd get the doctor to come speak with me. Again, this was my first time, so when my aunt noted that her experience was different, I chalked it up to it being a different hospital. But a part of me began to sound the alarms, especially after the doctor came in and began the same endless clicking from before. Almost three hours later, my body was shivering, either from the cold air or sudden case of nerves. Finally, the lights came on and he spoke. Nothing in the world could've prepared me for what came next.
The doctor explained my daughter would be born with spina bifida. He showed me on the monitor the pouch on my daughter's back that led him to believe her spine had broken through. This would in turn prevent my daughter from ever walking. He recommended an amniocentesis to confirm, and that confirmed his diagnosis.
Now this was where I came face to face with an unbelievable reality. This doctor, this stranger, started giving me options. Option one was to abort at six months. Because "most women find the responsibility to be financially and emotionally beyond their own abilities." He did not feel the need to go beyond that option. In my mind, I knew one thing for sure: Abortion was not an option; that was for sure. My baby has a heart. I felt it move. She was going to live. I loved her (or him). I looked him straight in the eye and said, "I just wanna know if it's a boy or a girl?" Nothing else mattered. With what appeared to be a sigh a relief, he told me what I wanted to hear, shook my hand and sent me home.
I broke the news to my fiancé and then my family. Through the tears and questions I wasn't prepared to answer, one thing was made very clear: she would be loved. And that was enough for me to know I made the right choice when I chose to stand by her.
Many people fear what they don't know, understand or aren't prepared for. And that's what frightened me. But I learned all I could about her diagnosis. I prepared myself and my family. And we weren't scared anymore.
So she would be different. People go all their lives trying to stand out, and she'll be born standing out. If anything, she's ahead.
I had nothing to offer my child but love, and for our daughter, Ellianna, love is enough. She is kind, caring, sympathetic, energetic, loving and almost always happy (she's a preteen, hence the almost part). These kids are not special because of the extra attention or effort required to care for them. They are special because through them, kindness is found, faith and hope resides, and unconditional love grows. Everything that makes a person great is relearned through them. But they are too quickly disregarded simply because they dont meet a basic definition for the term "normal."
I'd rather she stands out. After all, she's meant to shine bright.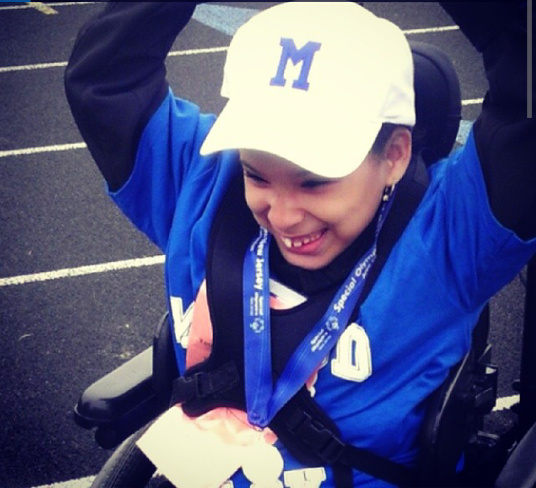 The Mighty is asking its readers the following: Share with us the moment, if you've had it, where you knew everything was going to be OK. If you'd like to participate, please send a blog post to community@themighty.com. Please include a photo for the piece, a photo of yourself and 1-2 sentence bio. Check out our "Share Your Story" page for more about our submission guidelines.
Originally published: July 7, 2015