Camping in the Outback After My Boyfriend's Spinal Cord Injury
---
"What the hell am I doing?" I thought, watching as my boyfriend Kev vomited strenuously into a plastic tub, then slumped, shaking and exhausted, back onto a pile of fetid sheets, heated from within by his fever. We were holed up in a motel room in Western Victoria, on day two of a four month camping trip around Australia. Beside the bed sat a shiny new wheelchair he didn't know how to use.
"He is going to die if you continue," hissed my mother, voice croaky with concern. "It's irresponsible taking a recently disabled man with serious health problems camping in the Australian outback, thousands of miles from hospitals."
Worries ambushed me – babbling that maybe she's right. What if we break down and have to walk for help — or rather, I have to walk for help? A psychopath could kill us and bury us in the desert somewhere. Kev could be savaged by an inland taipan and not feel a thing, brush against an Irukandji jellyfish while swimming, or drag his bottom across a stonefish lurking on the sea bed. Not to mention the myriad medical concerns due to him being a paraplegic, sand and germs getting into his sterile catheterizing process sparking an infection, heat stroke, pressure sores, and autonomic dysreflexia – a potentially deadly, nervous system freak-out — all of which people with spinal injuries are susceptible to, particularly in the murderous heat of an Australian summer.
I had to put it all out of my mind or I was going to hyperventilate.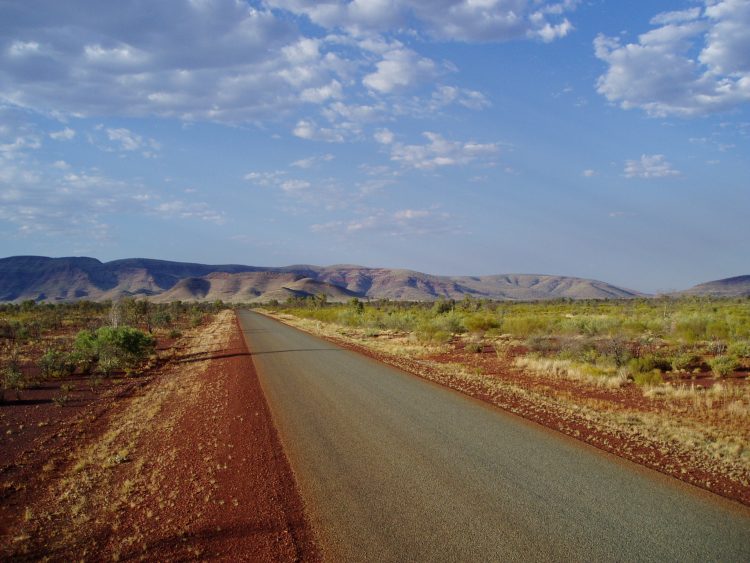 Five months previously, while running a geophysical survey in Northern Canada, Kev had fallen from a cliff, fracturing his leg, puncturing his lung and breaking his back. For hours, he lay motionless in the dark forest, unable to feel his lower body and hoping desperately not to attract the attention of the many bears and wolves he'd seen while hiking the survey zone.
After he was airlifted to Vancouver, we were given five days of hope before a neurosurgeon gently told him he would never walk again. It was as though an icy wind had wrapped around us, and swept away all the joy in the room — all the joy in the entire world.
Six weeks later in spinal rehabilitation hospital, he was learning how to sit up without core muscles, move in and out of his wheelchair and hold a wheelie by balancing on the two large back wheels. But it soon became clear there was much to learn that could not be taught in a rehabilitation hospital – things that to us were crucial.
We had met a couple of years earlier, both working at a ski resort in British Columbia, and spent several years doing back to back winters between North America and New Zealand.  Outdoor pursuits and travel were very important to us. Ignorant of spinal injuries, we had no idea what life was like as a wheelchair user, but we knew the kind of lifestyle we wanted to live and we needed to figure out how we could reclaim that lifestyle.
At a time when even a trip out of hospital to a restaurant without calamity was an accomplishment, the thought of camping was daunting and terrifying. Yet traveling appealed to us because it delayed facing reality. An adventure was something to look forward to instead of mournfully looking back.
So we flew to Melbourne, bought a Hilux, installed dodgy hand controls — little more than golf clubs duct tapped to the pedals — stocked up on medical equipment, camping supplies, and large quantities of antibiotics and neuro-suppressors that would be difficult to find outside of major cities.
From Melbourne we traveled west across the Nullarbor with my anxious, overprotective mother, through the remote north west with a free-spirited British backpacker and down the verdant east coast alone, our relationship hanging by a thread.
Still recovering from the injury, Kev's body had taken a beating and his health was marginal. Urinary tract infections kept cropping up like a whack-a-mole as Kev churned through the drug stockpile. One nasty infection became systemic. He seared his calf to a weeping, blistered pulp as it rested against sun-baked basalt at a swimming hole outside of Katherine, and acquired inexplicable sores on his legs that we both hoped wasn't some kind of creepy tropical parasite.  Falls were frequent due to inexperience and muscle spasticity sabotaging his transfers and hurling him sideways.
I became adept at removing doors seized in paint to provide a few extra centimeters of clearance. Slabs of wood sufficed as makeshift ramps, and a plastic lawn chair worked as a shower chair. After countless attempts, the first time Kev dragged himself into his wheelchair from the ground was on a remote beach side campground near Exmouth in WA. He held a wheelie through sand, mastered a way to climb up and down flights of stairs by pulling his legs up behind him, dropped down steps and bumped up curbs like a kid on a BMX.
We snorkeled on the Ningaloo in the West and the Great Barrier reef in the East, rode camels on Broome's iconic Cable beach, forded monsoon swollen rivers, marveled at the abundance of flies and the malicious heat of the desert, ate beer-battered reef fish seasoned with sand and washed down with cold beer. Kev learned to swim and set up a tent from a chair, but most importantly, he learned to accept and to laugh at his disability.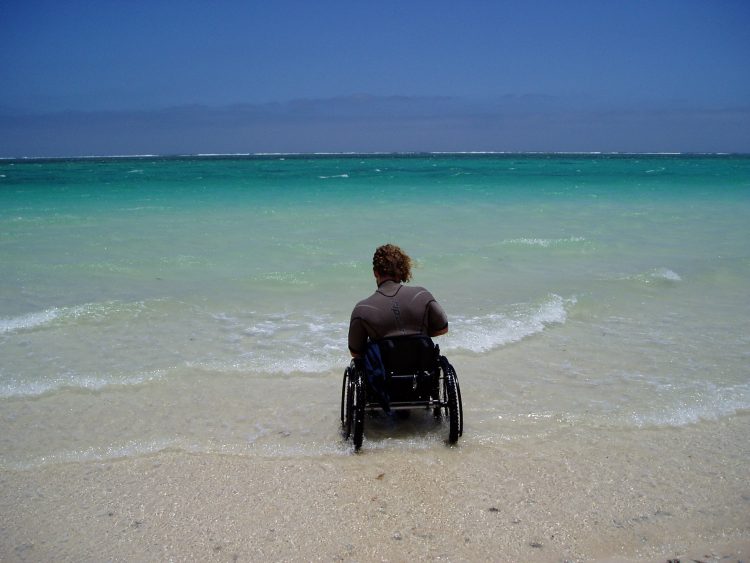 We talked about what we had lost and held precious what we retained. We learned to understand Kev's actual limitations instead of accepting other people's perceived limitations. We realized that although it sucked that the accident happened, it was not the end of everything as we'd initially feared.
And somewhere along the way, we became less afraid and could finally see a future together.
Emma White's memoir "Broken" is published by Melbourne Books and her blog can be found here.