A Decade of Living After Trying to Die
---
In late June of 2006, I tried to kill myself.
Then.
I was flailing.
I was three years into a volatile relationship with a woman who swept me off my feet and into a whirlwind romance in the summer of 2003. We lived in a one bedroom apartment, all wood-paneled walls and low-pile beige carpet, in downtown Johnson City, Tennessee. We did everything together: we lived together, worked together, went to school together, watched indie films and made art together, partied with the same people, fed off each other's insecurities, screamed and yelled and destroyed each other's things, cut ourselves (separately) in the same bathroom, pushed and pulled and hit and hurt each other.
***
My first memory is of my dad throwing an alarm clock at my mom's head. Years later, I watched another man drag her around by her mop of thick, curly hair, her knees scraping across the terracotta tiles in the living room.
I remember thinking to myself then, "That can never be me."
I didn't recognize it was me, that the exact same thing was happening in my own life, until that summer.
And I didn't know how to stop it. I thought love was enough to fix it, and my love for her was so desperate and so single-minded that I believed we could fix it. She was the be-all, end-all. I wanted it to work with her, and if it couldn't, I wanted to die. My mind saw no other options.
But it wasn't working. I couldn't fix it.
***
I would come home after a day of waiting tables and sit on the porch, distraught, scratching through pages and pages in my journal, chain smoking, listening to the trains pass behind our house, wishing for whatever kind of fortitude it required to lay on the tracks and wait.
Those suicidal thoughts, gifted to me by my adolescent brain, were nothing new. They were just exacerbated by the situation and had, at that point, been steadily building in intensity for two years.
***
Despite my struggles, I achieved every goal I set for myself.
I volunteered at the crisis hotline and shared about my self-injury for the first time. I won awards for my writing. I discovered photography and showed my work in small galleries. I was an undergraduate researcher. I got my degree. I got accepted to a Ph.D. program back in my hometown of Miami. I had a family and friends all over the country willing to support me, no matter what.
I had a future, but I didn't believe it.
***
On June 27, 2006, the switch flipped and I decided I was done. But my plan didn't pan out the way I intended.
I woke up the next morning in a friend's bed, in terror, alive. I'd made myself a promise in the hospital the night before: I was going to stop hurting myself, at all costs.
And if I wanted to keep that promise, there were a lot of choices to be made.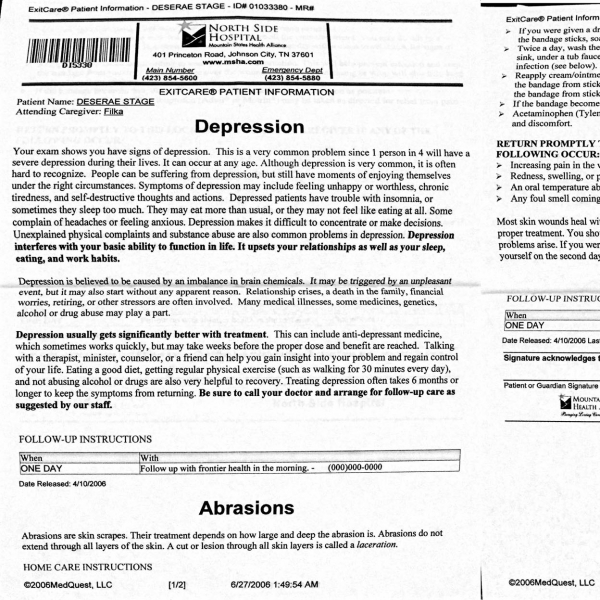 Now.
I live in Philadelphia with an incredible human — an intelligent, funny, kind, beautiful, patient woman — who said, "I do," and, "I will," and allowed me to put a ring on her finger, signifying a lifelong promise of partnership (and an unspoken contract that I must do everything I can to live, despite my mind's occasional spirals). We communicate often, argue well (most of the time), make up easily. We live alongside six furry creatures. We each have careers that fulfill us, and we each enhance the other's work.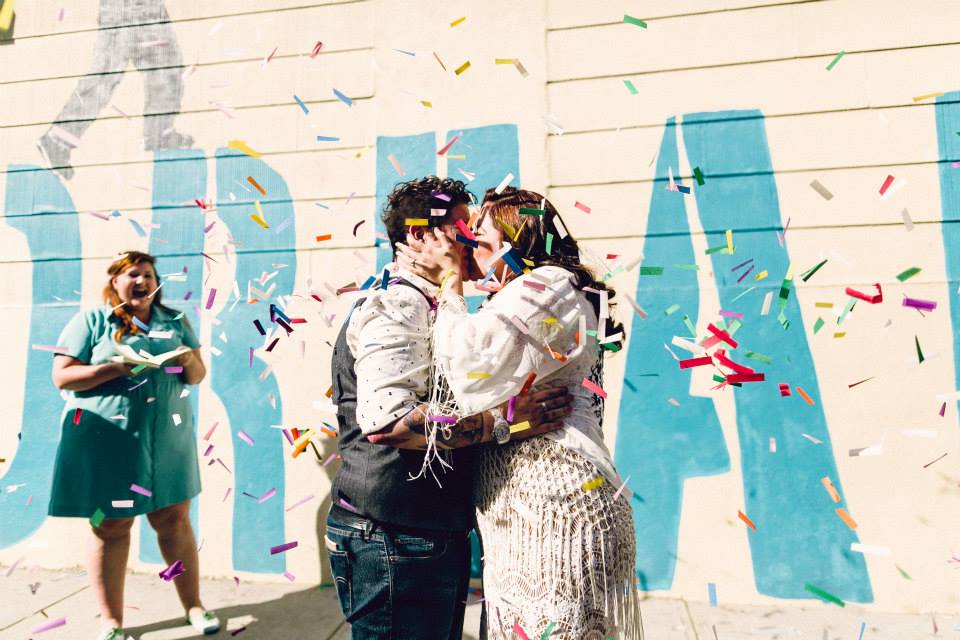 The past year has been one of extreme growth: a wedding; a move from Brooklyn to Philadelphia; a full-time freelance career (instead of juggling freelance with part-time work); a new puppy; a new home; a new car; and new challenges.
***
When I saw my new therapist for the first time, she asked, "Who is your primary physician?"
"I don't have one."
"When did you get your last physical?"
"I don't know."
"Your last gynecological exam?"
I shook my head. "I only have so much energy in me, and I choose to use it to maintain my mental health. I'm here. It's the best I can do right now."
***
I struggle to fall asleep. I struggle to wake up. I forget to eat. My diet consists mainly of beer and cheese. I no longer walk 3–5 miles a day like I did when I lived in New York and have, subsequently, gained 20 pounds. I hate looking in the mirror. I am irritable. I forget to feed the dogs. I forget to take the trash out. The prospects of cooking, cleaning, or doing the laundry overwhelm me to the point of paralysis.
My mind says, "You are useless. You are worthless. Everyone around you can do these things. You can't, and that will never change."
I am flailing.
***
Despite the challenges, I have a future I look forward to. I have a wife with boundless love for me. I have friends and family all over the country who support me, no matter what. I have work I love doing and opportunities beyond expectation. I just signed a lease for a studio of my own. I travel regularly. I want for very little.
Ten years later, the struggle is still very, very real, but life is flawed and beautiful and I'm glad I'm still here.
If you're hurting, afraid, or need someone to talk to, please reach out  —  to anyone, anywhere. Someone will reach back. Please stay. You are so deeply valued, so incomprehensibly loved  —  even when you can't feel it  —  and you are worth your life.
You can reach the National Suicide Prevention Lifeline at 800–273–8255 or Trans Lifeline at 877–565–8860 (U.S.) or 877–330–6366 (Canada). If you'd like to talk to a peer, warmline.org contains links to warmlines in every state. If you don't like the phone, check out Lifeline Crisis Chat or Crisis Text Line. If you're not in the U.S., click here for a link to crisis centers around the world.