This Graphic Perfectly Shows How EMDR Can Help You With Trauma
---
How can EMDR therapy Help You? If you have experienced trauma(s) then you may have been told that you should check out EMDR therapy.
EMDR stands for eye movement desensitization and reprocessing. So how can it help you?
When trauma happens, our brain's information processing system can get stuck and the trauma memory can remain undigested and unprocessed in our memory network.
Later when you are triggered, you may get pulled back to this unprocessed memory, bringing back all the emotional charge associated with that memory and subconsciously it may feel like the trauma is happening NOW.
In simplified terms, EMDR is a process that helps to kickstart the brain's information processing system, especially for trauma memories. These memories can then get digested and processed by the brain.
Once processed, these memories lose their emotional charge. We then know within our gut, that this is just a memory from the past and that it is not happening now.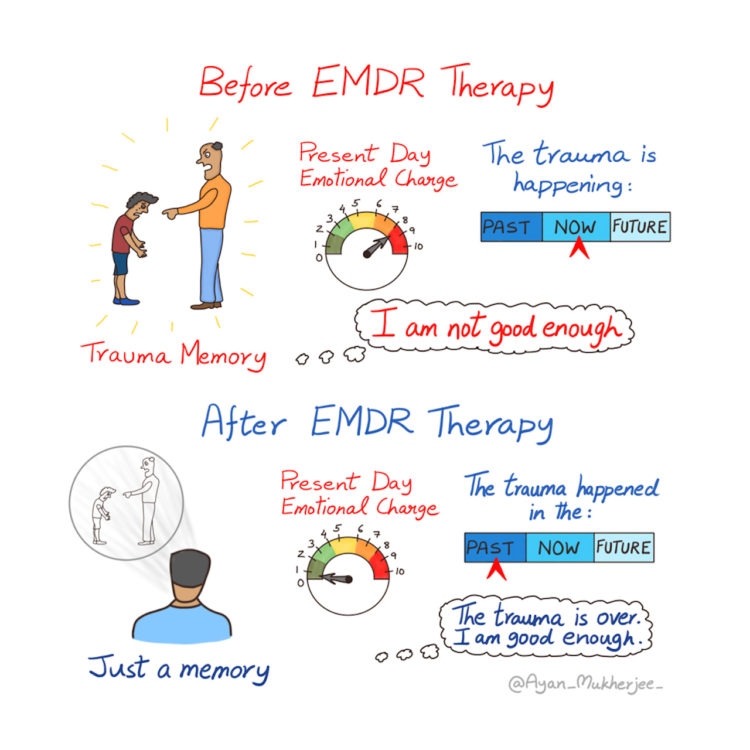 [Image description: Headline "before EMDR therapy" is followed by an illustration of an older man getting angry and pointing at a young child who is crying, labeled "trauma memory." To the right, a "present day emotional charge" gauge from 0-10/green to red shows an arrow pointing to an intensity 8 in the red. The trauma is happening now. Below is a second headline, "after EMDR therapy." A man remembers a gray version of the man yelling at a child, which is labeled "just a memory." On the present day emotional charge scale, the memory now registers as a 0, while the trauma happened in the past. Image credit: Ayan Mukherjee]
EMDR therapy can also be used to alleviate symptoms related to anxiety, low self-esteem, traumatic grief and panic attacks, apart from its traditional role in healing post-traumatic stress disorder (PTSD).
Learn more about EMDR, trauma and trauma therapy through Ayan Mukherjee's graphics on Instagram or Therapy Illustrated. 
Read about other Mighty contributors' experience with EMDR in these stories:
Originally published: October 22, 2020