Christina 'Mouse' Jennings Wants to Inspire Young Girls With Chest Scars
---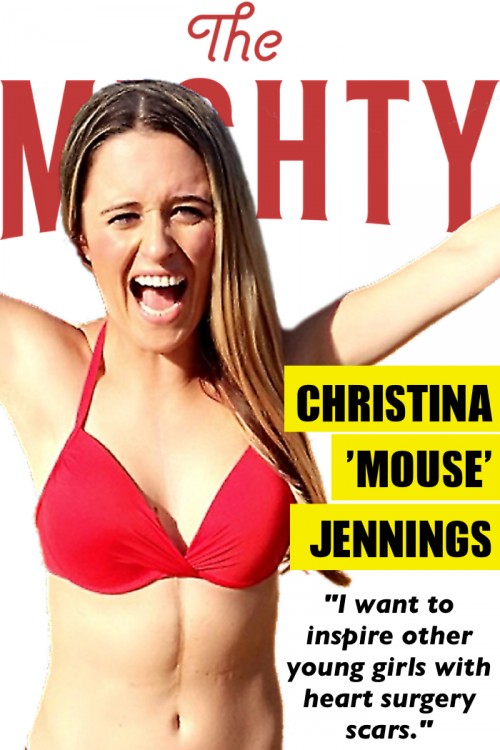 Christina 'Mouse' Jennings has no problem showing her scars if that means it will help others. Jennings was born with a rare congenital heart disease known as tricuspid atresia. Since then, the 30-year-old has had four open heart surgeries, the last of which left her with a pacemaker protruding out from her abdomen. "My biggest scar, from the top of my neck to my belly button, has been there since my first open heart surgery when I was 5 months old," she said.
Jennings also has a large scar on her abdomen from a feeding tube she had as a baby, scars from where her pacemaker is in her abdomen, a large scar on her shoulder blade, and small circular scars on her chest from chest tubes.
Since Jennings, a revenue analyst at the University of Iowa Hospital, has grown up with her scars, she feels comfortable showing them. "I am proud of the all of the large scars that are especially noticeable in a swimsuit," she said. "[My scars] show people who I am and are a glimpse into my life story."
While Jennings feels comfortable in her skin, she does wish she were more toned. She's tried training with her husband, a personal trainer, but that hasn't always worked out well for the couple. "Trying to have my husband 'train' me was difficult," Jennings said. "I am a bit sassy sometimes, especially if I am doing something I don't like to do. So when my husband tries giving me instructions and is in the position to be able to 'tell me what to do' – like how to lift the weights, what weights to lift – it doesn't go over very well."
There are certain exercises Jennings can't do, like lifting heavy weights above her chest. "My pacemaker I have is also located in my belly which makes certain exercises like doing sit ups and squats uncomfortable for me," Jennings explained.
Growing up with what she calls "fairly good confidence about her scars," Jennings wants to help other young women and girls with heart disease. "I want to inspire other young girls with heart surgery scars," she said. "[To do] so I must be comfortable in my own skin and about my own scars. I shouldn't be ashamed of what I look like and the life I'm fighting for."
Read More: This Is What It Looks Like When You Feature Disabled and Chronically Ill People in Magazines
Next: Tristen Wuori, on Going to the Beach in the Summer With Lupus