What My Husband Says When I Ask 'Do You Think I'm Dying?'
---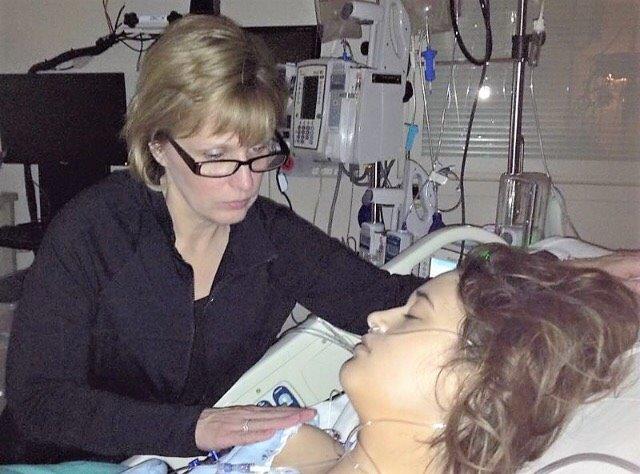 Something amazing and scary happened four years ago. I faced death and I kicked its butt. Actually I've been kicking life's butt ever since I was a baby, when I was born with a rare congenital heart disease known as tricuspid atresia. But, the butt-kicking four years ago is my favorite.
I've had a ton of surgeries in my lifetime (and, by tons I mean if I counted them on my fingers it would take both hands). Although I've had a lot of surgeries, the one four years ago was my first one as an adult. It was a serious, life threatening surgery; my fourth open heart procedure.
It was the first time that I would sign away my life to the doctors. It was the first time I would draw up a will — with a lawyer I had never met before. I barely understood what I was signing, but I signed it. I stated my wishes: what I wanted my death to look like if it got to that point. Yes, please resuscitate me, but no don't let me live like a vegetable.  I learned that life and death is confusing.
It was the first time I truly understood the magnitude of my heart disease, a disease that has no cure.
So, four years ago I went through a terrible and painful surgery. They cut out a piece of dead tissue from my heart because it was no longer functioning. My body was working extra hard to pump blood into an area of my heart that could no longer handle the blood. I also got a pacemaker implanted. A "precautionary" pacemaker — not because I needed one at the time but, because I may need one in the future. What better time to do it than at the age of twenty-five when they were already ripping me open? So the surgery happened, and it was painful, horrifying, maddening, spiritual and life-changing all at once. Most importantly, it was life-changing. I've been told that I've changed since that last surgery. Sometimes when people say "change," the immediate reaction is a negative one. But change isn't always negative; it may just mean that you're growing.
I have no doubt that I have changed. I know for certain that I have. But the surgery itself isn't what changed me; it was the experience that changed me forever. It was the experience that awakened me to life in a new way. In the last four years I have felt over and over that someone has been shaking me. "Get up, live your life, and live it the way you want to live it."
In these past four years I have done things that have changed my life. I broke up with a terrible, manipulative boyfriend. I finally let go of someone I loved for years. I quit a job where I was no longer happy and had me drinking almost every night. But, most happily, I found the love of my life and I married the love of my life. I started a dream job at the very hospital, The University of Iowa Hospital, that changed and saved my life four years ago.
I've changed and I live differently now. I say what's on my mind a lot more. I book myself to the max. I'm always busy because I try to see everyone who is important to me, just in case I die tomorrow. Sometimes I think irrationally because when death is on your mind constantly, it can eat at you. It brings every second of my life to the forefront and forces me to look at it constantly.
A life or death experience is life-changing. And with it comes even more life-changing things happen. That is the truly amazing thing!
I say to my husband often,"Dear, do you think I'm dying?" And, his sweet patient, self always responds the same way: "Dear, we're all dying."
It's the most perfect, and reassuring response he could ever say.
And, he's right; we are all dying. You are dying just like I am dying. I may think about it more than is healthy (roughly at least ten times a day, seriously). Most of us think about death when we see someone who is sick or when someone dies. We think of it when we get sick ourselves, when we face a surgery or face some other crisis situation. But it is the same for everyone; we are all dying.
So, say "yes" when you mean it and "no" when you don't want to do it. Dance on the bar when your feeling the urge, and stay home when all you want to do is cuddle with your dog. Say what's on your mind and do what you want to do. If you are doing things from a place of kindness and happiness then you are probably living your best life. Just do whatever it is that will bring you happiness and if you can make other people around you happy too, then that is a bonus.
You know what is good for you and your happiness, so try to avoid letting other people tell you how to live your full life. Dig deep. And most importantly, say what you need to say. Let your heart open up and explode.
If there is anything I have learned in these recent years and living with a congenital heart disease, it's that life changes you and people change you. So, embrace the changes. Embrace that person you are today and not the person you were a year ago or five years ago. Live your experiences, grow from them and let them change you. No one will ever continue to be the same person.
We are surrounded by so many opinions and those willing to give us advice and suggestions on how we should live our lives. I recently came across a quote that I feel addresses this:
"The most beautiful person is the person that is true to themselves." 
I fee this is the only piece of advice we need and the only one that matters.
Follow this journey on Peaces of My Heart
The Mighty is asking the following: Share a conversation you've had that changed the way you think about disability, disease or mental illness. Check out our Submit a Story page for more about our submission guidelines.
Originally published: June 22, 2016