Dear Parents of Kids With Disabilities, We Are the Protectors of Superheroes
---
The screen came to life in graphic bursts of vibrant color and the sounds of symphonic movie scores swept through our home. The meteor crashed into Earth in a spectacular explosion spewing vibranium everywhere; my son's eyes widened as he drank in a 7-year-old's dream—the origin of a superhero.
My wrist faintly vibrated, startled me and caused my heart rate to instantly rise. The Apple Watch strapped around my wrist was like some sort of Pavlovian torture device that induced momentary panic whenever it alerted and my daughter wasn't right with me. I was stolen away from the screen and into my own world—like Batman called by the Bat Symbol. When the watch buzzed, my body would instantly flood with chemicals — readying me for the potential emergent phone call until my mind could process and reason with the automated physiologic response and back down. It was only a text message. I forced a breath out and willed my heart to slow and read.
"Last update they were placing number nine of 16," accompanied by a heartbreakingly gorgeous photo of my friend's daughter.
Surgeons were placing the ninth out of sixteen depth electrodes into the brain of my friend Blair's sweet baby girl to invasively monitor her epilepsy (stereoelectroencephalography—sEEG) in hopes of gaining enough data to resect or ablate some of the abnormal tissue and halt the barrage of seizures caused by tuberous sclerosis complex (TSC).
"11."
I felt the blood rush to my face and suffuse my body with the superhuman strength that is required to respond when emergency strikes—damn watch! I brought my brain back online. I was like the Hulk willing the transformation to stay at bay.
I channeled my energy into my response of support to Blair, read our friend Bridgett's response on the group text, tapped out what words I could muster, and thought of how improbable it was for our lives to have crossed. Blair lived over four hours away, Bridgett another two from there, and we had little in common practically. We were all brought together when TSC exploded into our lives like the meteor blazing across my TV screen and became the source of our superpowers, our connection, and our bond.
It was our origin story.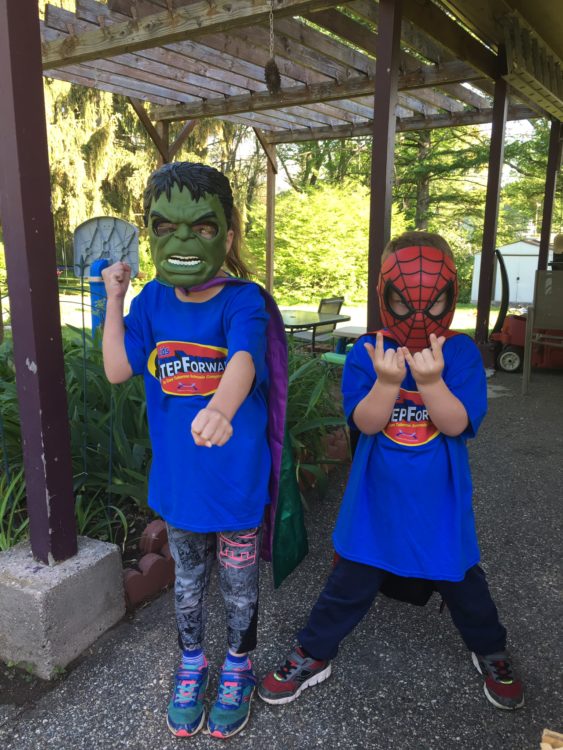 There is a before—there is always a before in an origin story—and an after. Splitting the before and the after is an event of immense, life-altering significance—one that changed the person and became his or her new beginning. The person emerged from this event is fundamentally changed right down to the fiber of their very being; when they emerge they often struggle to find their footing and own the power they have gained through the soul-changing experience.
Once one was able to walk through the fires of grief and tumultuous period of change, one emerged with new powers that others simply did not possess—superpowers. Like Marvel's "X-Men," those with superhuman abilities gravitate toward each other and find others in their own tribe. Once there, they share their own origin stories and it is what bonds them.
Parents of children with disabilities are typical people who all have an origin story and now possess some superhuman characteristic. We are protectors of the true Superheroes and we are powerful in our own right. To hand one's child over to a surgeon for brain surgery, 1,500 miles away from home, while their two children are back home with family takes superhuman strength. It takes a tribe of those with superhuman strength to hold their other tribe members up. As a mother, Blair's strength was superhuman, and she had Bridgett and me to hold her up—regardless of the differences in our origin stories.
The life-altering event could be a diagnosis of TSC, cystic fibrosis, autism, a car accident, or something else unnamed, and for those who have just experienced this—welcome. "Welcome to Holland" and welcome to the Tribe.
To those who are crawling out of the radioactive pit of their origins, you will find us—in doctor offices and therapy waiting rooms, on Facebook groups, and in charitable organizations. We will whisper the stories of our beginnings to you and offer you our shared strength. You will learn from us and, in turn, us from you. We will become forever bonded.
Our tribe is one of fierce love, superhuman feats, and a dash of the mundane. We are the protectors of Superheroes and those who have gained superhuman love and strength from a life-altering event.
"With great power comes great responsibility." There is no greater power than the love of a parent, and no greater responsibility than caring for and protecting a child.
Originally published: October 28, 2018