Why Running Has Helped 'Team Tilly' Manage Their Daughter's Rare Disease
---
"Down Under" and on the outskirts of Melbourne's East lives an extraordinary little girl with an equally remarkable little family. "Team Tilly" comprises of young Matilda (who is a prep student at the local primary school) and her parents Mike and Eryn. Matilda was born with a rare disease called tuberous sclerosis complex which impacts all major and vital organs through the growth of tumors. Since Matilda was a newborn, she has battled with severe epilepsy, which she has since found some relief from (although not before a marathon brain surgery three years ago). She requires a great deal of regular medication, frequent visits to the hospital, and also faces an uncertain future from behind her little glasses and broad infectious smile. However, it is the future uncertainty and question mark which lingers in the minds of both her parents who try to remain conscious to make the most of their everyday single with the youngster.
Two and a half years ago Matilda's mother Eryn (who is now an ultra-marathoner) commenced running as a way of keeping a clear mind while Matilda underwent chemotherapy. Adventures in the stroller while running with her Mum proved to be a tremendous way for Matilda to keep active and enjoying the great outdoors (even while she was really unwell and weak) throughout the course of her treatment. The family members are frequent participants at their local Lillydale Lake parkrun when the weather and elements are kind enough to have Matilda out and about. Eryn is very community-oriented and has links and affiliations to several other running communities including Up and Active's – a group for all running abilities, the Slow-burners running group, Team George and Running Humans network on Facebook. She is well-known for her strong spirit, and the apple really doesn't fall far from the tree with young Matilda who loves being out on the trails beside her mum.
Running has proven to be a point of strength for the family, creating mental and physical toughness through myriad health challenges for Matilda. It's also expanded their network as they have met and helped create a running community, made new friends, and are encouraged to see more places throughout their journeys. Eryn explains, "As parents running has allowed us to demonstrate to Matilda by example, that through hard work and determination, even the seemingly unachievable can be achieved. Matilda and her approach to taking each challenge with a determined stride has inspired us to persevere even when the going gets tough." And Eryn proved that determination to be true last year, when through sheer grit and determination, she completed the Tan 50km Ultra Trail in iconic inner Melbourne. She recalls that, "Despite being injured and exhausted, having Matilda on the sidelines watching on was so incredibly motivating, and it was my absolute honor to be able to run with her over the finish line."
Unfortunately, Matilda's condition proves to be a barrier for full participation and since the youngster has outgrown commercial off-road prams the family has not been able to visit the beautiful places (including gorgeous local state and national parks) they used to frequent during family time. Matilda had a strong affinity to trail running and loved being amongst nature pointing out various trees and wildlife along the way. Matilda's mother Eryn wants nothing more than being able to visit these places again on running journeys. Eryn dreams of being able to create memories and compete in running events including marathons as a family. To have Matilda back on the trails where she feels so at home would be a dream come true. It would help give back the sense of freedom she became accustomed to while running, singing and waving to passers-by on the trails with her Mum.
Freedom was the reason the family commenced running to begin with. They not only wanted to free their minds, but also give young Matilda freedom and a break from bed throughout her illness when she was just a toddler. At that time, Matilda's parents (Eryn and Mike) had assumed Matilda would meet her physical milestones alongside her peers. However, for reasons unknown to the family, Matilda, currently at age 5, continues to struggle significantly with walking. To assist her stability, she wears braces on her legs for support and while these help considerably, Matilda still fatigues quite quickly (her gait it also affected) and she can generally only manage to walk to up 200 meters at a time.
The family, affectionately referred to as "Team Tilly," currently only has access to a wheelchair with which they can only run on flat terrain for short distances. They dream of nothing more than Matilda regaining that sense of freedom by having a jogging stroller. Access to this jogging stroller would allow the family to get back up and running, which would in turn give Matilda back the accessibility that many of us take for granted in our daily lives. Eryn refers to the "precious gift" of Matilda feeling the wind in her hair and having the ability to travel at the speed she will likely never manage on her own two feet. After all Matilda has been through, and with the positive outlook and approach the family has maintained throughout, I cannot think of a little girl and her family who are more deserving of such a gift.
If you are able to make a contribution to help the Team Tilda along their trail to freedom, please consider making a donation through their GoFundMe page.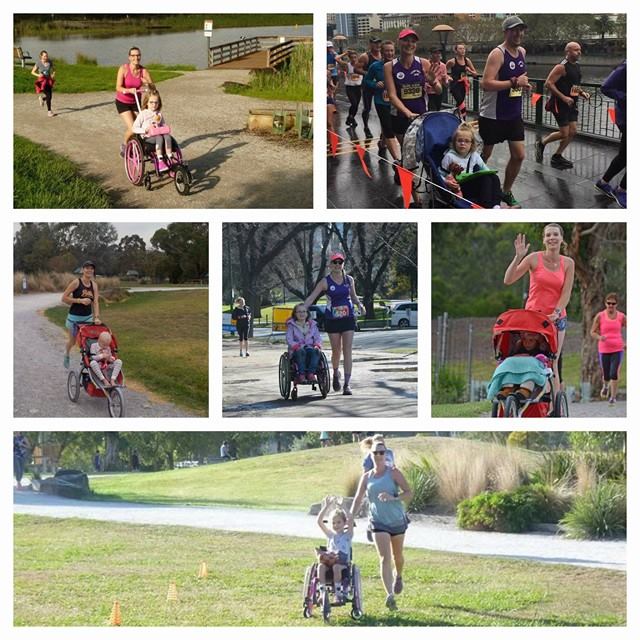 We want to hear your story. Become a Mighty contributor here.
Getty Images photo via sportpoint
Originally published: February 15, 2018