This Woman Tattooed Her Response to People Staring at Her Skin Condition
---
Tiffany Posteraro has vitiligo, and she wants you to know it.
Vitiligo is a disease that causes the skin to lose pigment in patches, according to the American Academy of Dermatology. It can also occur in hair or any part of the body that has pigment. It's not life threatening or contagious.
Posteraro, 24, from Boca Raton, Florida, first noticed small spots of white on her knees when she was 7, according to The Mirror. When she was 14, after a Google search, she realized she wasn't the only one with the condition. But she still struggled with stares and bullies in school.
"People would say, 'did you tan under a tree?'" Posteraro told The Mirror. "I got called 'cow,' 'Dalmatian,' 'ghost face,' 'burns victim.'"
A vitiligo sufferer has come up with the PERFECT response to people's stares http://t.co/SQx6exVYvW pic.twitter.com/AcVZfxHJ52

— Daily Mirror (@DailyMirror) August 20, 2015
She spent years covering up her skin with clothing, heavy makeup and dark spray tans. Then she saw Winnie Harlow, an America's Next Top Model contestant who has the condition on TV, and began to feel a little less alone.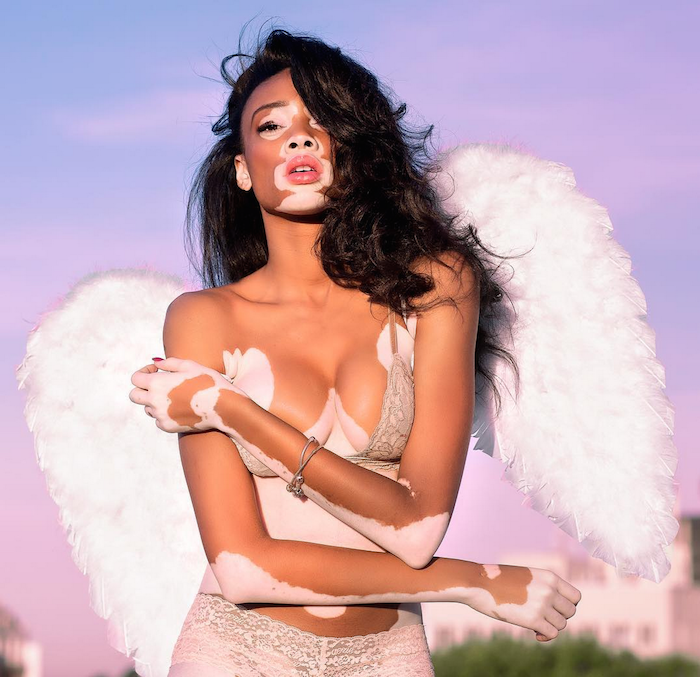 Via Instagram.
In May, she  encountered another person with vitiligo at Ikea, who told Posteraro about some online support groups and communities for people with the condition, according to The Daily Mail. It was the first time Posteraro had met another person with vitiligo; she felt liberated.
A few weeks later, Posteraro got a the words, "It's called Vitiligo" tattooed on her arm, right over the white patches.
"I was sick of the stares," she told The Daily Mail. "I just wanted to say, 'come on, ask me what it is.'"
Tiff is brilliant and brave. We loved talking to her. #vitiligo http://t.co/tSNNhLvyWD pic.twitter.com/RR2NfLrEHf

— PA Real Life (@PA_Real_Life) August 20, 2015
'It's called vitiligo': Woman with rare skin condition gets tattoo as perfect response to people's stares pic.twitter.com/Pg4ZCeFH3A

— ÇapaMag in English (@CapaMagENG) August 20, 2015
Posteraro's tattoo has allowed her to handle the stares better and educate others on vitiligo. She also says she's learned to embrace her flaws as part of her beauty.
"I believe I am a better person and a more empathetic person for having vitiligo," she told The Daily Mail. "I don't look at someone and focus on their flaws. Flaws to one person are beautiful to another."
h/t BuzzFeed