Finding Peace and Hope With My Breathing Problem
---
Hi.
We've lived with each other for a while now, but I don't think we've ever been formally introduced.
My name is Margalit, and I am 13 years old. I love dogs, playing basketball, creative writing, and reading blogs. I am an advocate for people with disabilities.
And I have you.
See, I was never officially diagnosed with one test or doctor's appointment. Instead, I came to know you slowly, over murmurings of negative asthma tests and symptom checks and Internet research.
I was only made aware of you last year, but I have known you since third grade, when I started having trouble breathing while running, and was told I had exercise-induced asthma. Again. And again. And again. With no doctor bothering to ask whether I had problems breathing on the inhale or the exhale, or where my chest hurt. With three different negative asthma tests. With my parents being firm in not trying the inhalers until we had a firm diagnosis.
I wanted you to be asthma. I felt guilty, because I knew asthma was life-threatening and you are not. But, from what I could tell, if you were asthma then I could use an inhaler and magically be able to breathe easily again.
I wanted to try the inhalers, even though they probably wouldn't work. I just wanted something that would help. I am now grateful that my parents pushed to find a diagnosis, but I still wish for a magical treatment.
Most of all, I wanted you to go away.
And I don't think you are the only thing in my battle to breathe, either. The doctors now think there is something else going on, like, well, I really don't know what. No one really knows what. But your goal seems united: to make me have trouble breathing. To stop me from running and doing the things I want. At this time, you may not let me run as much as I want, but you do not stop me completely, and you will not.
But, VCD, maybe that isn't all you want.
Because of you, I understand what it feels like to feel powerless, which has given me empathy.
Because of you, I never take breathing for granted.
And because of you, I see the world in a way that is far different from most 13-year-old girls.
Now, this isn't to say I don't hate you sometimes, VCD. There have been times when I wanted to beat your guts out, to do anything to keep you from living in my body. But, my end goal isn't really to beat your guts; it is to find a way to live in harmony with you in my body. It is to find peace.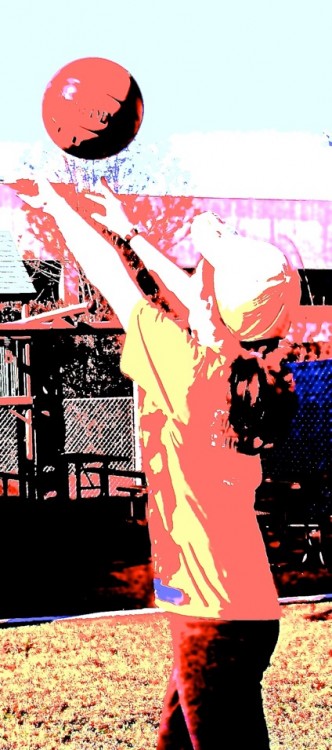 You are frustration.
You are being out of breath.
You are hours of Internet research.
You are "Are you okay?"
You are "Wait, so you don't have asthma?"
You are "But you can talk fine!" (It's a breathing issue, not a talking issue.)
You are "You're so lucky you don't need an inhaler!" (I hate that one.)
But sometimes you aren't.
You are realizing that I just played a full basketball quarter.
You are the understanding basketball coach, and the friend who lets me rant to her.
You are my empathy for other people.
You are part of the reason I am a disability activist.
You are the reason I never take breathing for granted.
And, above all, you are hope.
 The Mighty is asking its readers the following: If you could write a letter to the disability or disease you (or a loved one) face, what would you say to it? If you'd like to participate, please send a blog post to community@themighty.com. Please include a photo for the piece, a photo of yourself and 1-2 sentence bio.
Want to help celebrate the human spirit? Like us on Facebook.
And sign up for what we hope will be your favorite thing to read at night.