Why I'm Grateful for What Was Once My Biggest Fear for My Son
---
The words hit me like a well-placed punch in the stomach. I had to catch my breath before I could go on.
"We will also discuss various end of life issues such as tracheostomy and mechanical ventilation."
My head was spinning. I kept hearing the words over and over.
End of life issues. End of life issues.
We saw Kevin's pulmonologist, a physician who specializes in lung conditions and diseases, just weeks before for his snoring. It was no big deal, really. But now, I was reading the letter he sent to the pediatrician.
"Tracheostomy and mechanical ventilation."
This was equipment to help him breathe. He couldn't possibly have meant my Kevin. He was fine! I was a nurse, after all. I knew he was fine.
I quickly showed the letter to Kevin's pediatrician. She read it and I knew immediately what she was thinking. She didn't even have to speak. I couldn't think straight. How could this be happening?
"What if I just watch him closely?" I knew I could do that. I was pleading with my own thoughts.
We decided to see what would happen. As the days passed, we settled back into our comfort zone.
Within a week, Kevin began having short episodes of apnea — his breathing would stop and start. We were extra vigilant though, and had oxygen as needed. We monitored Kevin's pulse ox continuously.
It came on as suddenly and unexpectedly as a loud clap of thunder on a sunny day. Kevin was awake and alert. He breathed out. I waited.
And I waited.
And waited.
No breath in.
I shook him. I yelled. I shook again. Kevin's color went from rosy to purple to dark purple right in front of my eyes. I started mouth to mouth. Nothing was helping.
My older daughter was home, so I screamed, "Call 911, Kevin's not breathing!"
I was helpless as Kevin's pulse ox plummeted down through the 40s and into the 30s. It felt like an eternity waiting for the ambulance. Then, there was a knock at the door. It was a respiratory therapist from our home care company. We didn't have an appointment, but he was coming to check on recently delivered oxygen equipment.
"You're a respiratory therapist?" I screamed. "My son's not breathing!"
Together, we both tried to get air into Kevin's lungs. Nothing helped. Kevin's color was darkening and he was completely unresponsive. His pulse ox was 24. It continued downward until the paramedics arrived.
Completely drained of everything I had and emotionally broken, I handed my son over to the ambulance crew.
Kevin's color was dark blue. His pulse ox was nine. He was lifeless as they placed him into the ambulance.
By the time we arrived at the hospital, Kevin began to breathe again. His color and his smiley demeanor returned as quickly as it left.
Over the next few days, while in the hospital, these episodes became more frequent. "Central apnea," they called it. After a failed trial of continuous positive airway pressure (CPAP) therapy, our options were slim: Tracheostomy and mechanical ventilation or nothing. Less than three weeks since our pulmonary visit, my greatest fears had become reality. We were facing end of life issues with my sweet and full of life 11-year-old.
Kevin's eyes said everything that he could not. We knew we had to choose the tracheostomy. Even though Kevin was a true champ and the surgery and recovery were uneventful, we felt like we had let him down. How could we let this happen? Now, in addition to all the limitations Kevin had, he would be strapped to a ventilator that breathed for him for the rest of his life. I felt defeated and crushed. But my Kevin wasn't. Day after day, he continued smiling. Nothing got him down!
Before long, Kevin only required the ventilator at night. Our new normal wasn't as bad as I'd envisioned it. That was 15 years ago and Kevin is still smiling! I have learned so much from this boy, and what was once my greatest fear— life connected to a piece of equipment — has become something I am so grateful for.
Imagine that.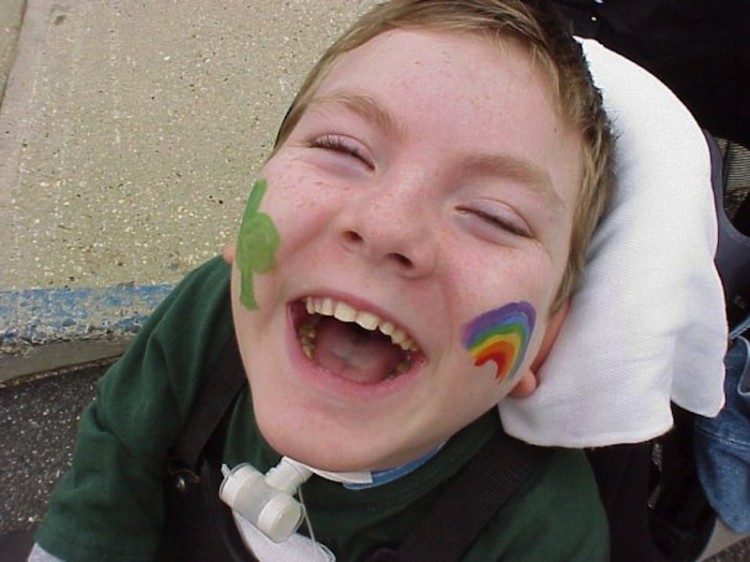 This post originally appeared on The Heartful Mom. 
Want to celebrate the human spirit? Like us on Facebook.
And sign up for what we hope will be your favorite thing to read at night.
Originally published: June 19, 2015