A Letter to My Daughter's Brain Disorder
---
Dear White Matter Brain Disorder,
This is hard for me to write because I don't often see just you. It's hard for me to think about you even being a you, without thinking of you as being part of my daughter. It's extremely difficult to even imagine a you without a her or a her without a you.
But you are here. I imagine you're a little proud of yourself for finally having a name, even though it's a vague one. I know you've been around for a long time, just like I know that we humans have finally gotten smart enough to recognize you. I know you've probably been called a lot of different things. I know we don't understand enough about you. I know we realize you're huge.
See, as a person, I find you extremely interesting — how you take away a small part of the brain and yet impact everything. Your science intrigues me, and if I were a young 18-year-old headed out to college, I may have even changed my career path to find out more about you.
But instead, I simply see you in one small form, my daughter. Because, see, you make up so much of her.
I see you in the ways it took her far longer than others to walk and talk. I see how you made her mouth unable to form words. I see how you make it impossible to run her tongue along her teeth — not because she doesn't want to but because you've never given her the ability to figure out how to do so.
I see you in the times I show her how to blow her nose or hold up two fingers. I see you when we're working on math, struggling so slowly because the concepts just won't come. I see you at swim practice when she can't make her arms and legs move at the same time to propel her growing body. I see you when she's trying to zip her coat, when the sounds in the room are just too much and when the hairdresser becomes a complete nightmare.
I see you when I'm on the phone with the doctors. I hate you most when I'm talking to insurance companies. You're in the room at every therapy appointment and IEP meeting. You're the reason we're there.
It's easy to hate you, sometimes.
But I'm here to tell you that even though you've shaped and are shaping the kind of world my daughter lives in, we'll be OK. Just like I was born with red hair, she was born with you. These are the things that make us unique.
It would be nice if you hadn't come into our home, but you did. I cried my tears for you long ago, but no more.
What you've given me is a gift, really. Because of you I got a little girl who isn't afraid to work a million times harder than her peers. Because of you, my daughter is always the first to volunteer to do something and do it with joy. She simply loves life. She celebrates every success because of you. She tries so hard; it sometimes takes my breath away.
You come part and parcel with my daughter. I accept you. You're a finicky beast, and you don't always make sense, but you make me see that there are many, many ways to do something. You made me see each step to blowing your nose or making the "V" sound, something I'd never considered before. You made me see this completely other world I never would have known before. You made me stop caring about developmental charts and other people's opinions at the grocery store. You made me see that I would move the heavens to help my daughter — something I'd been pretty sure of before I became a parent — but know positively now. You've made me consider tattooing the word "patience" on my wrist as a constant reminder.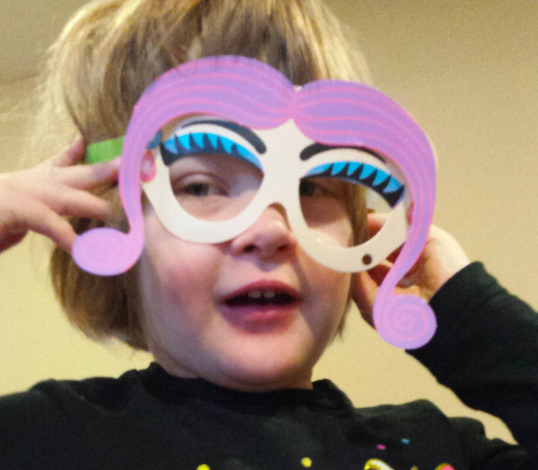 Talking to you directly is a little like talking to the elephant in the room. We're not supposed to do it. But I know you're there in your little corner, watching, waiting, hopefully staying still. I accept you. I'm not grateful for you nor do I hate you. You just are.
I see you there, so be still. Please.
If you don't, the next letter won't be quite so pleasant. You, right now, are fine. If you try to take my daughter, you will rip out my heart. I won't be above begging, pleading and driving myself into financial ruin to kill you.
I recognize that we're at your mercy and that you have taken other children. I don't know why you choose some and not others. I'm not going to ask you to spare mine and take others. I recognize you in the way I drive by a car accident and say a quick thanks that it wasn't me. I feel deeply for the other families you've affected.
But if it is your will to take my little girl, you will rip out my heart.
So be still, please.
I see you.
Let her be.
You've done enough.
Follow this journey on This Is My Ordinary.
For all of March, The Mighty is asking its readers the following: If you could write a letter to the disability or disease you (or a loved one) face, what would you say to it? If you'd like to participate, please send a blog post to community@themighty.com. Please  include a photo for the piece, a photo of yourself and 1-2 sentence bio.
Want to end the stigma around disability? Like us on Facebook.
And sign up for what we hope will be your favorite thing to read at night.