The 2 Words That Proved Me Wrong About My Daughter
---
Sometimes when people talk about children with special needs, they speak about their developmental ages. I used to do this myself. I'd talk about my daughter and say she was developmentally like a 2-year-old even though she was 4 years old. I never really thought about what those words meant — it was more so I could give the listener an accurate perspective about my daughter's developmental delays.
But over the past year or so, I've been introduced to an amazing concept — presuming competence. Two big words that can change everything. Two words that have changed everything for me.
Around the time I first heard these words, I read a book called "Ghost Boy" by Martin Pistorius. The subtitle on this book is "The miraculous escape of a misdiagnosed boy trapped inside his own body." Martin was struck with an illness at age 12 that caused his body to deteriorate to the point where he was unable to move or speak. His family placed him in an institution to try and figure out what was wrong. Everyone thought Martin could not understand what was going on around him, but he explains in the book that he was mentally perfectly capable the whole time. He just wasn't able to express it.
Martin tells the story of his abuse at the hand of his caregivers. He talks about the stress his family went through because of his medical state. And all the while he knew what was going on — he just couldn't tell anyone.
Luckily, Martin's story ends happily. A nurse at his institution believed there was more going on in his brain than doctors had given him credit for. He began to respond to questions by blinking his eyelids.
Eventually, he was able to move again and is now able to speak using a communication device. His family talks about the guilt they feel because they did not realize Martin was mentally capable when he was immobile. They would have treated him differently had they known.
Presuming competence. It's hard to do, but it's so critical.
This story and other conversations I've had have changed the way I think about my daughter. I feel like I gave up on her, set limitations for her and lowered my expectations for her because of her white matter brain disorder.
After she was diagnosed, I saw two different doctors who voiced two separate ideas.
One: "If she was my daughter, I'd just go home and treat her like any other little girl."

Two: "You may have to accept that there are things she just might not ever be able to do."
The first doctor made me mad, honestly. She is not like any other little girl! How could I be expected to treat her like one? She has special needs, don't you know?
It was much easier for me to agree with the second doctor. It was easier for me to adjust my expectations for her than to presume she could do anything she wanted. I just needed to help her find the way.
The other day at school, my daughter's class changed their seat assignments. She's sitting next to a different boy now. Today, I asked the boy what he thought about sitting next to my daughter and he responded, "She's hard!"
I was surprised at his answer. I thought he was making fun of her. So I asked "What's hard about her?" Imagine my surprise when he said, "When we play Brain Quest, she always wins. She beats everybody!"
See, her teacher had told me they play this game he made up called Brain Quest. When they have a few extra minutes at the end of the day, they play a head-to-head trivia game using questions he made up about whatever subject they've been studying. The game ends when time runs out, and whoever answered the last question correctly is the Champion.
It's a great game, and I love that he does this. Funny enough, time always seems to run out when my daughter has answered a question correctly. She is Champion regularly.
But here's the rub — I thought the teacher was taking it easy on her. I thought he was doing her a service, boosting her confidence. I guess I really didn't think she could become Champion on her own. I thought it was more of a pity Champion than anything else.
I was wrong. Kids regularly avoid challenging my daughter, not because she is an easy person to beat but because she is a very hard person to beat. It makes sense to me now. She is a fact hoarder. She can recall small details about things that happened long ago with ease. I don't know why I didn't realize this game was made for her.
Imagine my surprise. I stood there open-mouthed, not knowing what to say to this sweet boy who had just rocked my world. I looked at my little girl and said, "He thinks you're hard!" And she looked at me in a way that said, "Yeah? I am hard, so what?"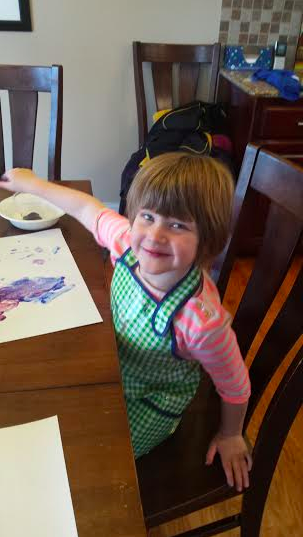 Presuming competence. I thought I was doing it right, but it turns out I was all wrong.
I challenge myself now to keep those words at the front of my mind. Why was it OK for people to dismiss Martin the way that they did? Why was it OK for me to assume my daughter's future was limited? Why is our first inclination to think less of a person instead of looking for ways to help boost them?
These should be easy questions to answer, but I know they're not. This is larger than my little family. This is larger than all our families. If we do not presume competence within our own families, how can we expect it from the world?
I do not think there is one bit of danger in presuming competence, but I know there are huge risks if we do not.
The Mighty is asking the following: Can you describe the moment someone changed the way you think about a disability or disease? If you'd like to participate, please send a blog post to community@themighty.com. Please include a photo for the piece, a photo of yourself and 1-2 sentence bio.
Want to help celebrate the human spirit? Like us on Facebook.
And sign up for what we hope will be your favorite thing to read at night.
Originally published: April 17, 2015