How I Learned to Celebrate My Daughter for Who She Is
---
I realize more and more that my life is filled with so many unknowns. I'm the type of person who likes to plan things out, make sure everything is in its place; all events and happenings are placed on my calendar. So ultimately I know and have control over my life. But it seems the more control I try to take, the more out of my hands it gets.
My daughter, Juniper Grace, is a beautiful, affectionate 3-year-old girl. I'd hug her all day long if she'd let me. But raising her has been more difficult than raising my oldest daughter. With Juni's birth came a lot of questions, a lot of unknowns and as her life progressed, a lot fears.
We knew something was not right with Juni early on. She didn't meet her milestones — she didn't coo or babble as much, it took her longer than "normal" to roll over, she didn't sit up until she was 1 and she didn't walk until she turned 2. She didn't speak, but worse than that, she didn't understand simple commands. She didn't respond to her name and was hyper-excitable with arms flapping and legs kicking. Then a couple weeks before her 2nd birthday, we took her into the emergency room because she had seizures. A couple months prior we'd noticed her gazing off, having a funny look on her face as if she had a weird taste in her mouth, and drooling. We had no idea they were seizures. Thank goodness her school noticed it as an epileptic episode. That day she had more than 10 episodes. There's a heart aching feeling of helplessness when you watch your daughter go through an episode. "Does it hurt her? What is she thinking? Feeling? Does she feel alone?"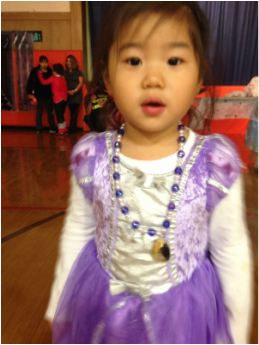 As a teacher, I've seen parents who have been in denial of their children's disabilities and delays. I admit that I was in a bit of denial as well. But I snapped out of that pretty quickly. It was fear that consumed me. I was afraid she wouldn't live a normal life and that people or other kids would tease her. I knew she needed help so we started on her with Early Intervention right away.
At first, I hoped that through all her therapies, Juni would just snap out of it. People told me she would grow out of both the seizures and delays, but I've come to accept the fact that this is out of my control. She will progress within her timeline. Our job as parents is to love her unconditionally and to be her biggest advocates. We've come to terms with the real possibility that Juni will live with us for the rest of our lives. I was sad at first with this realization, but now it doesn't sadden me. She's still nonverbal and globally delayed, but we celebrate the little successes she's having and the happy, friendly, loving, affectionate little girl she's become.
I'm learning to embrace the fear of the unknown, the things that are out of my control. In a way, Juniper has taught me how to accept the curve balls that come my way. I'm appreciative of this little treasure God has given me and her existence in my life. She's alive, breathing and I'm able to care for her with all the resources I have. She may not be what I expected, but I love her to pieces nonetheless.
This post originally appeared on Hope-Grace-Joy.
Want to celebrate the human spirit? Like us on Facebook.
And sign up for what we hope will be your favorite thing to read at night.