Mom Outraged After GoFundMe Removes Photos of Her Son Deemed 'Graphic'
---
One mom is on a mission to have her son's story told after a popular crowdfunding site removed photos of her him.
Oakley, 4, has Prune-Belly syndrome, which is a rare disorder characterized by partial or complete absence of abdominal  muscles, failure of both testes to descend into the scrotum, and/or urinary tract malformations, according to the National Organization for Rare Disorders.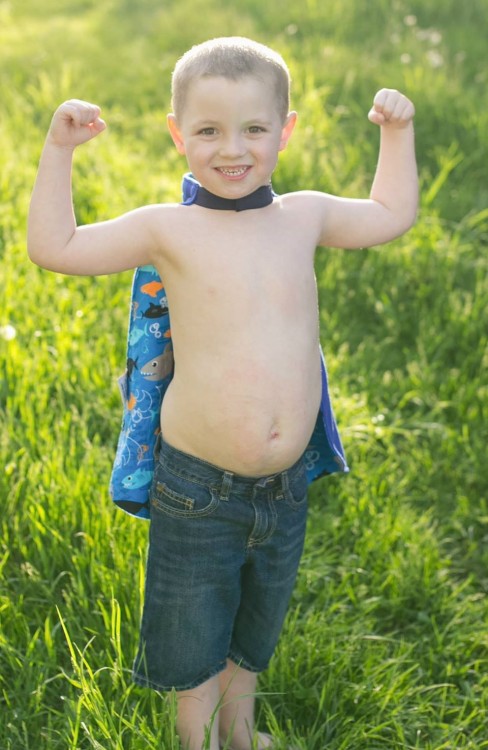 Because of the high cost of his medical care, his mother, Sarah Savickas, agreed to let her friend, Amber Maynard, start a GoFundMe page for them. The page had been up for nearly a month when Savickas received an email from GoFundMe telling her they had removed two photos of her son from the page for containing "blood, graphic or inappropriate content."
The photos were of Oakley after his appendicovesicostomy surgery, a procedure which greatly improved his quality of life, his mother says. She told The Mighty that she shared the images because it's important to her to share every step of her son's journey with the world.
"This is my son's journey. This is the reality of what we live with and what he goes through. Who do you think you are to go and tell people what they can or can't share in their story?" Savickas wrote in an open letter to GoFundMe that she posted on Oakley's Facebook page. "This is what my son went through. Are you trying to tell me that his disability is too much for your eyes, GoFundMe?"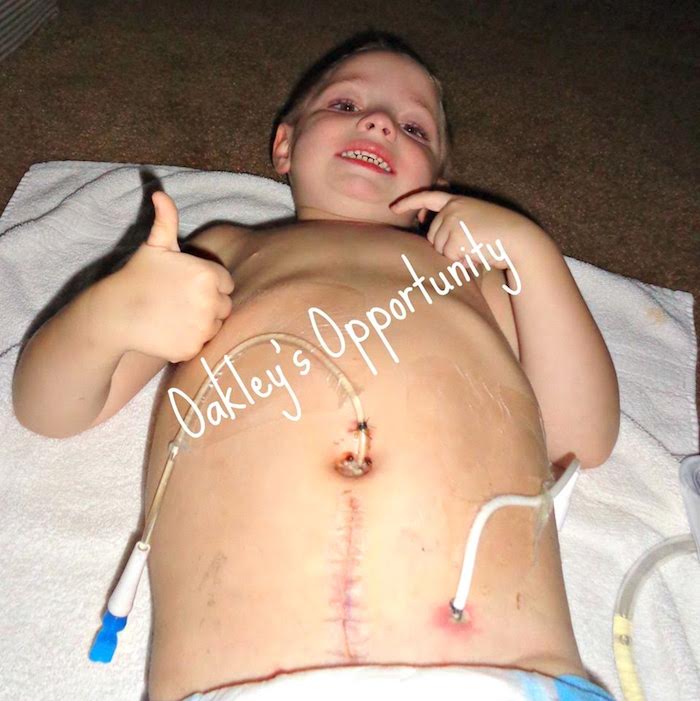 Outraged, Savickas wrote an email to GoFundMe. who responded by saying the removal of the photos was an accident, apologizing to Savickas and telling her to post whatever photos she wanted on the account. Then, just a few hours later, Savickas received another email from the company about her photos not being "appropriate."
The Mighty spoke to GoFundMe's Media Director, Kelsea Little, over email, where she explained that the second email was accidentally sent by a customer service agent who was unaware that action had already been taken on Savickas's account.
Little said that Savickas is now able to use whatever images she wants on the account, and that GoFundMe is working to improve their system in the future.
"Our sensitive image policy is always evolving based on feedback from the community," Little told The Mighty in an email.
This incident comes on the heels of an issue earlier this month where a mother, Christina Hicks, had her GoFundMe page "hidden" (meaning only accessible to those who had the link) because the site deemed images of her premature child too graphic, NBC reported.
Despite GoFundMe's second apology, Savickas still wants her story to be heard in the hopes that it will prevent other parents in an already stressful situation from having to go through this.
"I am a huge advocate for my son and other children who are fighting illnesses, disease, syndromes, cancer, and even un-diagnosed conditions," Savickas wrote in a post on the Team Oakley Facebook page. "I will not stop, I will not give up. I am fighting for all of us to make sure that our kids voices and journeys are allowed to be told in real life. It is important to show the good, the bad, and the ugly."