37 Little Things I'm Thankful Cancer Couldn't Take From Me
---
It's my 37th birthday. And it is hard for me not to think about what might have been. What if cancer had won our battle? These are 37 things I would have missed:
1. Looking out the window at my boys lying in the snow, moving their arms and legs in rhythm. My snow angels. Watching them laugh and dance and catch snowflakes on their tongues. Feeling my heart expand. Knowing that in several years' time, snow days will bring phone calls from their friends, kisses on the cheek and promises to be home for dinner.
2. The smell of my new nephew's hair. His tiny face resting on my neck.
3. Seeing my 4-year-old draw the tiniest trains in rainbow colors. The way he writes "Mom" on all his art and presents it to me, describing each detail.
4. Watching my dad work with my students. Listening to his easy laughter, his unique perspective on the world. Realizing the power behind his realness and joy.
5. The feeling of my 7-year-old's head growing heavy on my shoulder while listening to me read "Harry Potter." The sound of his breath slowing as he slips into sleep.
6. Seeing my best friend marry her guy. Watching her face light up as she walked towards him down the aisle.
7. Tequila shots with my neighbor at 2:30 p.m. after surviving "Kids Eat Free Tuesday" at IKEA.
8. Running. Hearing my heart beat in my ears. Realizing I can be strong again.
9. Water slides.
10. Singing while chopping celery. The easy feel of simple happiness.
11. Looking in the rearview mirror to see my boys looking out the window. Watching them watching the world.
12. Dancing in front of my students. Ignoring their rolling eyes.
13. Witnessing the way my mom creates family. Watching her carry out rituals that make us all feel rich and rooted in tradition.
14. The smell of Christmas.
15. The coolness of the hardwood floor on my bare feet during a hot flash.
16. Seeing my husband coach first-grade basketball.
17. Dark chocolate with caramel and sea salt.
18. Swinging with my kids. Picking them up. Watching them race.
19. The mystery of watching my fingers dance across the keyboard. The rush of pushing "publish."
20. My beautiful friends. Their silliness, their loyalty, their ability to just be.
21. The feel of clean sheets on a Sunday night.
22. Watching my brother stare in awe at his kids.
23. The fastness and fierceness of New York City streets.
24. Witnessing talent. Getting chills.
25. Warm baths with lavender and coconut oil.
26. The realness of losing my patience as a mom. The quiet forgiveness of kids.
27. Trees. Vulnerable in the fall. Naked in the winter. Hopeful in the spring. Blissful in the summer. Their promise, their reminder.
28. The roar of the ocean waves. Feeling small in the presence of so much beauty.
29. My boys lost in play with their cousins. Their connections despite distance.
30. Peppermint ice cream, fireplaces and Christmas movies with the in-laws.
31. Feeling my husband's hand in mine — walking on the beach, waiting for a movie to start, worrying in a waiting room.
32. Friendly cashiers. Eye contact. Connections with strangers.
33. Wineglasses clinking. Remembering where I was a year ago. Celebrations.
34. Brussels sprouts, green smoothies, salmon and brown rice. Realizing food is fuel.
35. Being the last to fall asleep. The quiet creaks of the house. All my boys safe in one place.
36. Closing my eyes. Taking a moment. Saying "Thank you."
37. My 37th birthday. Feeling born anew. So much more aware of the little things. Grateful. Ready for what's next.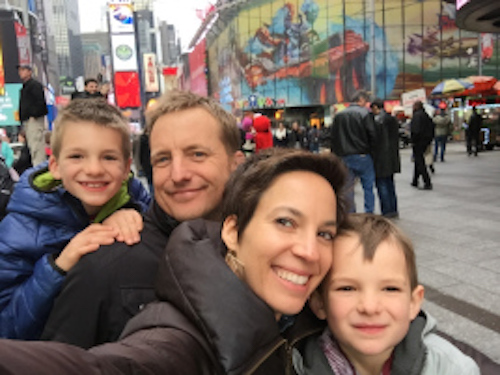 A version of this post first appeared on Cancer Made Me Do It.
The Mighty is asking the following: Create a list-style story of your choice in regards to disability, disease or illness. It can be lighthearted and funny or more serious — whatever inspires you. Be sure to include at least one intro paragraph for your list. If you'd like to participate, please send a blog post to [email protected] Please include a photo for the piece, a photo of yourself and 1-2 sentence bio. Check out our Submit a Story page for more about our submission guidelines.