When I Realized I Was Supposed to Live
---
Editor's note: If you experience suicidal thoughts, the following post could be potentially triggering. You can contact the Crisis Text Line by texting "START" to 741-741.
I sit here struggling with the urge to kill myself tonight, and the only thing preventing me is my attempt 10 years ago. I can remember it just like it was yesterday — regurgitating the pills I was struggling to rapidly swallow. I had to eat a cookie just to get the taste out of my mouth so I could wash the pills down. Upon completion, I stumbled my way to my bedroom door in my mom's house I was visiting at the time. I had previously written and placed a note on the door that read, "Taking a nap, be quiet!" in hopes that nobody would find me in time. The last thing I did was grab a picture of my daughter and place it on my chest. I was at peace. I finally did it.
I have struggled with suicidal thoughts since childhood, and as a result, this was a momentous task. I had made several "trial" attempts at suicide since fifth grade, but this was the big one. I had done it. The past methods were irrelevant. I had done it and I was at peace. Until…
After my mom came home, I assume she had let me "rest" for quite some time. (To this day, we have never talked about it, so my memories are contrived of general assumptions.) The EMS crew pulled me from atop the picture that was then under my chest. I suppose this occurred after I convulsed off the bed. I woke up in ICU and the first thought I had was, "Damn, I can't even kill myself right." I was in extreme pain. I couldn't move my arms because somehow my shoulders had both been dislocated. Could this have been from the EMS crew trying to lift my 240 pound lifeless frame onto a gurney?
I was a competitive bodybuilder at the time, with a budding career in the corporate world. Lately things had been a mess because I was self-medicating my diagnosed bipolar, depressed, post-traumatic stress disorder brain with drugs and obsessive thoughts. I had become increasingly unsuccessful at coping — to the point that I was about to destroy my career and embarrass myself as a bodybuilder. (It's hard to lead training sessions in both the corporate and bodybuilding world when you're getting high.) 
So I woke up to the pain of my shoulders and the pain in my throat from the tubes and my second thought to myself was, "How am I going to do this right?" I thought this even as I told doctors and my family, "I'm OK! It was just a breakdown." I healed up at the hospital and was released somehow without supervision or follow-up treatments. I immediately began an assault on my body with more failed suicide attempts. The depths of these would scare you, but I will spare you. These weren't "calls for help" because I was the only one who knew of the attempts. After my last attempt, I had an epiphany. 
Maybe I'm supposed to live.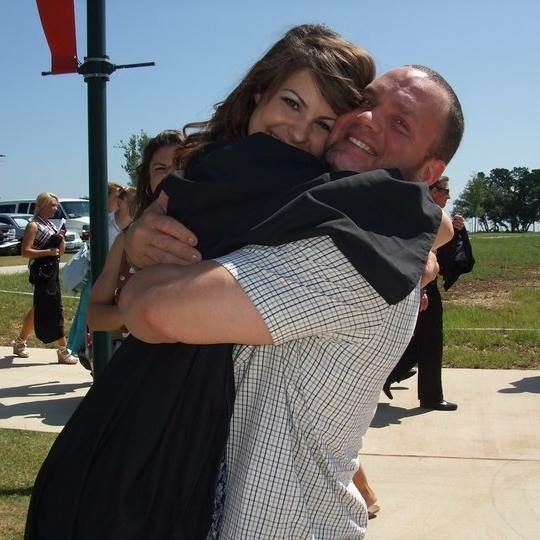 Ten years later, I have watched my daughter graduate, get engaged and grow into a beautiful, strong woman. I've been one half of a 20-plus year marriage that continues to prove itself unbreakable. I left the corporate world to pursue my passion in fitness and nutrition, and now own a small chain of nutrition stores, including one franchised store. I've traveled the world, and seen loved ones born and pass. I've struggled to eat out of sheer sadness. I've been unable to control my shouts of joy. I've experienced a life. A life that would have been cut short if I would have been successful.
So as I sit here — sad, I realize the urges may never go away. I may have to be talked off the ledge, but I know it will pass. The only thing that gets me through is knowing it will pass and out of it will spring something beautiful. Right now it's the steady lick of my beautiful puppy, Bonnie, who is certain to clean my face of the meal I just tried to force down. It's going to pass. Even as I sit here in it, I know… it's going to pass.
If you or someone you know needs help, visit our suicide prevention resources page.
If you need support right now, call the Suicide Prevention Lifeline at 1-800-273-8255 or text "START" to 741-741.
We want to hear your story. Become a Mighty contributor here.