How Participating in the 'Gutsy Walk' Helped Me After My UC Diagnosis
---
I was diagnosed last year with ulcerative colitis. The first few months consisted of me trying to figure out my new life: how this disease would affect my friendships, things I ate, my school work, etc. I am still figuring out how to live with the disease. But as I looked more and more into finding ways to make my life with UC easier, I found there actually were so many resources I could go to for help and support.
Most recently, I found out there was this event where I live called the Gutsy Walk. Some fellow Canadians might know what this is about. If you live in the UK, the Gutsy Walk is pretty much like Walk It. Basically, it's an event where people who live with ulcerative colitis or Crohn's along with their family and their friends walk to show support and raise money and awareness about IBD.
It was the perfect event at the perfect timing. At first, I had planned to go alone and was fine with that. But then, I talked a little bit about it to my friends and they willingly asked to come. That was the first moment of the journey where I told myself I wasn't alone. I learned that people do care after all. Even though they might not have known in full detail what ulcerative colitis was, they were open to the idea of learning about the disease. They even asked me to explain in detail what it was and how it makes me feel, which I thought was really sweet and thoughtful of them to ask.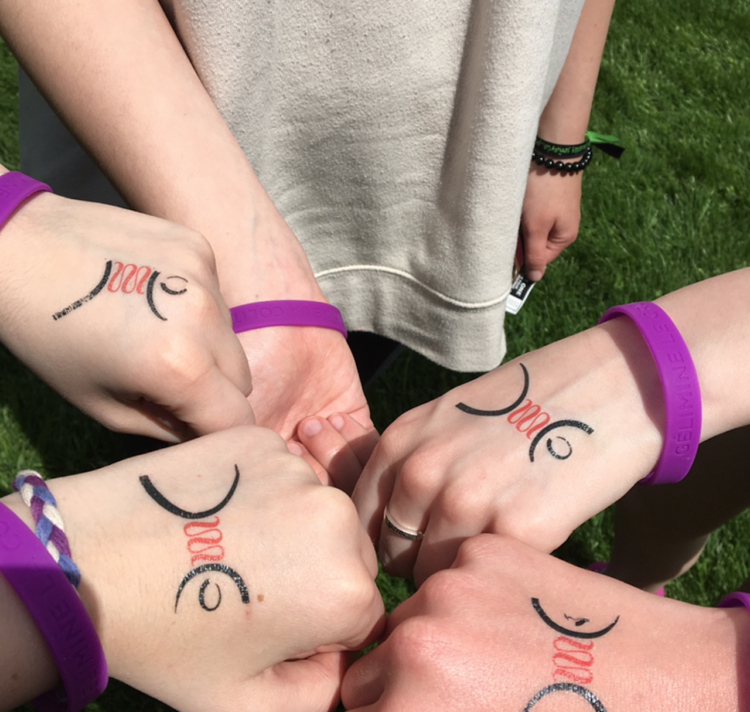 So on the day of, I was very excited. It was a weird feeling. I never get excited for social events. They usually give me anxiety. But this time, it was different. I knew where I was going wasn't a stressful place. It was going to be somewhere filled with people just like me surrounded by their friends and family. It was going to be a place of love and support. I myself had brought five amazing friends that I am so grateful for. I couldn't wait to see the turnout!
It was supposed to rain on that day. As I walked into the park where the walk took place, the sky was blue, the birds were singing and I could already sense the feeling of community. It was a good feeling. One I rarely feel this quickly in an environment with new people. And throughout the day, this feeling only grew. I talked to some people and they were all so so so so nice! We talked about their individual stories and what they had come to do in their lives, even when their health was not always on their side. There were also some activities involving talking to others and doing "Crunches of Crohn's." We all ate together and walked alongside each other.
It was in a public park, so of course people who did not know what the event was for were walking by. I just kept telling myself that these people must not know we were walking because some of us are sick. I couldn't myself tell apart who was sick from who wasn't. But after all, UC is an invisible illness. The fact that people like me who were tired, had bad cramps and most of all were sick were all together on this day for this one cause that brings us all together brings a lot of joy and happiness to my mind. I did not see one person who let their pain show through the day, and that shows how strong people are.
Anyways. All that talking to say: I really do recommend going to social events like the Gutsy Walk that are organized in your town. If you do go, you will not only make new friends, but you can learn about your disease and feel like you're not alone. Talking to others is often the little push we need to feel better about our condition. I guarantee you won't regret it!
We want to hear your story. Become a Mighty contributor here.