The Miseducation of Corticosteroids and Adrenal Insufficiency
---
A few years ago, when I first began researching adrenal insufficiency, I found a truly great resource in the form of a Facebook support group. While there were several to choose from, the one that stood out to me the most had an incredible selection of research based resources and a team of incredibly strong and intelligent women running it. I was so impressed by the wealth of knowledge, and I began to form friendships within the group. Now, I find myself among the team of incredible women helping to facilitate the education of new patients, and the navigation of the intricate delicacies of the healthcare system.
We find, as we hear from members, that there is a major discrepancy in quality of care across the globe, but the one consistent is that care is rarely adequate.
A tradition amongst our group is that whenever a member or fellow AI patient passes away due to complications from adrenal insufficiency, we change our profile photos for 24 hours. We do this to honor the life we've lost, but also to encourage awareness not only of the disease, but of how deadly it can be.
I have lost count of the number of members I've changed my profile for over the years, and I suddenly found myself unable to do so last month.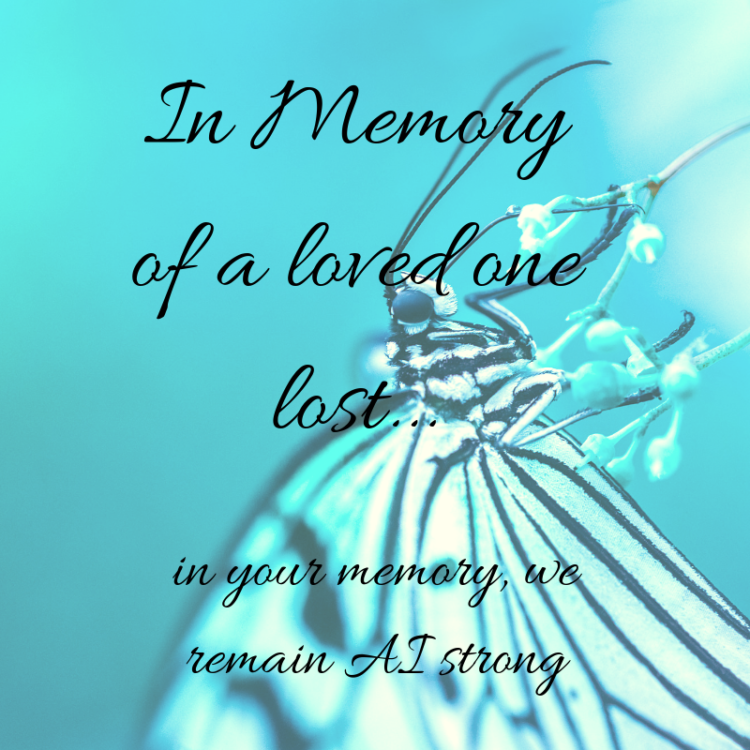 The changes have been frequent this year, including one of our beloved administrators who changed the world with her compassion and advocacy. Every time I hear of another death, my heart breaks a little more. With three of us in my house with adrenal insufficiency, it's sometimes overwhelmingly frightening.
Yesterday, I did not change my profile photo. Yesterday, I cried again, as a woman not much older than me was lost.
A pattern we see in many of these deaths is that doctors in all fields are grossly undereducated on the importance of cortisol.
While adrenal insufficiency falls under the purvey of endocrinology, every other specialty should be well informed of the risks and realities. Rheumatology, pulmonology, sports medicine, dermatology, and so many more utilize steroid treatment for a wide variety of ailments. Corticosteroids are an amazing anti-inflammatory, and they help to manage side effects of chemotherapy, lupus, arthritis, and so much more.
Too often, doctors prescribe steroids with little to no consideration of the risks of adrenal insufficiency due to steroid use. While it is statistically a low probability that the HPA axis will be disrupted long term, the realities of the complication are terrifying. Steroids are often stopped too abruptly, or taken in far too large doses for far too long.
The flip side of this, however, is when a patient with adrenal insufficiency goes to their endocrinologist, or an emergency department, and asks for a higher maintenance dose, or an emergency intervention, they're often steroid shamed.
They're told that the risks of taking too many steroids are high. Cushing's syndrome causes significant health risks as well, but rarely is a patient asking for significant long term doses of corticosteroids. Typically, it's a minor daily increase so that they can function at work, and stave off chronic low cortisol symptoms.
Or, even more frightening, they're asking for stress dosing during an illness or hospitalization, in order to stop or prevent an adrenal crisis.
This year alone, we've seen several patients lose their lives after being told that they just needed pain medication, not steroids. They just need to go home and rest, they don't need more steroids. They need antibiotics, but no steroids.
In a healthy human, the HPA axis responds to stressors like illness, injury, or even severe emotional stress, by releasing more cortisol into the body. For people with adrenal insufficiency, that doesn't happen. They have to closely regulate their own cortisol, but without any way to monitor their needs the way a diabetic can.
It's terrifying.
Doctors have become so afraid of over medicating that I, personally, have experienced hesitation to provide hydrocortisone, while simultaneously administering fentanyl. There is far too much confusion about corticosteroid use, and this is apparent across the board. Very few doctors truly understand corticosteroids.
And we pay the price.
I will continue to share what I've learned, through research articles, blogging, and personal experience, until I have the chance to help every person with AI find the resources to educate their doctors.
It's not easy work, being a doctor. It pays well, but it's a high stress job, and they are expected to stay up to date on many different aspects of the job. I empathize with them on this. But when we as patients have to take our lives into our own hands, what other choice do we have?
If I could change one universal quality in doctors, I would have every single doctor be open to learning from their patients, instead of being bothered by patient driven care. I would ask every doctor to learn about their patients, the rate diseases they have, and how to help keep them alive.
They do not need to read every bit of research that exists, but they do need to learn enough to keep us safe. Deaths from complications of adrenal insufficiency are preventable, and should be rare.
Photo submitted by contributor.