My Biggest Anxiety as a Mom to a Kid With Apraxia
---
My daughter was diagnosed with childhood apraxia of speech at 3 years old. She has been in regular (multiple times a week) speech therapy since she was 2 and while she's made tons of progress, she still has a lot of work to do.
There is still some invisible block in her brain that prevents her from producing certain sounds in regular conversation. She struggles with hearing loss due to chronic fluid in her ear and inverted eardrums. She also has velopharyngeal insufficiency, which is a structural defect that affects airflow when producing speech sounds. This results in hypernasality, therefore a lot of her speech comes out high-pitched and whiny if she doesn't work to control it (this is not to be confused with your everyday, universal, 7-year-old whining…we're working on controlling that, too).
In a lot of ways, my daughter's disability causes very little disruption to our everyday lives – very little anxiety. It doesn't have us in the hospital once a week or even once a month. We don't have a regular medicine routine to adhere to every day. We do private speech therapy once a week and her other two weekly speech sessions are at school. Overall, we're at the point that her disability is pretty easy to manage. In fact, we're so used to it that my husband and I don't even notice her less-than-normal speech most of the time.
There are days I don't notice her disability at all, until someone else points it out to her. And that's when all my mom anxiety comes crashing down on me.
My heart crumbles.
This has been one of my biggest fears for her, but especially since she started school. For every year older she gets, her delay in speech is more noticeable to the kids around her. The way she talks is more "different" from the way her friends talk now then it was a year ago. And let's face it — kids are blunt. And kids can be mean, sometimes even when they don't intend to be.
When you're parenting a child with a disability – any kind of disability – there are always things that are completely beyond your control. You can spend money on doctors and therapists, but you can't control your kid's progress. You can't "fix" her. And you definitely can't control how others will react to your child's disability.
The first few weeks (months really) of kindergarten were agonizing. I would send her off every day and pray that kids would be kind. She loves school and I could just picture her raising her little hand in class, eager to answer her teacher's question, only to hear snickering from her classmates.
She would have playdates and get asked, "Why do you say words funny?"And my anxiety meter would go up again.
I would think about her getting pulled out of class multiple times a week for speech therapy. Would other kids wonder why she needed to leave the classroom so often? Would they ask questions?
You see, I can tell her all day how smart, funny, clever and witty she is, but when her peer tells her to stop talking because the way she talks gives them a headache, well, I think that's what you could call a setback. Being told, "You talk funny," is definitely not the same thing as, "You are funny."
We've learned the best cure for this anxiety is not to isolate her or remove her from situations where she might be picked on, or where people might ask hurtful questions. This can be a temptation, for sure. No, ironically, the solution we have found to be the best one is to surround her with as many people as possible.
She loves people. She loves her friends. And the more people she interacts with, the more comfortable she becomes just being herself.
And when her friends ask questions, which they do sometimes, we just say, "You know, you're right. She does say her words a little differently than you do. Doesn't everyone have something that makes them a little different?" And they nod and go on playing princesses and having tea parties.
I can't insulate her from every insult that might come her way. But I can show her that being afraid of what people might say isn't an excuse to hide. I can teach her that her disability may limit her speech, but it doesn't limit her friendships. I can't control what other people think or say, but I can help her to be the most confident kid with apraxia that she can be.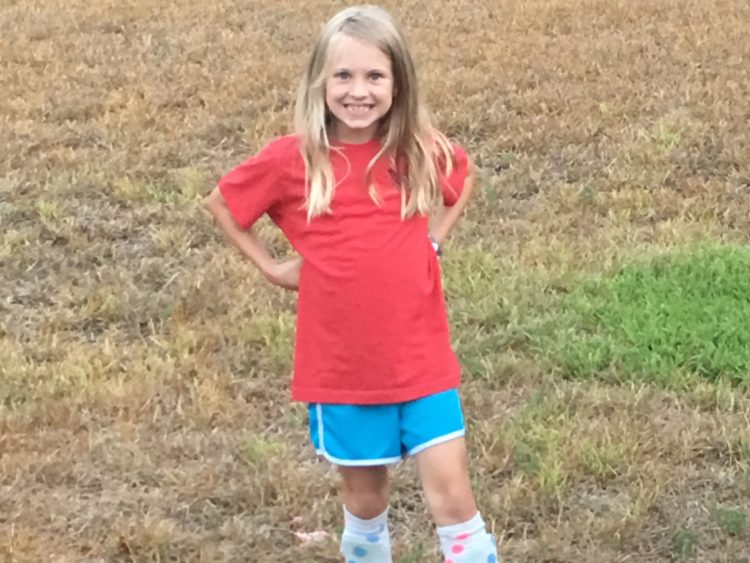 Photo submitted by contributor.