CDC Reports 20 Million COVID-19 Cases Likely in the U.S.
---
The Centers for Disease Control (CDC) are estimating that more Americans than previously thought, as many as 20 million, may have already been infected with the coronavirus. Dr. Robert Redfield, director of the CDC, shared the information during a call with the press on Thursday. He estimated that between 5% and 8% of the U.S. population has been infected with COVID-19, noting that at the beginning of the outbreak younger people without symptoms weren't being tested. This new estimate is based on blood samples collected across the country, some from blood donations and some by the CDC.
Our best estimate right now is that for every case that was reported, there actually were 10 other infections. — CDC Director Dr. Robert Redfield
#DYK: #Handwashing remains one of the best ways to prevent the spread of viruses like #COVID19. Here are 5️⃣ things to know about how to effectively ????✋: https://t.co/6zqjRfK8rR

— U.S. Surgeon General (@Surgeon_General) June 24, 2020
The Frontlines: The news that many more people may have been infected with the coronavirus than first estimated comes as cases of the disease are on the rise across many states. To date, 2.3 million Americans have been officially confirmed to have COVID-19 infections but the CDC now estimates that as many as 20 million people may actually have had the illness.
Washing hands often with soap and water for at least 20 seconds, covering up with a facemask and cleaning and disinfecting frequently touched surfaces daily are the CDC's top tips for fighting COVID-19
Physical distancing is still the most powerful tool we have to fight COVID-19, according to Dr. Redfield
People with COVID-19 may have a variety of symptoms, which can include fever or chills, cough, shortness of breath or difficulty breathing, body aches, headache, loss of taste or smell, sore throat, nausea or vomiting, and diarrhea
A Mighty Voice: Our contributor, Dina Simpson, advocated for more caution from the public in dealing with the pandemic, which is not yet over. "If you need to leave the house and are not in a high-risk group, think of the safety of others when doing so. After everything we have sacrificed these past few months, I wonder, will it all have been for nothing? Is it inevitable that we are all going to get sick with it at some point?" You can submit your first person story, too.
From Our Community:
Add Your Voice: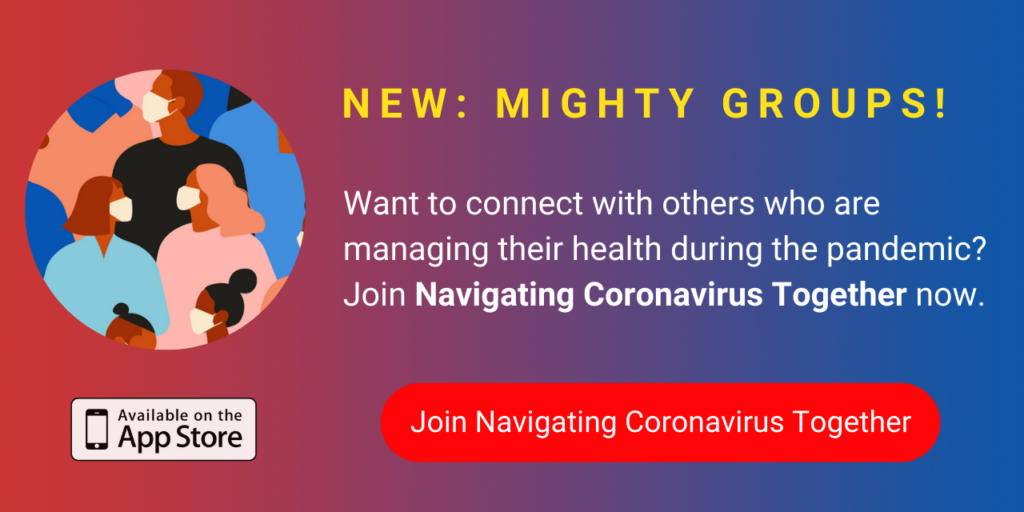 Other things to know: Maintaining good health during the pandemic means more than just staying safe from COVID-19. Here are a few resources for managing challenges during this time:
How to take action: If you're concerned you may have been infected with the coronavirus it's best to get tested. The Department of Health and Human Services maintains a list of community-based testing sites, most at pharmacy and retail locations. Find a testing site in your state by searching here or contact your physician's office.
Header image via elenabs/Getty Images