How I'm Using My Talents to Raise Awareness for Achalasia
---
Many people perceive one's senior year of high school to be a time in which teenagers are creating memories that will last a lifetime with friends they've had for the majority of their life. However, I was an outlier in this situation. During my senior year of high school, I was lying in a hospital bed, constrained by a feeding tube, and it was unclear if I would ever make a full recovery. The doctors were unsure what was going on inside my body, and the plethora of problems continuously stacked on top of me, making me feel as if my body was deteriorating more and more by the minute. At this point in my life, there wasn't any food or drink that was able to reach my stomach, my kidneys were failing and my intended career as a vocalist was in jeopardy.
Writing this now, it is clear for me to see how my body and mind were constantly in "fight-mode," as if I had to convince myself to act like everything was fine and that my pain was tolerable. This is a trait that has been embedded in me, but there comes a point when the pain becomes so intolerable that the facade can't be maintained any longer, and after enduring three intensive surgeries, dozens of procedures and hundreds of tests, I had reached that point.
There are many people in this world who find music therapeutic, myself included. I had always had a passion for singing since I joined choir in middle school, but never did I realize just how vital music was to my individuality. During my trials with sickness, I'd sing. When I felt anxious about an upcoming test or procedure, I'd sing. I learned that music had the ability to give me words when I felt as if I had nothing to say. It was during this time I had decided to pursue a career in music, thus generating yet another reason to force my body back into this "fight-mode."
It took nine months for doctors to finally realize what I was up against. Achalasia – an esophageal motility disorder characterized by impaired esophageal peristalsis and a lack of lower esophageal sphincter relaxation during swallowing. This disorder only affects one in 100,000 people each year and is often misdiagnosed due to its rarity. Finally confirming the diagnosis, doctors informed me and my parents that the only solution to the issues I had been facing was a surgery they classified as "unpredictable." Understanding the risks, I eventually had the surgery, called a Heller Myotomy, which lasted 11 hours and took weeks to recover from.
I'd love to be able to say it was smooth sailing from that point, but that wouldn't be completely true. Now a sophomore at Catawba College triple majoring in Popular Music, Music Business and Worship Arts, music is helping me learn how to cope with the symptoms I continue to face. Songwriting is a key element in this, as it allows me to put my questions and doubts into words everyone can relate to. I wholeheartedly believe I was given my musical talents for a reason. At the same time, I feel as if I developed achalasia for a reason as well. Doctors predict this disease will ultimately harm my vocal cords, but I believe God has his hand around me and will continue to allow me to make music as long as I am glorifying his name. Recently I wrote a song called, "Set Me Free" to grow my relationship with God through trying times and hopefully help others grow closer to him.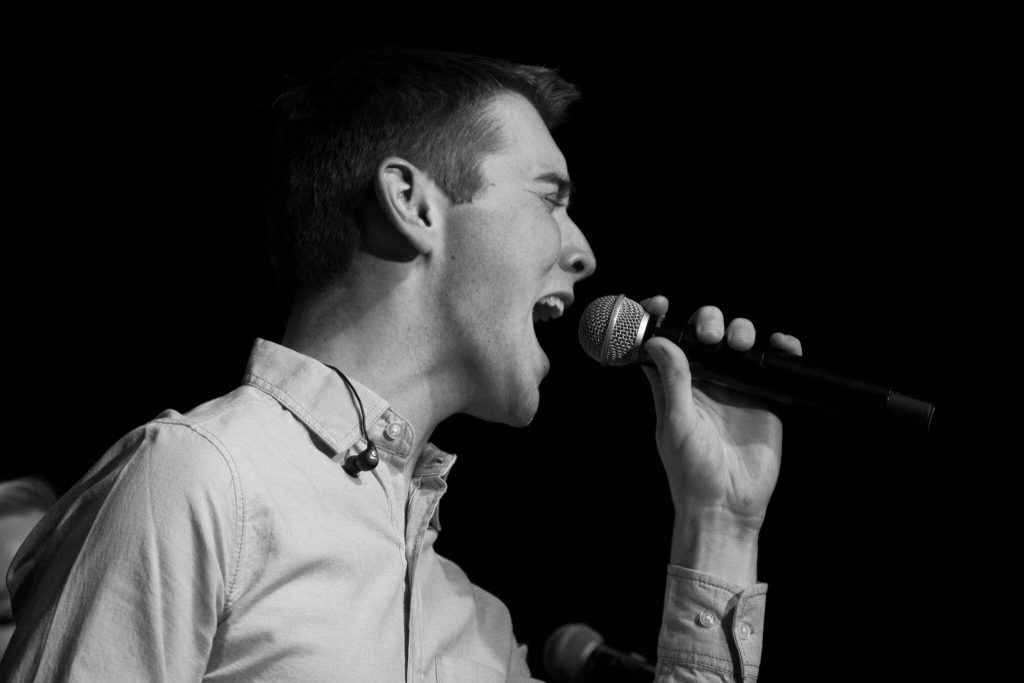 Opportunities have presented themselves to me, and I believe that as long as I am using my music for a higher purpose, they will continuously arise. An example of this was evident in early 2017: I posted a video on Facebook of a Keith Whitley medley I arranged, and it was soon shared by Country Music Nation, which was seen by a producer at "America's Got Talent." Shortly after, I received a call with an invitation to audition with a front-of-the-line pass. This eventually led to various media outlets picking up the story and showcasing achalasia to a multitude of individuals. Ultimately, I hope to continue to garner opportunities so I can consistently promote awareness of achalasia, and help others realize music can be a solace for them in their times of uncertainty as well.
At 17 years old, I was scared, weak and unsure about what my future would hold. At 19 years old, I'm gradually working on improving my well-being, while using music to create awareness for a community of individuals with a rare disease that has the ability to silence all who possess it.
We want to hear your story. Become a Mighty contributor here.
Originally published: May 23, 2017