What 'Single Drunk Female' on Hulu Gets Right About Addiction Recovery
---
This is recovery. The real deal. New Freeform series (streaming on Hulu) — "Single Drunk Female" is an intense excavation of the lives of alcoholics and an honest-to-goodness portrayal of life in recovery. The series is not only humorous, but it is captivating to watch, with three-dimensional characters that mirror their counterparts in real life.
The characters are amazingly true to form. There's the titular alcoholic —Samantha (Sofia Black-D'Elia) — a 28-year-old NYC blogger who moves back in with her mom in the suburbs of Boston after a drunk altercation at work gets her fired and court-ordered into rehab.
Then there's Samantha's best friend Brit, played by Sasha Compère who can't wait to meet up with her in the local bar that is their favorite hangout, as if nothing happened.
Samantha's mom is Carol, a Gen-Xer played by Ally Sheedy — infamous for her role as the misfit in the 1985 classic high school flick "The Breakfast Club." Carol is embarrassed of her daughter and absolutely clueless, offering her "just a little" glass of wine at her first dinner back, not understanding how sobriety works.
When she gets out of rehab in the first episode, Samantha relapses almost instantly. But she quickly gets back on the wagon, taking on a job at a grocery store, and finding an AA sponsor in Olivia (Rebecca Henderson). This is exactly what I did in my early sobriety —  I worked as a bakery clerk in a grocery store.
Olivia is an upstanding citizen with a thriving career and an immaculate big house. Her pearls of wisdom sound exactly like the kind of advice I've been given in AA. Make your bed every day, don't date until you've been sober a year, fake it 'til you make it: the greatest hits of the Alcoholics Anonymous canonical dialogue. 
The most refreshing aspect of the show for me is its accurate portrayal of Alcoholics Anonymous. Alcoholics Anonymous is not something that takes place in dank, dark, smoke-filled basements as many would have you believe. On the contrary, AA is not a downer at all. It's a program filled with love and human decency,  Even though it is portrayed negatively in movies and TV, AA is nothing short of a lifesaver for millions of alcoholics.
In fact there are 380 million alcoholics in the world according to the World Health Organization, and many of us go to AA, We are not bitter. In fact, we are a fellowship of friendly people leaning on each other for support.
And this is what Samantha's world begins to look like.
The photo on the home screen for the series on Hulu depicts Samantha showing off sobriety chips. These are special coins to mark sober anniversaries. I just received a coin marking my 10-year sobriety anniversary, and I celebrated by jumping out of a plane, skydiving to mark the occasion. My 10-year coin joins the others I keep in a special box in my apartment.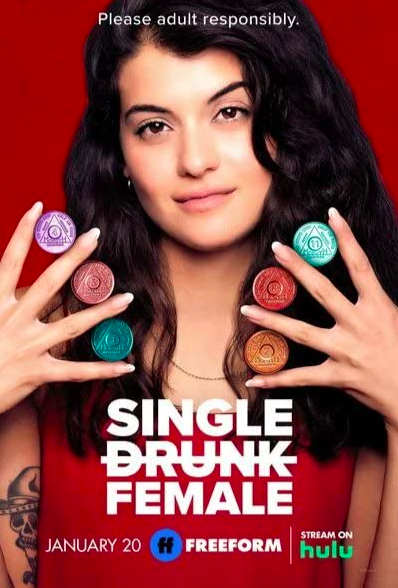 "Single Drunk Female" was created by an executive producer of HBO's hit series "Girls" and Netflix's "Russian Doll" and based on director Simone Finch's personal experience. I'm sure that is why it comes off as so true-to-life.
"I definitely was medicating my grief with my father's death," Finch explained at a press conference, revealing the events that led to her substance abuse. "He died when I was 20… And until I got sober, I didn't realize that that's what was happening. Everyone else was moving on with their lives, and I was still living in a cockroach-infested studio apartment, and that's not glamorous at all."
Finch is a huge advocate for Alcoholics Anonymous.
"[AA] saved my life, and it's the most important thing I've ever done," she said.
What I like about "Single Drunk Female" is that at its core are lifelike, personal tales. First and foremost for me, AA is a place to go to hear stories. Every alcoholic has a fascinating story, and when we share those stories, we heal.
From struggles we have overcome to achievements that attest to the power of sobriety, AA can be our salvation. As a recovering alcoholic myself, I can completely relate to "Single Drunk Female" more than any other show I've seen on the topic.
And that's completely refreshing.