It's My 10-Year Sober Anniversary And I'm Getting High, But Not In The Way You Think
---
Editor's Note
If you or a loved one is affected by addiction, the following post could be triggering. You can contact SAMHSA's hotline at 1-800-662-4357.
Ten years ago I was drunk and doing drugs on the streets of Chicago. Today I am sober. I'm skydiving to commemorate my journey to freedom from drugs and alcohol. I continue to live Mighty with bipolar disorder, and I'm embracing the spirit of aloha, hanging on for dear life. 
— Conor Bezane,  "The Bipolar Addict: Drinks, Drugs, Delirium & Why Sober Is the New Cool" 
HANA, HAWAI'I — February 6, 2022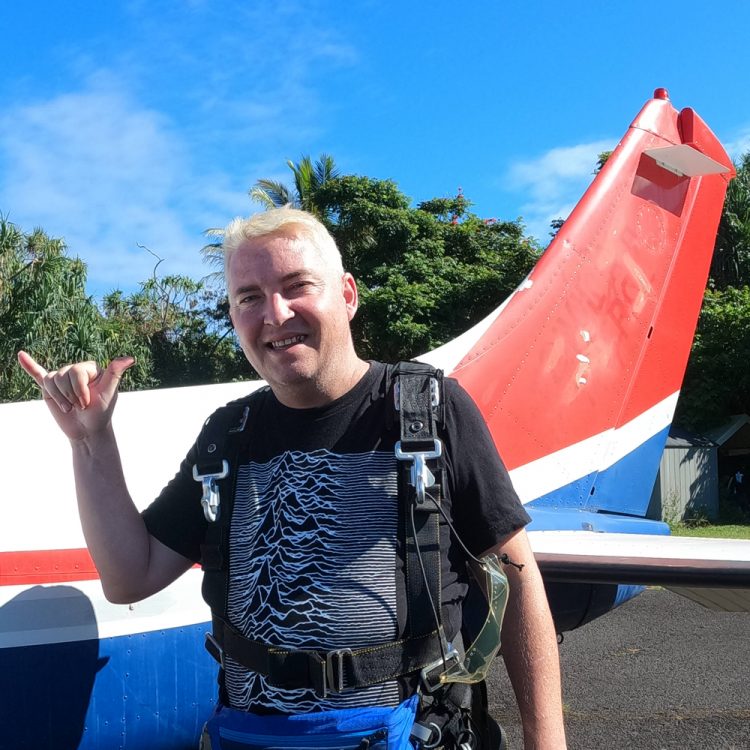 The expedition begins. I throw a shaka in front of the "airplane," a metal machine that is tinier than an itty-bitty puddle jumper. My instructor Ed is taking all these photos. I'm excited but I'm also thinking: "Why the hell am I doing this? Danger! Danger!"  
It's an adventure that will take me 10,000 feet in the air and drop me like a bowling ball launching from a slingshot. I'm about to feel the wrath of gravity.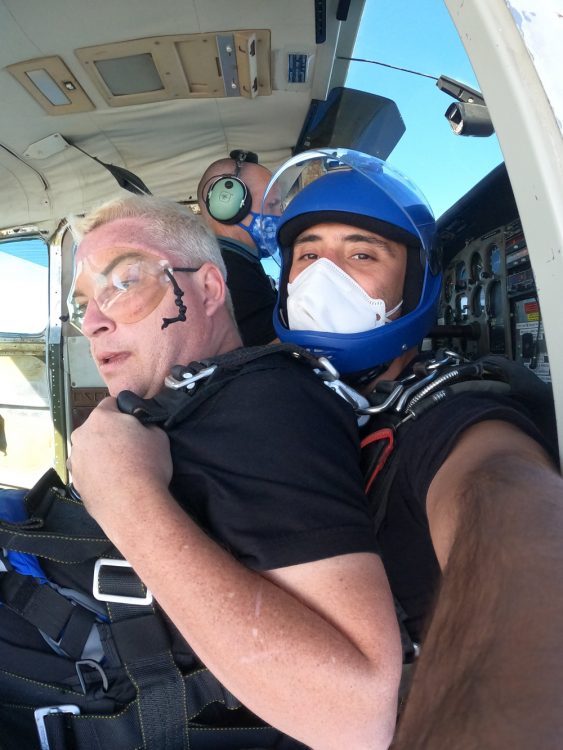 There are no "seats" on the plane. It's like a flatbed truck. Legs facing forward, my body is in an 'L' shape, leaning against Ed. I gaze out the window as we fly higher and higher. The pilot announces we're halfway up and I feel a pang in the pit of my stomach. "We're already super high!," I say. You can see the fear written all over my face.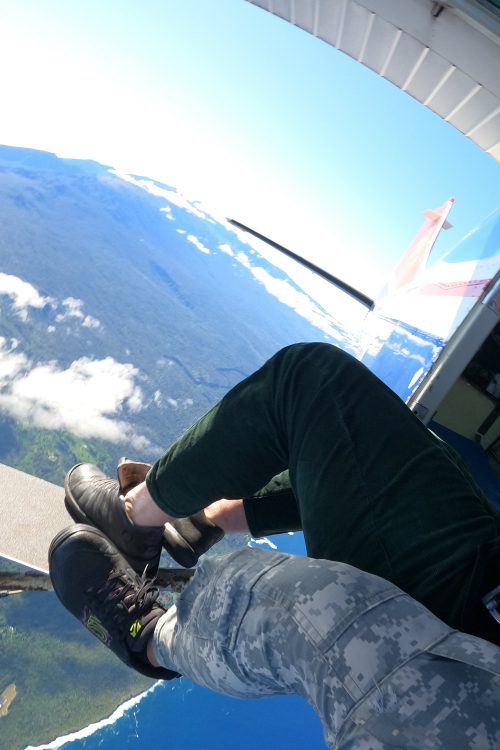 The plane purrs. Another instructor opens the door seconds before the jump. I'm shaking like a frightened rabbit. For some reason I'm not wearing socks. My feet are cold. But I've got my trusty green corduroys and a Joy Division t-shirt to protect me. 
My heart is racing. And then, Ed nudges us outside and into the void. It just might be like sliding through a birth canal.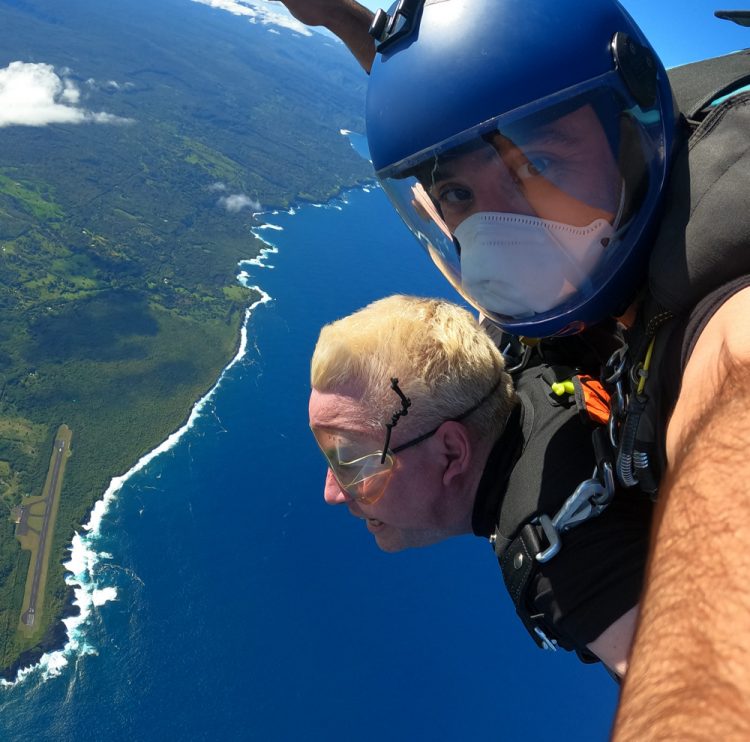 The wind moans — raging and shrieking in my ears louder than any show by Metallica or Minor Threat, pick your poison of heavy music.  At first glance, the Earth is tiny. But the power of mother nature overwhelms me. 
With the shores of East Maui down below, I look upon the land and am reminded of a homemade roadside sign I've seen: "Take care of the 'Āina (Earth) and the 'Āina will take care of you." Wise words.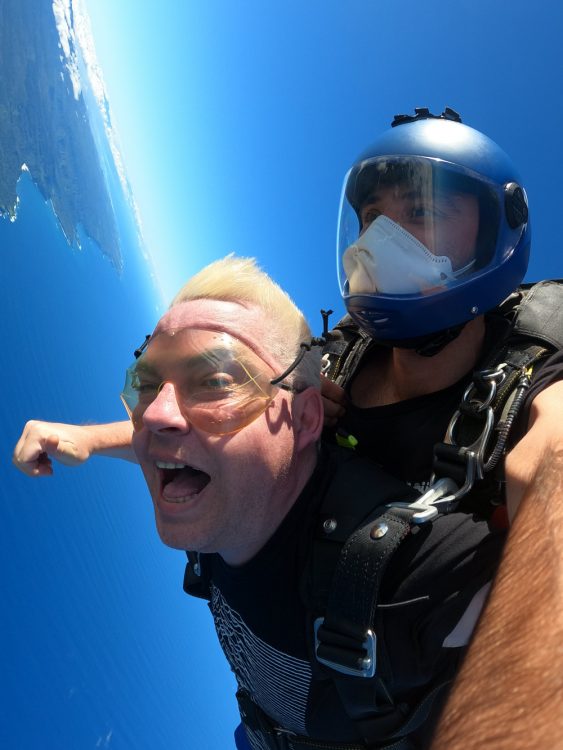 I'm screaming bloody murder! When else do you really get to scream without people thinking you're in trouble? It is more cathartic than anything I have ever experienced.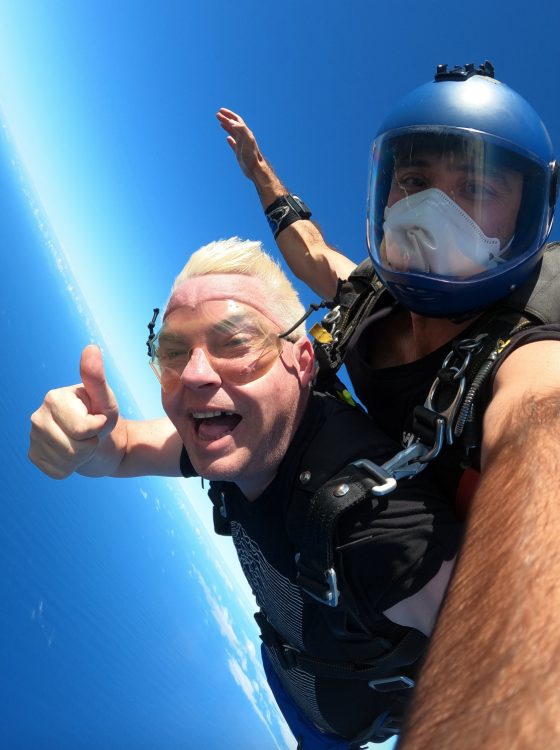 The free fall is only 30 seconds but it feels like eternity. I'm in the thick of it and I trade fear for fun. There are humpback whales breaching down there. They visit the Hawaiian Islands from Alaska every winter to mate. I see several of them leaping out of the ocean and splashing down. I also see Maui's famous black sand beach, looking little from above.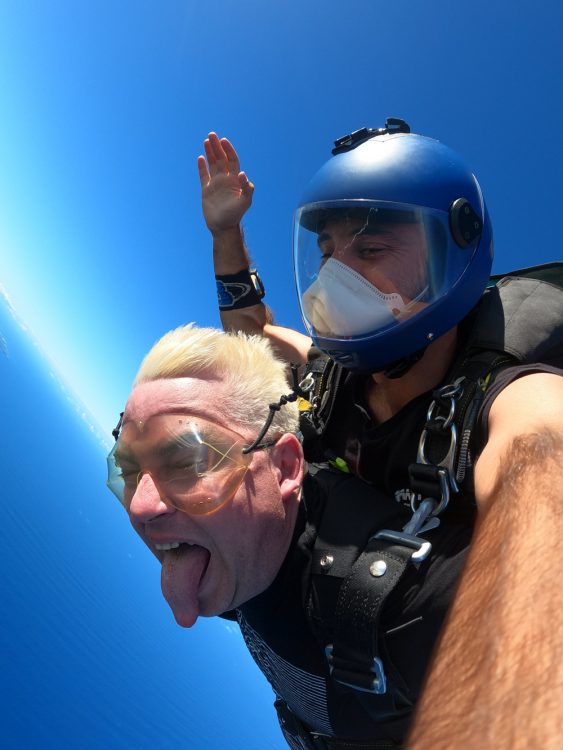 As I settle into the dive and the dread dissipates, I'm a bit more playful. Here I am channeling Gene Simmons — lead singer of the '70s rock band KISS — who is famous for his king-sized tongue.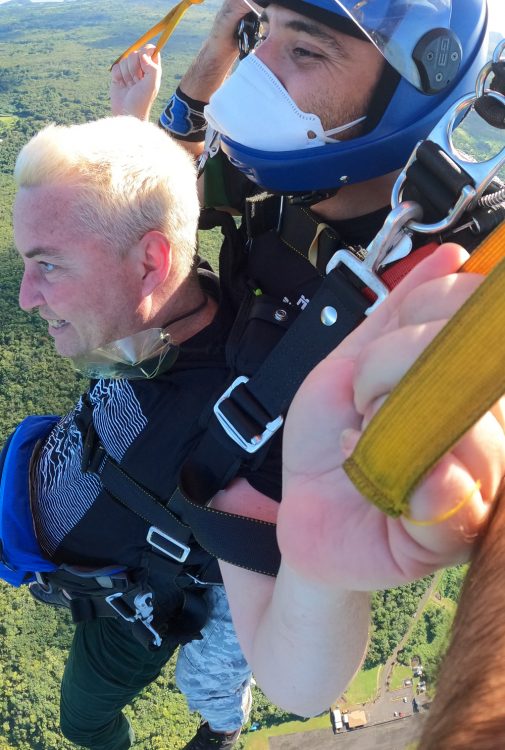 Ed triggers the parachute. It opens, jerking us from free fall, shifting us upward and into lower velocity. The harness tugs at my thighs and is quite uncomfortable. I grit my teeth.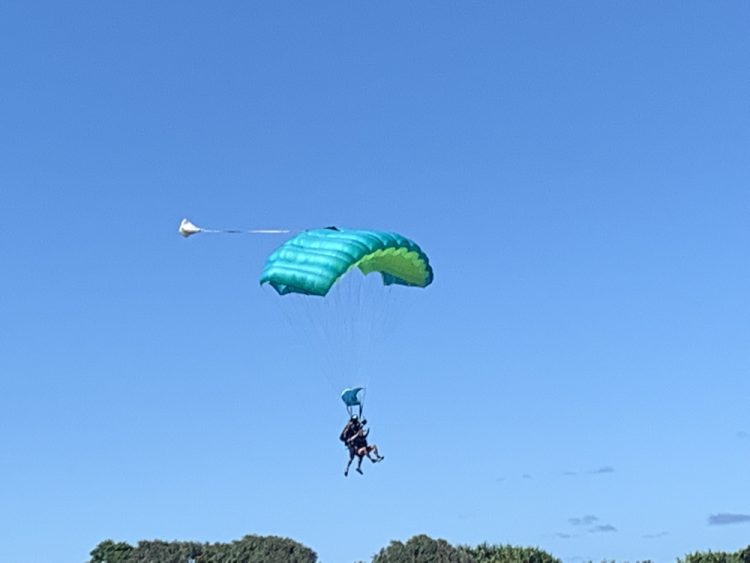 Touchdown!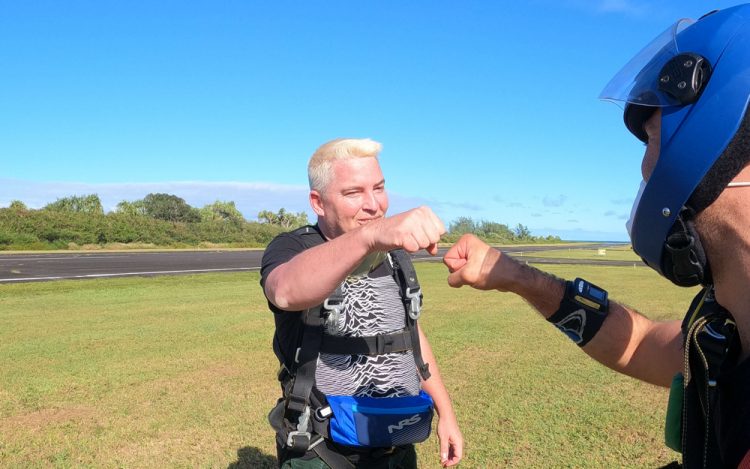 Ed and I share a post-landing fist bump.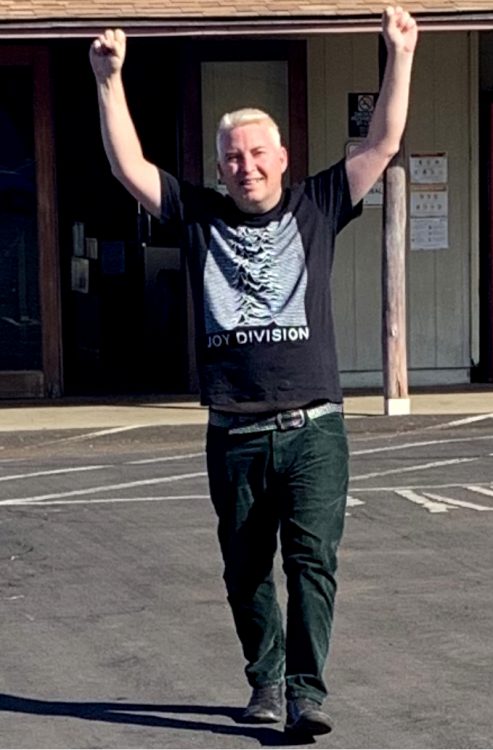 Exiting the miniscule Hana airport. Victory!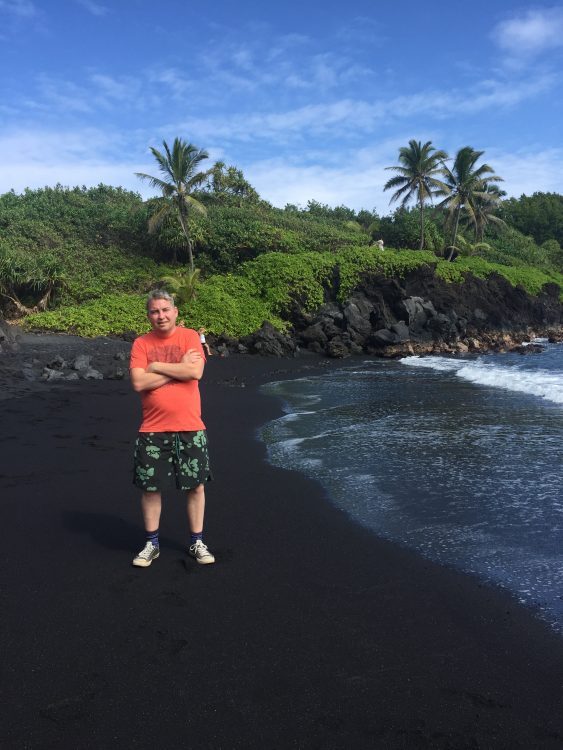 No trip to Hana is complete without a visit to the black sand beach at Wai'ānapanapa State Park. I have nearly circumnavigated the island.  
To get to Hana, it is a three-hour drive from West Maui along treacherous winding roads with one-lane bridges over streams with waterfalls and deep ravines and mountainside cliffs. The Hana Highway is a mostly rural road with 620 curves. Scary. Just about as dangerous as the jump itself. Surviving the road to Hana is a badge of honor.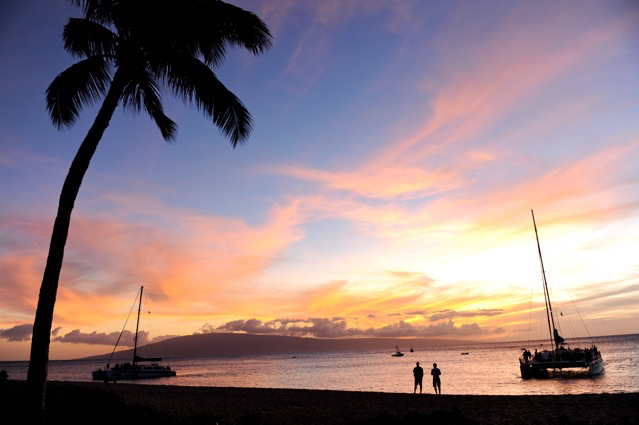 Another three-hour drive and I arrive home to catch the sunset on Kāʻanapali Beach.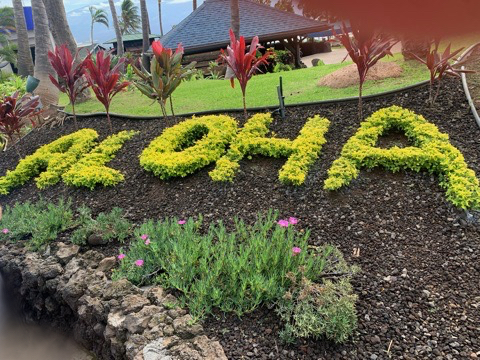 After the dive…
…I feel incredibly in sync with the spirit of aloha.
I'm no hippie — really I'm a punk — but I definitely taste a sense of kumbaya. My momentous skydive is abundantly thrilling. Believe it or not I turn on The Grateful Dead when I get home for some mellow vibes.
Skydiving is a totally transcendental experience. I feel like I've been healed. This dive only amplifies a sentiment of emancipation. Now I am at one with mother Earth. I am free.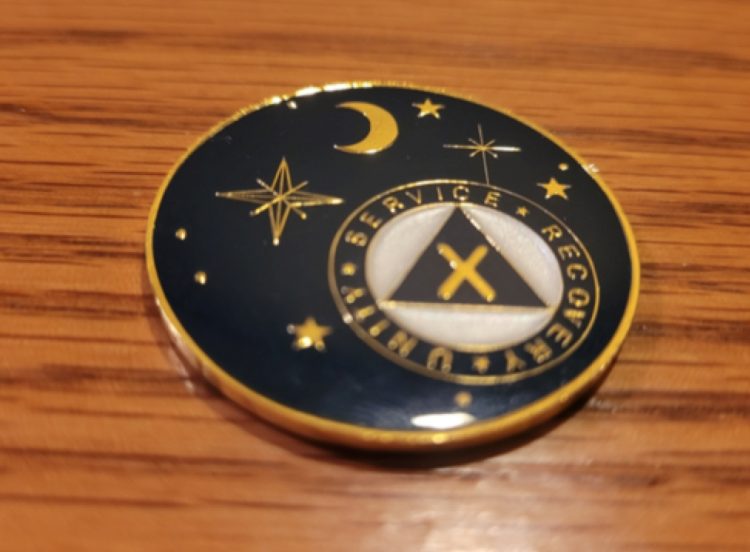 My new sobriety coin, courtesy my recovery twin Erin. S. We went to high school together, we're both music geeks, and she just celebrated 10 years sober herself. Congrats Erin! I have quite the coin collection now. They sit in a special box I keep in my Chicago apartment.
I want to thank to Maui Skydiving for the incredible dive.
I bet you're wondering how I've stayed sober for a decade now. Well, first and foremost, it was the support of my wonderful family. They staged an intervention in 2011. I went to rehab at Hazelden Betty Ford, which helped save my life.
I know I am very fortunate to have a free place to escape winter and my seasonal affective disorder. My mom and dad live here on Maui, where they have retired.
Thanks to the people at Alcoholics Anonymous and Dual Recovery Anonymous who played a major role in my early recovery.
I am grateful for my psychiatrist, who continues to help with my dual diagnosis of bipolar disorder and addiction.
Kudos to my friends in Chicago and New York City who have stuck with me for these 10 years.
And I also appreciate my readers, both those who have read my book "The Bipolar Addict," or my work on The Mighty. Plaudits to many more people who have played a role in my recovery.  
If you're having a sober anniversary, I want to hear from you. How will you celebrate? Or how have you celebrated in the past?
Peace. Love. Empathy. "A hui hou."
Until we meet again.
"I chose sober because I wanted a better life. I stay sober because I got one."
— Anonymous
Lead image courtesy of contributor
Originally published: February 6, 2022