To My Dad During Year 3 of His Sobriety
---
Ever since I was a child I knew something wasn't quite right. I did everything in my power to get you to notice me, to see I was your little girl. But nothing I did would ever matter because you had something that would always take precedence over us.
I'd get your smile for just a moment sometimes. If I was lucky I'd get your undivided attention too, but that was fleeting because your secret would always be number one. I heard mom crying at night after another fight, a fight over your secret, which really wasn't a secret at all. I memorized your face while you were sleeping away your secret, afraid it was all I would have to remember you by. The memories of a once youthful face, now weathered and worn by life's path.
I used to dream up a new father, one who always happened to have your face. One who would show up when promised, and not leave me waiting alone at another softball game. I'd envy all the cheering fathers, with faces so bright and proud, and wonder what I did wrong. Why was I always the child left waiting and wanting for something I'd never get?
But then I got older and realized what addiction really was. I realized I had a father all along, he wasn't what I wanted, but he was what I had. I learned to love what I was given after life's secrets were revealed. In November 2012 after 30 years of struggling with your secret, you said you could do it no more. For days I had tears streaming down my face, thinking I'd never see you again. I wanted to take back every moment in time I ever thought something bad about you, just so I could relive it and see you again. But a few days later we got a call that changed our lives — you checked into rehab and you've been sober ever since.
A year ago this past December I met you for the very first time. The real you, the person who was hiding behind secrets, after 27 years of wanting and wishing for something more it was sitting right in front of me and I didn't know what to say. But I know what I can say now.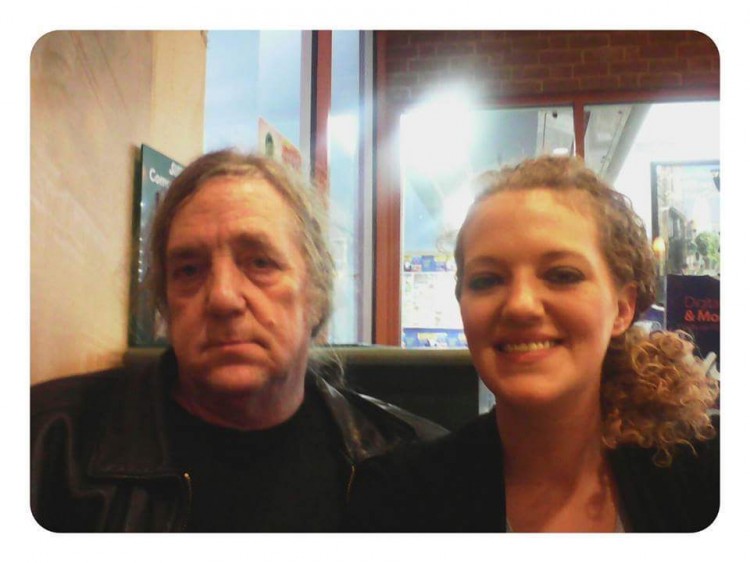 I'll never understand the pain you experienced or why you made the decisions you did, but I've come to realize those decisions aren't mine to understand. I want you to know I consider you a hero now. It's funny to say, but I think I considered you a hero all along. You fought something so hard, something I'll never fully understand and you won. You win each day by waking up, and you win each day by going to bed, knowing you lived another day without your secret invading your life once again.
Heroes come in all shapes, sizes, occupations and walks of life. You come in the form of someone battling something so intense it consumed your entire life. When I look back at this picture of the day I met you for the "first" time, I can't help but smile. It was the first time you made a promise to me and kept it. The promise you made was to come to my sons first school concert, and you did. Talk about coming full circle. If anyone gets to experience the real you, full of kept promises, I can't think of anyone better than your grandchildren. I can't wait to continue getting to know you, and experience all these things I never got to before. I love you dad, and we are all here now to walk alongside you for the rest of your life of recovery.
The Mighty is asking the following: Write a thank-you letter to someone you never expected you'd thank. If you'd like to participate, please send a blog post to community@themighty.com. Please include a photo for the piece, a photo of yourself and 1-2 sentence bio. Check out our Submit a Story page for more about our submission guidelines.