When Fighting to Get Well Feels Like Climbing a Mountain
---
Growing up, I had only ever seen people skiing on TV, during the Winter Olympics and while watching things like James Bond movies. I always hoped to try the sport out myself, and when I heard about a school ski trip (at 16 years of age) to Mt Ruapehu, in the North Island in New Zealand, I jumped at the chance. The trip was not cheap, and I had to pay for travel, accommodation and hire equipment myself. My parents did not have the money.
I worked at a supermarket in Auckland and saved every penny to attend the trip. It turned out to be a group of 20 students who happened to be rich and snobby and who were all well experienced in skiing. Looking back at the experience, I now realize just how unprofessional the three teachers were and that they pretty much were on vacation themselves and were not interested one iota in keeping an eye on any of the students. We arrived at Mount Ruapehu quite late in the day. In fact, there had been a huge snow drift, meaning we were stuck at the bottom of the mountain with all our luggage to carry up. The lifts had closed for the day and we had to literally climb a snowy mountain with our gear to reach our log cabin.
The teachers went ahead and the students followed. I found the journey difficult. Walking through knee-deep snow as the sun went down and dragging my luggage was a hard task. The cold air began to affect my lungs, and my asthma got out of control. I had to stop to find my inhaler. No one stopped to wait. Everyone simply carried on, and I found myself halfway up a mountain with asthma and not one person in sight. It was evening on a dark, wintery night, and all I could see was a black sky and white snow. I did not know where to go but simply followed the footprints in front of me. The experience was quite distressing, and I remember crying to myself and feeling scared and exhausted.
Eventually after a few hours, I arrived at the log cabin. Everyone else had settled in and chosen their beds, the dinner was nearly cooked and I was just arriving. No one wanted to talk to me. I was certainly the odd one out, with no experience and pretty much a loner by myself for the whole week. However, I decided that I would not let this upset me, and the next day I went out with my skis and taught myself to ski. I started off on a small slope and then moved up the mountain to a bigger slope and so on. Eventually I was at the top of the slope skiing as well as the other students in my group, and they were just staring at me in shock. I had a bittersweet skiing holiday where I enjoyed myself with my own company. Sadly, the holiday came to an abrupt end when one of the students in the group had an accident that left him paralyzed. I have never been skiing since and don't think I'd ever be well enough to do it again, but I did get to experience the sport, and despite the social nonsense, I enjoyed the thrill of skiing fast down the mountain.
I think one day I'd like to take my daughter to the snow, and if I'm well enough, we could get some tire inner tubes and ride down the mountain together. That would be so cool! It is going to be a some time before I get well, but still I can have goals, dreams and plans for the future.
Although my experience at 16 was not the best, I did learn a few lessons at a young age. I learned that in order to do something difficult, something that is incredibly hard such as climbing that mountain and walking through the unknown, I need to be strong. I need to depend on myself because the harsh reality is that in today's world, I believe many people only think of themselves and focus on what they can get out of life. I recognize that there are genuine people out in the world who do care, and I do have some supportive friends in my life (especially online, as that is where I do most of my socializing as an unwell person). However, the truth is if I want to make something of my life, to be the pro blogger I want to be, to be the mother I want to be, the wife I want to be and live the dreams I want to live, I need to take those steps toward these dreams on my own. I am fortunate to have my husband by my side pushing me up and sometimes dragging me up the mountain we are climbing together. 
At times it is hard trying to accomplish what seems impossible, especially in relation to my health goals and dreams and all the steps I need to make to get there. I feel the National Health Service (NHS) is letting me down and that they really do not care. I have my relatives who love me and friends who support me from a distance. I even have some blogging friends who support me in the blogging community, and for that I am truly grateful, but at the same time if I don't work each day to fight my cause and try to be heard, to raise awareness for my illness in the hope of one day getting better, I will not get anywhere because no one is going to do it for me. 
I have three main health goals for 2016, and they all revolve around my illness, adrenal insufficiency. Adrenal insufficiency is a condition where the body fails to produce cortisol, the "stress hormone." This can be life-threatening and causes symptoms such as muscle weakness, nausea, low blood pressure and headaches.
My first goal for 2016 is to lose more weight, to strengthen my muscles and use my wheelchair less often. When I first went on steroids for adrenal insufficiency, I gained weight. I've been working towards a healthy BMI and lost 30 pounds so far. Losing weight will ultimately reduce my daily steroid dosage, which will be better for my body.
My second goal is to find a new endocrinologist who will work with me to use the adrenal pump. I'm currently on hydrocortisone tablets, which do not keep my health stable. I would like the opportunity to have the best medical option available. Finding the right endocrinologist to wrk with will be a major stepping stone to improving my health.
My third goal, which is related to goal two, is to raise the funds to purchase my own adrenal pump and cover the cost of consumables, medication and private appointments. I don't have much choice as my NHS endocrinologist is not familiar with the adrenal pump and unwilling to consider this as an option for me.
I don't mean to offend, but the truth is, I am on my own. No one is going to do the work that needs to be done in order for me to reach my goals. I must fight my own battle, and when it feels like I'm doing it on my own, I must not give up. When I do get to the top of this mountain, I will ride back down and enjoy the scenery and the view. Those who have supported me will be remembered, and those who simply couldn't care less, well, I'll ride straight past them and onto better and greater things.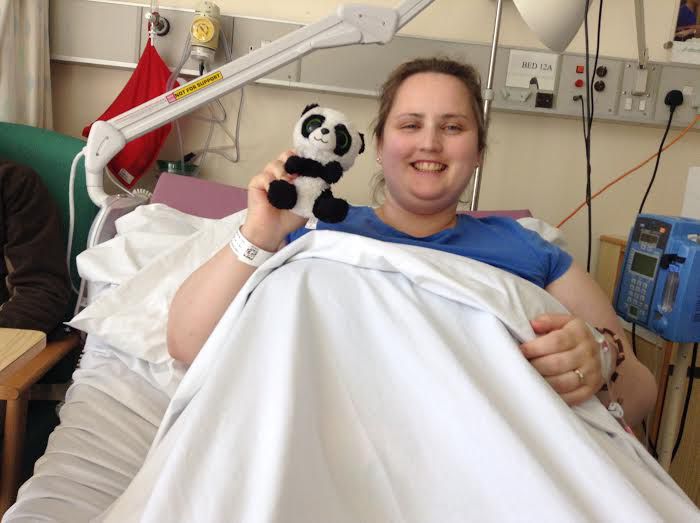 Follow this journey on Days In Bed.
Originally published: January 5, 2016