The Caregiver Self-Care Tip I Learned From Disney Movies
---
If you're a fan of Disney Pixar's "The Incredibles," you have heard Mrs. Incredible say, "Your identity is your most valuable possession. Protect it." This is not a small task for a caregiver, and I struggled with losing myself because I was not tending to myself. I could and would fiercely handle a crisis and advocate for my dad who had cancer and/or my husband who had ALS, but I could not handle myself and how out of control my life felt. I could not voice my need to take care of myself. In my mind, since my dad and Ben were ill, they were the ones who mattered.
The people around me told me I had to take time for myself. It really irritated me because it was stating the obvious but also felt impossible. For me, I live in NYC and going to the theater or ballet is my favorite activity. But, when Ben and my dad were ill, I barely kept up with what shows were on Broadway (I didn't even know "Hamilton" was a thing!) and, on the rare occasion I was able to go out, those things didn't offer the same satisfaction they did before because I never went with Ben, I felt guilty for going out and because I was worried about what was going on at home if I was not there, and lamenting what I missed: he life we had, who we were before illness took over, the things that I, and we, couldn't do.
If I did have a moment to myself at home, I often felt so overwhelmed that I sat on the sofa wasting time just staring into space or the TV, playing games on my phone, venting in emails to my friends or living vicariously through my Facebook friends. There were times that, other than my caregiving responsibilities, I did not even want to watch TV with Ben, withdrawing into myself.
It was through a love that Ben and I had for Disney films that I discovered my greatest source of self-care. Ben and I loved to watch Disney movies, and what I found was that the films were more than simply distracting and entertaining together time. I was seeing the films in a whole different way when I watched them through the eyes of a caregiver. They were shedding light on my caregiving situation. Disney films let me feel understood because they tapped exactly what I was feeling and gave me perspective on a situation that was very daunting. They were simultaneously giving me a much-needed break from reality and letting me think through my feelings about my reality. While having someone stay with my husband while I went out was sometimes possible, though less and less ideal, I realized I was so busy thinking that taking care of myself meant planning a major outing and dwelling on the negatives like the help I didn't have, that I didn't see that taking time to watch a Disney film was also time to reflect and enjoy my own company right within our apartment!
What turned out to be the most valuable thing I did for myself was that I began keeping a journal of the Disney quotes, films and characters that made an impact on me and wrote about how they related to my experiences in caregiving. Although I read all of the self-help books and articles I could find, it was through Disney, my best comfort, that I really was able to find and express myself. Writing was always a passion of mine, but I stopped writing in my journal because I felt like I kept repeating the same issues without finding solutions. By creating this journal, I
unexpectedly combined my love of Disney and writing with my caregiving, and
held onto a vital part of myself without having to leave home.
Collecting and writing about Disney things gave me an opportunity to reflect on my experiences in a way that was honest about the not great people and things, but also reminded me of why I continued to be a caregiver: love, dedication, a personal desire and sense of responsibility to do the profoundly meaningful work on behalf of people I loved who needed me. As Cinderella said, "They can't stop me from dreaming." And, when I began to think that my quotes and experiences could at some point be a book or blog, I had something positive to think and fantasize about and plan for in my future. It took a year, but I did eventually launch my blog, Pixie Dust For Caregivers. It has been an invaluable way to take care of myself, heal and connect with other caregivers.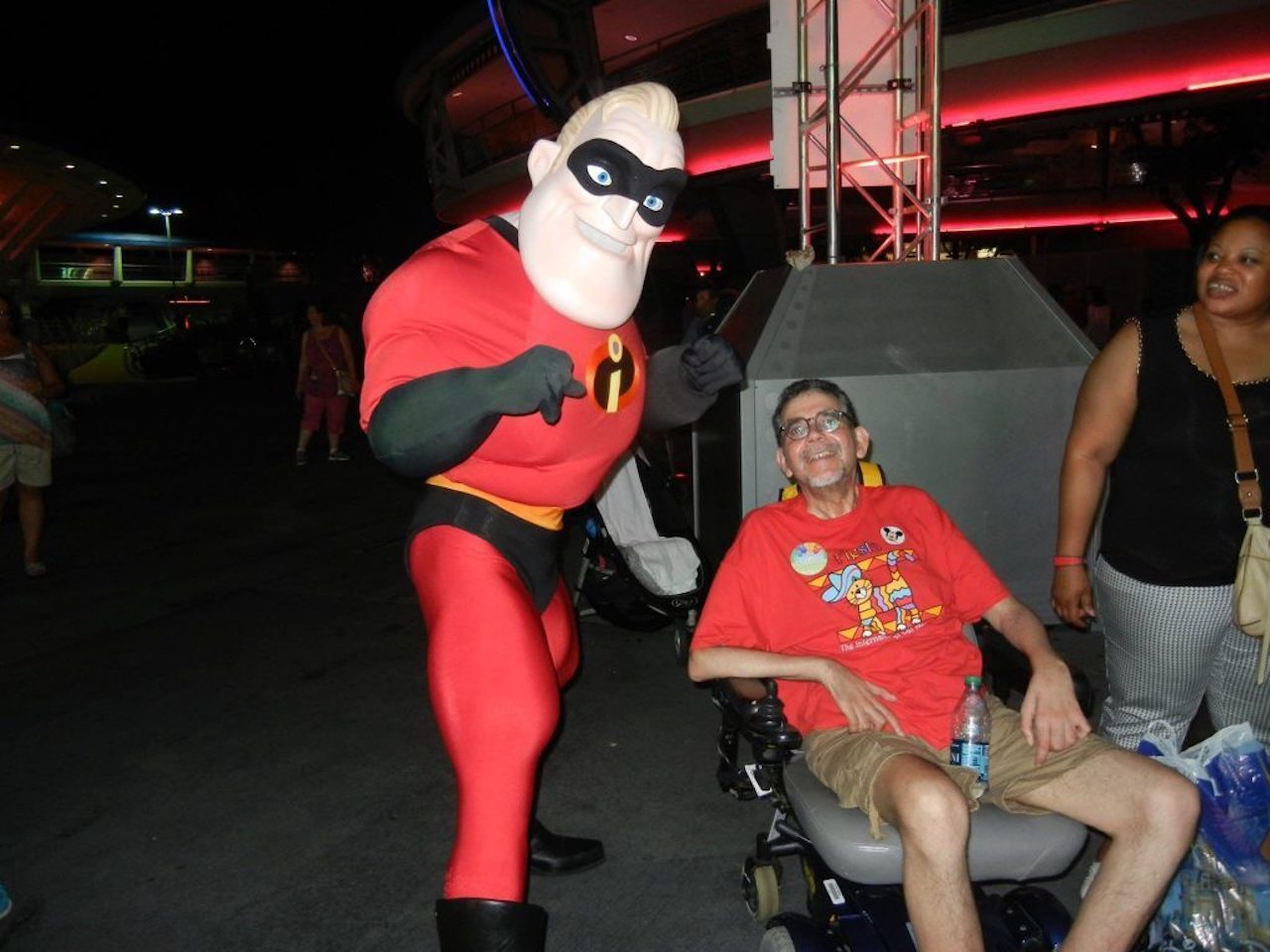 Sometimes, even very small actions provided a huge dose of self-care. For example, the thermos of tea that I drank on my daily 2.5-hour train ride back home after visiting with my dad in hospice became my precious "Abby time" to reflect, listen to meaningful music and read. Yes, my phone was in hand for texts and issues that might arise, but each sip of tea allowed me to take a deep breath and, as "Frozen's" Elsa said, "Let it go!"
Originally published: October 13, 2018