Celebrating Mother's Day With a Mom Who Can't Remember Me
---
This Mother's Day, I will do the same things I have always done for my mom. I will visit her, bring her flowers and tell her I love her. I will try to show her I appreciate the independent, strong and loving woman she has always been — and thank her for helping me become who I am.
In fact, the only thing that will separate this Mother's Day from those of the past will be my mom. When I greet her, she won't be able to remember my name or those of my two sisters. All the cards she will receive will be signed by close friends or family, but she won't be able to recall their smiles or the sounds of their voices. Before we start our day, she will need help to get dressed and clean up, and get from her bed to the living room. When she sees me, she will smile. She still recognizes my face but cannot always put her finger on how she knows me.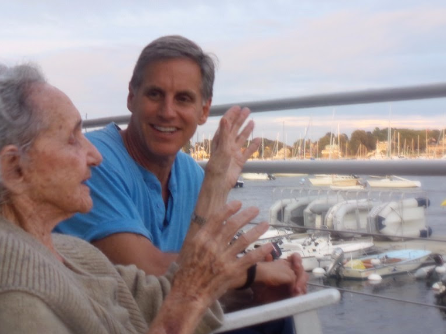 My mother, who was once the primary caretaker of her husband and three kids, who worked as a substitute teacher and part time editor of the Harvard Business Review, who threw amazing parties and volunteered at the temple and ran a gourmet catering business in her spare time, has Alzheimer's disease, just as her mother and brother had it before her.
My mom is one of 44 million people worldwide suffering from this disease that has robbed her of her memories, her sense of self and on her worst days, the desire to live and love. We are one of millions of families that have to watch, helplessly, as our mom, the once invincible presence that cheered us on, kissed scraped knees and hosted joyful family events, disappears more each day.
Moms and women everywhere are disproportionately targeted by this disease. Women constitute about two-thirds of those who have Alzheimer's and also about 60 percent of the caregivers for those who have it. There are two and a half times more women than men providing intense care to a loved one suffering from the disease. Overall, Alzheimer's is the sixth leading cause of death in the United States and the only one in the top 10 that can't be cured or slowed.
My mom always pushed me to be proactive, so I have read many studies, poured over research and gotten involved with support groups, organizations and individuals who are determined to find a cure or treatment. My journey as a caretaker and as the son of an Alzheimer's patient, even led me to help start a new organization called Give To Cure (GTC).
Give To Cure is currently working to crowd fund three cutting edge clinical trials for Alzheimer's disease that scientific leaders agree show real promise for patients like my mom. GTC is based on a new model that doesn't rely on pharmaceutical companies that select treatments based on their ability to turn a profit. Instead, we have asked the scientific community for help in choosing trials with real medical promise, and for funding, we have turned to caregivers, patients, families and friends everywhere that refuse to give up on their loved ones. We are looking to connect with families like mine, who will spend this Mother's Day having lunch with someone that used to know us. We are asking you to help us find a cure.
This Mother's Day I will celebrate my mom, and I will find joy in her strength and rebellious smile. I will find a little bit of peace knowing that there is hope for moms everywhere, thanks to the work that GTC and its research teams are doing. This Mother's Day I will give my mom an extra hug for all the moms who cannot recognize the sons who love them.
This post originally appeared on The Huffington Post.
Do you have a story about your experience with disability or disease? Maybe a moment that made a big impact on you? Please send it to community@themighty.com and include a photo for the story, a photo of yourself and a 1-2 sentence bio. Check out our Submit a Story page for more about our submission guidelines.
Originally published: May 3, 2016