When a Nurse Rescued Me After I Almost Gave Up on Life With Autoimmune Disease
---
I remember precisely the moment I gave up. As if the enormous weight became too heavy to bear.
I had begun to have the strangest pain in some of my joints. And fevers. And infection after infection… with no answers. I was a stay-at-home mom of four children (the hardest job I've ever had). I could do it all, at one time in life. I went from doctor to doctor and they ran test after test, with no answers. There were ugly comments,  judgments and so much hurt during that time. Still, no answer.
Until I got one.
Ankylosing spondylitis (AS). I'd never heard of it. Maybe you haven't, either. It is an autoimmune disease that affects the spine, joints, and in some cases, organs. I read all I could about the disease. And I knew I could not do it. I wasn't strong enough. I could not do it to my children. My husband. I chose to attempt to take my own life. I failed at it.
I spent some time at a mental inpatient program and met a nurse who took time to sit with me and talk about it. He said, "Guess what? This sucks. Life is hard. Look at what you can do if you stick around and continue to fight for those who can't do it on their own. Your children. The animals that depend on you. Your influence is needed. It's going to suck. You're going to be miserable. But, you can do this. Make a change."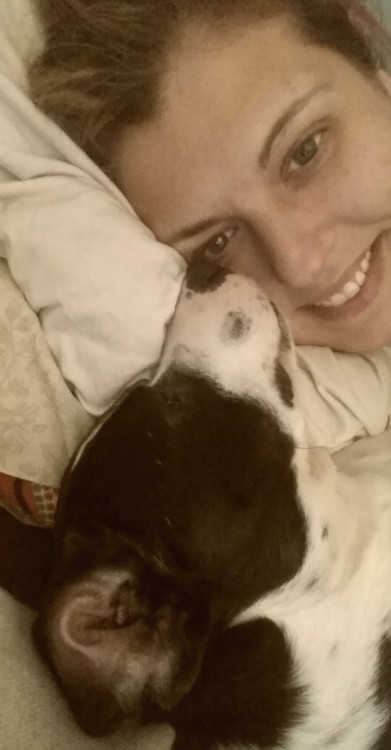 After years of rescuing and advocacy, someone rescued me. Advocated for me. I decided to fight that day. I decided to be brave. Not because life would get better for me. But because it would get worse, and I needed to be OK to fight — to fight for myself, to fight for those with no voice.
I will never run again, as there is no cure for AS, and I'm not a candidate for treatment, due to high infection risk and my immune system. But I'll be here. I choose to be. I choose to fight. And I choose to be brave. I was rescued that day, so that I can set an example, and continue to help others.
So tomorrow, I'll fight more. And I'll wear blue to support the other AS warriors. I'll find beauty in life, and in myself.
If you or someone you know needs help, please visit the National Suicide Prevention Lifeline. You can also reach the Crisis Text Line by texting "START" to 741-741. Head here for a list of crisis centers around the world.
The Crisis Text Line is looking for volunteers! If you're interesting in becoming a Crisis Counselor, you can learn more information here.
The Mighty is asking the following: Share a conversation you've had that changed the way you think about disability, disease or mental illness. If you'd like to participate, please send a blog post to community@themighty.com. Please include a photo for the piece, a photo of yourself and 1-2 sentence bio. Check out our Submit a Story page for more about our submission guidelines.
Originally published: April 22, 2016