Make the Most of Every Doctor Appointment by Bringing These 3 Lists With You
---
When you only get seven to 15 minutes with a doctor per appointment, it's important to be prepared. And preparation is essential when you have multiple chronic illnesses.
The first couple of years after a diagnosis of ankylosing spondylitis, I had two to three medical appointments a week! I had to get organized to keep track of all the paperwork – questions and answers resulting from each doctor visit, treatment plans to follow, physical therapy exercises to do, calendaring next appointments and more.
As a former librarian, when I show up to a doctor appointment today: I. Am. Organized. Here are my top tips to make the most of your limited time at doctor appointments: 
1. Bring a list of your top three concerns you want to address today.
Keep it to a short, bulleted list. Give a copy of this to the nurse to give to the doctor before he/she comes into the room; they often look at your chart before entering (you'd hope so, anyway!). Keep a copy for yourself to remind you of what you want to cover. Include prescription refills (doctors often want this done during your appointment, not a phone call). Most of the doctors I have seen really appreciate this; it lets them know what you want to address in a snapshot. Here's what mine looks like: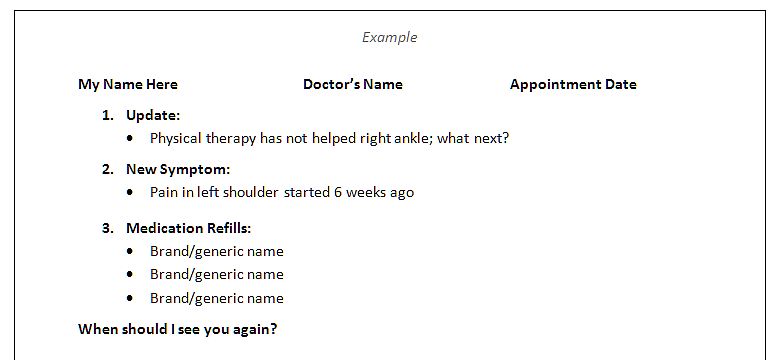 2. Bring a complete updated list of all prescriptions and vitamins you take.
When you have multiple chronic illnesses, lots of medications are prescribed. Include the brand and generic names, dosage, what you're taking it for, when you started, who prescribed it and their specialty. To keep track of everything I find it easiest on the eyes to list my medications by disease. This makes it easier for me when reviewing my meds with a nurse, and also easier for the doctor when looking at my list.
Once I started bringing this comprehensive list of all my medications and supplements, nearly every medical professional I've seen loves it! It makes their job easier.
This sounds overwhelming, but here's what mine looks like (you can download a free template at my website here):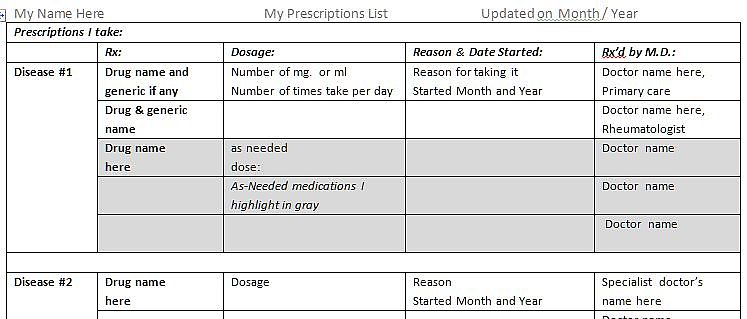 3. Bring a copy of a complete list of all your medical providers.
If you live in an area where medical records are now on computer and the medical community has its own local online network, this may not be necessary. However, if you're like me and see a specialist in another city 100 miles away, they are not likely to be part of the same medical network. It's helpful to have a list on hand.
Include their mailing address, phone and fax numbers. Include your primary care doctor, any specialists, any physical/massage/occupational/mental health therapists, mail-order pharmacy, local pharmacy for as-needed medications. If you have this information with you, it will expedite your care.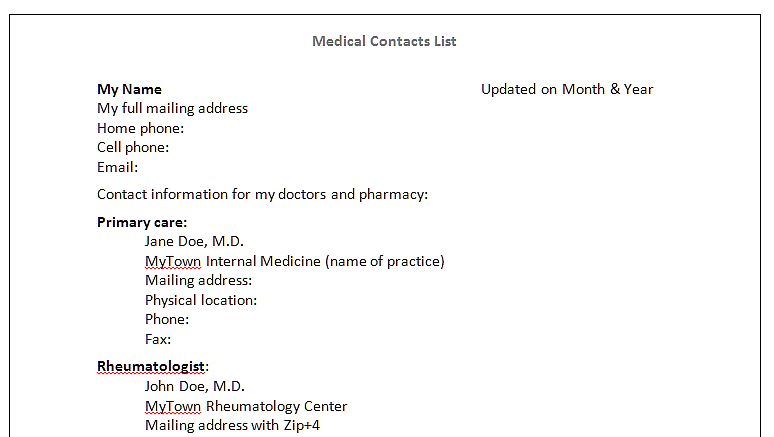 Is it worth it? Yes!
All this paperwork takes time to set up (you can download free templates for these on my website), but it helps both patient and healthcare provider to be on top of things. It's not an easy task when feeling down from illness. Enlist a family member or friend to help you with this, if necessary. It is well worth the effort in the long-run. You and your care team will be glad you prepared yourself.
Originally published: November 10, 2018