To Rachel Platten, Who Gives Me Strength to Conquer My Demons
---
I am sure you get many letters, fan mail and gifts. I didn't send you a letter about how you've helped me because, well, I am sure you get lots of those. I recently saw you singing with a young girl who has cancer, and your song "Fight Song" helped her immensely. You see, there are many illnesses out there, not just physical ones but mental ones, too. And I want to express how you have helped me.
I have been struggling with anorexia nervosa for almost 13 years. People tend to brush it off because they don't understand the facts about eating disorders. They quickly classify us as vain, attention-seeking and selfish. But this is far from the truth. There are many reasons I developed this disease. I have a lot of family issues and I have a personality trait of being a perfectionist (it's my one sense of control). I didn't have an image in my head of a celebrity's body that I wanted to attain. I just wanted to be thin. I wanted to be skinny enough to be loved, to be perfect. I just wanted to be enough.
When my anorexia started at age 10, I didn't even know what an eating disorder was, never mind that I had one. It quickly escalated and I developed severe medical issues. I have almost lost my life numerous times, and I believe the only reason I am alive has to be God. I've had heart damage, and there was one point where most of my organs were shutting down because I was in septic shock. My latest health scare happened a few months back. I started having multiple seizures a day. I ended up in the hospital where I spent three weeks trying to get them under control.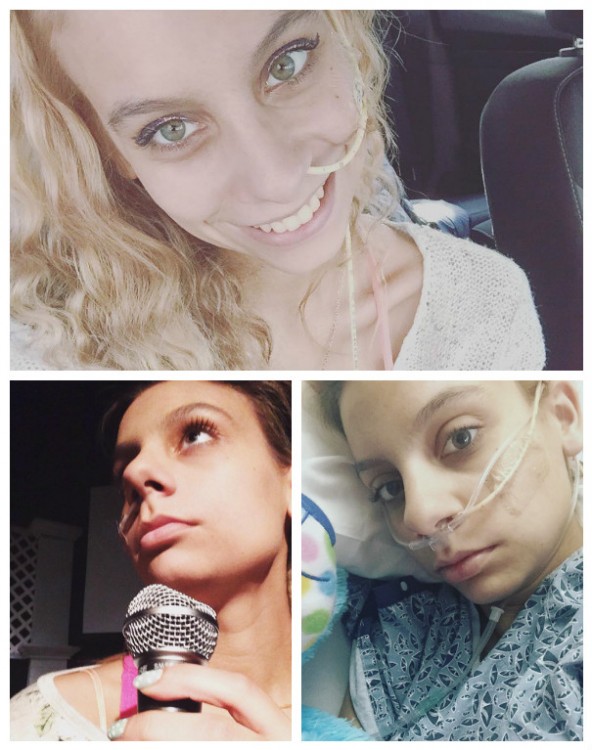 Now, for the past month I have been stuck in a skilled nursing physical rehabilitation facility — a 22-year-old in a nursing home. I lost almost all muscle strength in my legs. I can't even stand longer than 30 seconds, and that is with a lot of help and support from someone else, so technically I am doing half the work. I constantly think to myself, How did I let it get this bad? I would tell myself that I am done, that this is what is going to kill me.
Until one day, I was down in physical therapy and we decided to play a song to help me get through the excruciating pain that struck my legs. We played "Fight Song." I instantly started crying while I was trying to stand. Tears of joy. It motivated me greatly. I carefully listened to the words and knew they applied exactly to my situation. I kept telling myself I will get better, I will be able to stand again and dance. I will conquer this eating disorder and depression and anxiety.
You see, my dream is to help people through music like music has helped me. I actually do sing — would I give anything to get to sing with you. I think people need to also see the reality of eating disorders — they are not glamorous, they are deadly diseases, tormenting and affecting you both mentally and physically. I call it cancer of the mind. I have tried to kill myself five times because I thought it was the only way out of this demon. But I thought you should know that "Fight Song" really helps. I also looked into the background of why you wrote it, and I resonate completely. I want to make it in the music industry as well. My dream is to help people through music like it has helped me.
I doubt you will get to read this, but I pray you will. You deserve to know your song is helping people of all struggles and challenges.
If you or someone you know needs help, please visit the National Suicide Prevention Lifeline. You can also reach the Crisis Text Line by texting "START" to 741-741. Head here for a list of crisis centers around the world.
The Crisis Text Line is looking for volunteers! If you're interesting in becoming a Crisis Counselor, you can learn more information here.
The Mighty is asking the following: Share a powerful moment you or a loved one has had with a public figure. Or, write a letter to a public figure who you feel has helped you or a loved one through his or her work. If you'd like to participate, please send a blog post to community@themighty.com. Please include a photo for the piece, a photo of yourself and 1-2 sentence bio. Check out our Submit a Story page for more about our submission guidelines.
Lead photo credit: YouTube user madbadhadsad screenshot
Originally published: February 4, 2016