What This Piece of Cake Means to Me as Someone With Anxiety
---
The picture above is of a slice of cake. In fact, it is a slice of Sacher Tort, which is a famous cake from Vienna (where I took this picture). It's basically a chocolate cake with a thin section of fruit jam — typically apricot — in the middle, served with a big dollop of whipped cream. It was made famous by Chancellor Metternich, who was the chancellor of Vienna after the French Revolution up until the revolutions of 1848. It was supposedly created by his personal chef, whose family name was Saker, and the family (again, supposedly) still makes it today at the Hotel Saker, which is in downtown Vienna. Compared to the pictures of historic buildings and gilded palaces that surround this photo in my photo album of the trip, it doesn't look like much. Most people would look at it like a nice Instagram photo, but to me, that slice of cake represents a lot more than what it seems.
To understand this, you need to know a little bit of my history. About a year and half ago, I went abroad with my family to London, England. It had been a dream of my family's to get outside of the country — specifically to London — for as long as I could remember. I was super psyched for the trip (Aside from the plane fight over the ocean, which is another story entirely). The first few days were great. I explored historic sights I'd only ever read about in textbooks and novels and walked in the footsteps of history, which as a history major, thrilled me. And then I ate dinner at a pub one night, which seems normal enough, until the next day, I was puking my guts up for nearly 12 straight hours. My parents made the decision to take me to the emergency room. I spent the night there, hooked up to IVs, having blood drawn and being examined by doctors. By early morning, I was released to stagger back home and collapse back into the bed of the rented apartment we were staying in. For the next couple of days, the trip went OK, but then I got sick again — really sick — and I ended up in the hospital again with more IVs and more doctors and more blood tests. They told me it was food poisoning. My parents and I surmised it was probably from the fish and chips I had in the pub near the beginning of the trip. No matter the details, the fact remained I was terribly sick. I ended up getting better enough on the last day to fly home, though I couldn't eat anything or even walk through the airport due to the effects of the illness.
That trip changed my life and not for the better. My eating habits were drastically changed and my views on traveling abroad were clouded by that experience. I struggled for a long time after that trip with my diet, traveling and just getting over the traumatic memories that plagued me near daily. It takes time to get better from experiences like that, even with all the love and support I was shown from family and friends. I'm not 100 percent there today, but I'm a lot better than I was only a couple months after the event. I've started eating fish again, I'm slowly improving my diet, and the mention of "London" no longer sending me spiraling into a panic attack. The only thing I'd yet to try in terms of testing how well I was recovering, was going abroad.
That's what college is for. At my college, every first year (freshmen, to those who don't attend a women's college) is required to participate in a faculty led study abroad trip. The idea of this trip frightened me, especially because I still thought of the nights laying in the hospital hooked up to an IV or the days spent curled up on the bathroom floor exhausted from throwing up when I thought about leaving the country. I debated for a long time about whether or not I should choose a trip that stayed within the country (for there were a few) or if I should embrace the chance to leave the country again. Some small part of me longed to be back in Europe and to experience the history I loved so dearly despite all that had happened. When it came time to decide, I ended up picking a trip that would take me to Eastern Europe, the farthest from home any of these journeys were going. For a while, I felt fine about it. But as the day to leave drew nearer, my panic rose up full force and for a while, my parents worried I wasn't going to go on the trip. I was determined though, to go through with it.
I did make it to Europe, the picture proves it! It was difficult. There were unfamiliar streets to navigate, unfamiliar languages to deal with (though my meager German served me well in Vienna) and my least favorite — new foods to try. That's where the cake comes in.
People use the colloquialism "piece of cake" to describe something that's easy. You hear people saying, "That was a piece of cake" in regards to exams, shopping visits and various other activities. The cake pictured above is just a piece of cake, but, at the same time, it's not a "piece of cake." It took a lot to get me to Europe. I was terrified for the flight, the food and the possibility of getting sick again. I had to rely on friends, professors and my therapist to talk me through things and get me set up with tools on how to handle this reintroduction to a traumatic experience. I stuffed my suitcase full of snack bars to substitute for meals if I needed, calculating how many I could have a day in case I really, really couldn't eat local food. Basically, I battened down the hatches and prepared for the storm.
And that's why this picture of a slice of cake is so important. It was local food. Yes, something similar to food at home (though this is a lot denser and more chocolaty than our cake at home) but also something very traditionally Viennese. It wasn't as traditional as lung stew, sure, but it was something. I stepped out of my comfort zone and ate traditional food. In fact, I ate a lot of traditional food, including Viennese Schnitzel, Hungarian Schnitzel, Hungarian paprikas and various other pastries and dishes that were relatively unfamiliar to me. And I didn't get sick. I ate all of that and not once did I get sick.
So, yes, to most people that slice of cake is just cake, nothing special. To me, though, it stands for all the anxiety I fought through to even get across the ocean to a whole new world — let alone the anxiety I faced eating the local food. It might not have been a piece of cake, but, nevertheless, I did it.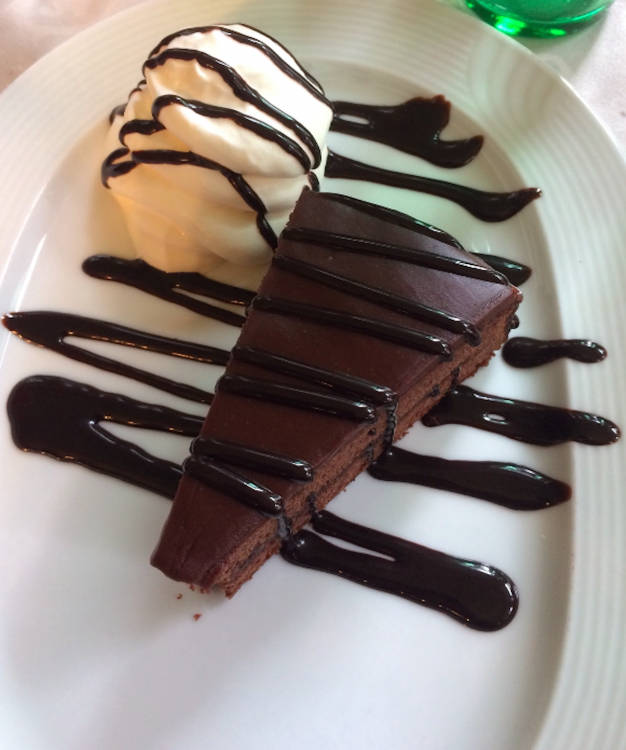 We want to hear your story. Become a Mighty contributor here.
Photo via contributor.
Originally published: July 7, 2017