Heartbreaking Photo Shows the Reality of Bullying and Anxiety
---
We know bullying hurts. We know it can damage children's self-esteem. We know it can affect their mental health, even as adults.
What we don't often talk about, though, is how the anxiety caused by bullying can hurt children physically as well.
With a photo of her daughter that now has over 250,000 shares, U.K. mom Carrie Golledge shared a message on Facebook to show how deeply bullying can hurt.
"This is what bullying does," she said. "This is my 6 year old daughter, hospitalised, due to bullying."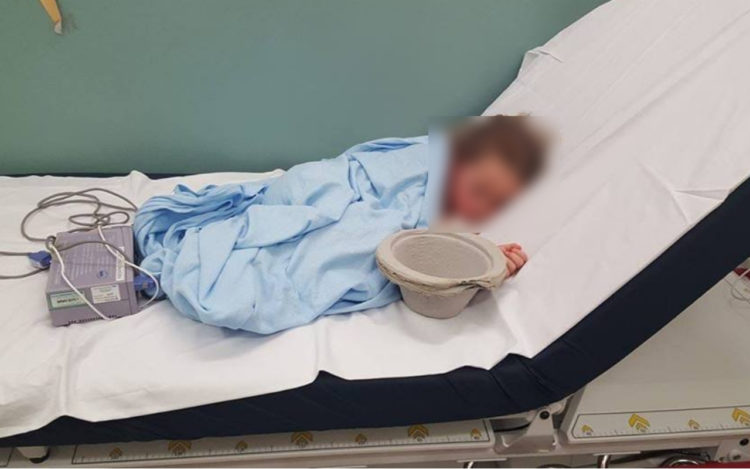 She explained her daughter had been crying herself to sleep and had anxiety so severe, she kept getting sick in the middle of the night. This picture was taken during one of many hospital trips.
It's not uncommon for people with anxiety to experience somatic symptoms, especially as a child. Child psychologist Liz Matheis, Ph.D.  knows this from both professional and personal experience.
"I was that child," she told The Mighty, "I was a target of bullying because I was so timid, and I dreaded going to school each day because I didn't know what people were going to say or comment on."
Matheis said not enough parents realize anxiety can make kids sick. She actually missed her first day of college classes because she spent the day throwing up due to anxiety. According to The Anxiety and Depression Association of America, other physical symptoms include headaches, fatigue, trouble sleeping, restlessness and difficulty concentrating.
"We underestimate the mind body connection when it comes to anxiety," she said. "So this is of no surprise to me that this little girl has gotten herself so sick because she's worrying and worrying about going to school."
Matheis said in her experience, children who are already prone to anxiety are often prime targets of bullying. Anxious kids, who can be shy, sensitive and timid, are also probably less likely to stand up for themselves. Then, of course, the continued bullying can make this anxiety worse, leaving a child feeling hopeless and scared to go to school.
When this happens, Matheis suggests making sure the school is aware of what's happening as well as giving the child space to process what's happening outside of school — whether that means at home or in therapy. The school then needs to take action, making sure the child feels safe and has somewhere to go when they're struggling, like a guidance counselor's office.
According to Golledge's Facebook post, the school failed to support her daughter. She shared:
This is my child who when addressing the issues with her school we were told "Its just 6 year olds being 6 year olds"…

This is my child who was told by the school she should be the one feeling ashamed and be snuck in a side door of a morning…

This is my child who her school failed her so badly that we had to move her schools.
Childhood bullying is serious and the mental health (and physical health) affects can't be ignored. We asked our mental health community to share an unexpected way bullying affected them. If you have a story to share, feel free to post in the comments below.
"I don't make friends fully. I'll say they're my friends and hang out with them, but I'm surprised when they're nice to me or do something that requires trust. I can't fully trust anyone as I expect them to turn on me." — 

Alyx P.

"I'm always convinced that people are faking being my friend because they take pity on me." — 

Kaleigh E.

"I always feel like I let everyone down and can't get anything right, even if I'm doing everything correctly. And that people are only with me because they feel sorry for me, and would rather not have me around." — 

Michael C.

"I'm sensitive to rude comments, even if they're small or a joke, if it's directed at me personally I'll feel sick from hearing it. I get so angry now, I don't usually let it out but my anger builds and builds so much quicker over little things." — 

Chloe B.

"Eating disorder developed. I made bad friends for years because I didn't understand how to make good friends because I hardly had any. Forgetfulness due to PTSD. Serious issues with fear of being overwhelmed." — 

Kate M.

"My friends are the biggest trigger for my anxiety. I was bullied and shunned for no reason by my friends in middle school. So anytime things are even slightly different in mood or tone, I assume I've done something wrong and they are mad at me. It pushed people away. But it also helps me know who cares. Those that stick through it are here to stay." — 

Justine F.
Image via Carrie Golledge's Facebok page
Originally published: April 14, 2023