How to Make Your Own Self-Soothing Kit
---
Holidays can be the happiest time of the year, but they can also be the most stressful time of the year. There are gifts to buy, trips to take and loved ones to visit. As joyful as the holiday season can be, it can be a stressful time for everyone — and it can certainly be a struggle for anyone who deals with mental health concerns. Being proactive about self-care during the holiday season can be lifesaving.
If you're like me, there are times when I need self-care, but by the time I realize I need it, it's difficult to bring myself to gather what I need to show myself some much-needed love. Eventually I stumbled upon self-soothing kits. Think of a self-soothing kit as a first aid kit for your spirit! You can prepare it ahead of time so it's ready whenever you need it during the stressful holiday season.
I've found it's best to include items in a self-soothing kits that appeal to all five of our senses: sight, touch, taste, smell and sound. Some items might overlap (i.e., tea that tastes and smells delicious or a wood wick candle that smells incredible and makes that comforting crackling noise). Everyone's self-soothing kit is unique, but I've put together some of my favorite recommendations for each of the five senses.
Sight
When I first started making self-soothing kits, sight was one of the most difficult categories for me cover. I tend to overcomplicate things, and this was no exception. One of my friends encouraged me to think of sight more simply, and that's definitely the way to go! For sight, you can include items in your kit that are your favorite color, pretty prints you can purchase from Etsy or even pictures of things that make you smile. Baby animals, especially puppies, always do the trick for me!
Touch
As a fidgety individual, touch is probably my favorite and most important category in my self-soothing kit. Coming from a woman who nannied during the summer of fidget spinners, you can only imagine my distinct aversion to the sound of whirling plastic and metal, but the fidget cube is a different story. The fidget cube has six sides that appeal to all of your fidgety needs. You can flip, click, spin, roll and glide in the palm of your hand. You can find fidget cubes at most stores, but this fidget cube by PILPOC is less than $15 on Amazon and comes with a case!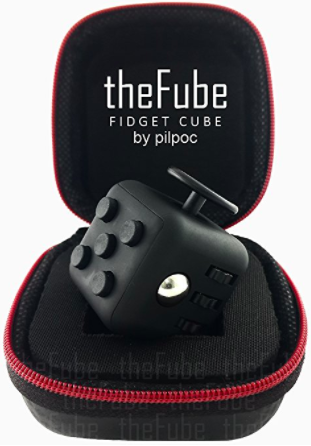 If fidgeting isn't your thing, you can try a putty, Play-Doh or slime. Simply rolling the clay into a ball in your hand can have a soothing effect, and Play-Doh is incredible cheap at most retailers. To hit two of your senses (touch and sight), pick one of your favorite colors or maybe even DIY some glitter slime with this recipe.
Finally, my absolute favorite "touch" item in my self-soothing kit is my trusty teddy bear that comes with an aromatherapy pouch that can be heated in the microwave. (My microwaveable teddy bear is lovingly referred to as Mikey, get it?) Aromatherapy stuffed animals (or lovies, as I call them) are most easily found on Amazon, but I see them around stores like TJMaxx every once in a while. If teddy bears aren't your thing, I've even seen aromatherapy hedgehogs!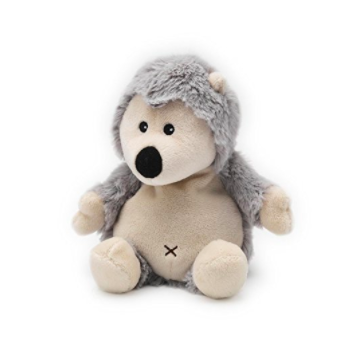 Taste
If sight is the toughest category, taste might be the easiest! If you follow me on Instagram, you know intuitive eating is a big part of my life. As an intuitive eater, I recognize and appreciate food can be delicious! With that said, dark chocolate is a staple in my self-soothing kit. I'd love to tell you I buy the darkest organic chocolate, but on a graduate school budget, I usually just spring for dark chocolate Hershey Kisses.
Other great taste items include tea and coffee. I love the experience of both beverages. Brewing tea or making coffee in my French press brings me a little bit of joy, and it only gets better when I pour the hot beverage in my "Cup of Happy" mug from Target.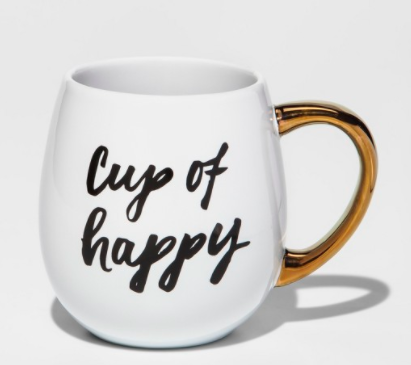 Smell
A few of the items I've mentioned, like coffee and tea, already appeal to smell, but there's nothing as relaxing as a great candle. Candles are always burning in my apartment, much to my mother's dismay (yes, I am in my mid-20s, and yes, I live 300 miles from my parents). I keep one candle in my self-soothing kit for the days I really need a pick me up. If you've ever walked into an Anthropologie, you've probably smelled the Capri Blue Volcano candle. If you take a peek at the price tag, that candle along might be as expensive as your entire self-soothing kit, but Target to the rescue. They created a dupe (Island Moonlight by Bella by Illume) for $10.99!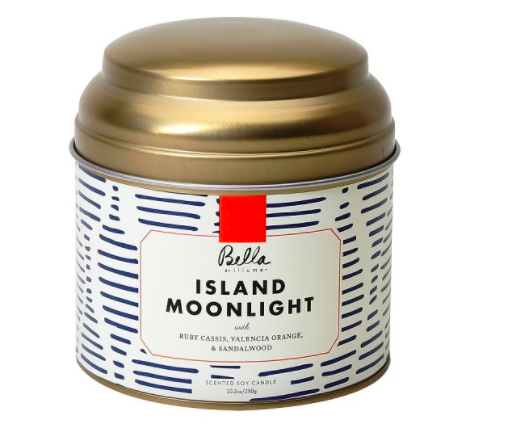 Sound
There are so many options for sound, and I think this might be the most personal of the senses. I remember the first time I tried guided meditation, and I couldn't concentrate at all. At that time, meditations weren't the sound I needed, but they might work wonders for you! Similarly, some people love nature sounds. As a child of the suburbs, hearing any kind of nature sound feels a little unnatural, but I can see how it would be relaxing for others. Personally, my favorite sound item is my calm playlist on Spotify. A little bit of Ed Sheeran, a little bit of John Mayer, and you can find me cuddled up in my chair with my cup of happy mug smelling my Island Moonlight candle.
Follow this journey on Stronger Than the Scale.
We want to hear your story. Become a Mighty contributor here.
Lead image via invizbk
Originally published: November 30, 2017