The Reality of Emetophobia and How I'm Beating It
---
One of my most mortifying memories — one that I am immensely ashamed of — involves abandoning a friend when they needed help.
I'm not sure how old I was — early teens for sure. Having spent the day in the local town with two friends, we had some food and then hopped on a bus to go back home. It was uneventful for the most part until, quite suddenly, one of my friends doubled over and threw up spectacularly down the aisle of the bus. The driver pulled over, my friend stumbled off and proceeded to continue emptying her stomach onto the pavement. Afterwards, she refused to get back on the bus and tearfully asked us to wait with her until her mum showed up. I hurriedly pointed out that they had a small family car and would not be likely to fit all of us in it, so it would be best we meet her back home. As the bus pulled away, I felt a dozen pairs of eyes burning into me; what kind of monster would do this?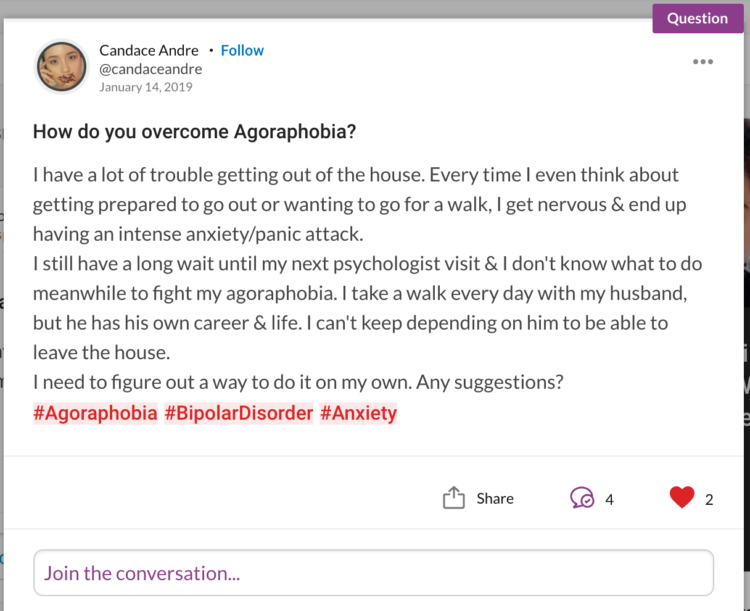 It's not an easy memory to share but it's an important one, because I feel it truly underlines the severity of a specific phobia, and the shame that comes with masking it. You see, rather than fearing a transport-related conundrum, I simply couldn't be around anyone, friend or not, that had been or was at risk of vomiting. Now this isn't your standard "ew, that's gross" reaction. Since I can remember, any incidence of vomiting has sent me into a blind panic, and I've often become so distressed I lose consciousness. As soon as I told my parents about it when I was a pre-teen, they both told me it was normal to dislike throwing up and to stop worrying about it, so I hid the extent of my phobia for years.
It's called emetophobia, and is specifically the extreme fear of vomiting, or being around people doing so. At its most intense, people who have it are unable to even read the word itself, instead using v* as a shorthand for it. When I think about some of the things I have done to avoid being sick, or to get away from a situation where someone else may be sick, I realize just how real a phobia this is. Once, I got off a train at a station in the middle of nowhere at night, just because I heard someone in the same carriage say they felt like throwing up. I can count the number of times I've tried seafood on one hand because I once read it can be notorious for causing food poisoning. I've concocted excuses upon excuses to avoid car sharing on long journeys with people who admit to suffering from travel sickness; in cases where it's unavoidable I've pretended I myself get ill and have to listen to music loudly through headphones to counteract it — of course, this is a foil for not having to hear any potential sickness. In reality, I've never once been travel sick.
There was a point I just believed I was really strange and nobody could possibly help me, because I was a "freak" that panicked over something so ridiculous. For years it affected my life in a number of ways from my relationships, to my social life, to how I interacted with others. My breaking point came when planning our wedding and we began wondering when would be the right time to start a family. I remembered reading somewhere that how your own mother fared in pregnancy was a good indicator of how you might do yourself. My Mum had already informed me her morning sickness had been fairly graphic for her first trimester, and so I reluctantly went to see my GP. I didn't know why I was there to be honest; I think I'd deluded myself into believing they'd just hand me a prescription to make sure I didn't get sick. What happened instead changed my entire life.
My doctor was talking about pregnancy sickness, and how vomiting is completely normal, and so on. I could feel my heart rate beginning to edge into my "danger" zone – this isn't a Kenny Loggins place of 80s fun, rather when I become so panicked that I risk fainting. Before I could stop myself, I shrieked: "Please! Stop saying vomit!" I then cried, a lot. My doctor gently leaned forward and placed her hand on my arm. She told me it was highly likely that I had emetophobia, a common anxiety disorder that needed treatment. This was a woman with a medical degree, a working general practitioner, not someone in an echo chamber on the internet.
And so, after I was married in 2012, I began cognitive behavioral therapy (CBT) treatment for emetophobia. It began with a 12-week course for generalized anxiety disorder (GAD) which had previously just been controlled with medication. In total, I spent 32 weeks with a therapist. The result was quite something; no longer did my husband have to "vet" films or TV shows beforehand for scenes involving vomiting, nor did I have to sit with my hand hovering over the mute button just in case. I no longer felt completely and helplessly panicked if a co-worker complained of a sore tummy.
Unfortunately, I still felt gripped by terror when it came to the idea of dealing with being sick myself, but the mental health team said it'd probably get better in time and upped my medication. I didn't want to accept this. I'd spent so long thinking I had an imaginary problem, that now it'd been validated and I knew it was treatable, I wanted to find another way. This is how I came to find the Thrive Programme.
One month after I finished a six-week course with a Thrive consultant (yes, just six weeks), I found out that I was pregnant. My husband and I were delighted and I honestly didn't think twice about what digestive fireworks might be ahead. Ironically, I ended up on medication to control my 24-hour nausea that was so bad I spent hours each day heaving. That's not an exaggeration, even water would set off my gag reflex – my body had become so used to fighting off the act of vomiting over the years that it had become instinctive.
I finally broke my streak — emetophobics often refer to how long they've gone without throwing up as streaks — when my little boy was nine months old and all three of us caught norovirus on my husband's birthday. That's a hell of a bug I tell you; no instinct in all the world was holding that back. I wish I could say that it was like a chorus of church bells that heralded a new start, but I honestly just wanted the sweet release of death.
The good news is that my husband felt that way too. I'm not a sadistic wife, I promise. The realization that self-pity in the face of such powerful bodily functions was completely normal was a striking one. It was also a great learning experience; it really is over so quickly, rather than the long drawn-out process I'd imagined it to be.
It is now approaching my son's second birthday and I am currently working with my Thrive consultant again for a "top-up." I've not gone into full relapse, but the first winter with my toddler in childcare has resulted in him bringing home a fair few nasties and the relentless nature of it has shaken me somewhat. I noticed some old behaviors sneaking their way back into my life and if there's anything I have learned about handling phobias, it's that recognizing your own limiting behaviors is something you need to do before you even set off on the journey. I'm confident that I'll get to a place where I can say "I used to be emetophobic, but I am not anymore," as I have been before. Maybe I'll have other bumps in the road through life, but I intend on doing all I can to prevent relapse.
If you are living with this phobia, please know that you are not alone, it is real, and you can beat it. There is a version of you that can go days at a time without spending even a nanosecond thinking about the noises your stomach is making. There will be a time you can choose something from a menu without a second thought – you'll choose based on what you want.
Emetophobia is apparently very common; according to Anxiety UK around six to seven percent of women have it and around one to three percent of men. Yet I went years without even hearing the word, silenced by the stigma and the cries of "that's not a real issue, nobody likes being sick!" which would keep me prisoner for most of my adolescence.
Don't suffer in silence, I promise you that it's real, it's taken seriously, and you can beat it.
We want to hear your story. Become a Mighty contributor here.
Image via contributor.