Try This Meditation Next Time You're in Fight-or-Flight Mode
---
Excerpted from "My Pocket Meditations for Anxiety" by Carley Centen. Copyright © 2020 by Simon & Schuster, Inc. Used with permission of the publisher, Adams Media, an imprint of Simon & Schuster. All rights reserved.
Welcome Fight or Flight
Your body has evolved to react quickly to external threats—to process that the rustling in the bushes could be a lion—so that you can decide to flee, fight it, or freeze. This is an incredibly rapid and automatic process of your central nervous system. You'll breathe faster; your heart rate and blood pressure will increase to prepare your muscles for action; and your body will produce hormones to help you focus and think. Befriend this natural response so that you can use it to your advantage rather than become immobilized by fear and feel out of control. This meditation will show you how.
1. Notice if you're in a heightened, anxious state in which you are breathing faster.
2. Identify where you are feeling fear in your body.
3. Say to yourself, "I am experiencing stress and anxiety. I am not this stress and anxiety."
4. Identify the source of your fear. Is it that you can't control the outcome you want? Or that you'll be judged by others? Or that you can't handle the situation? Dig deep into the feeling.
5. Reframe your fear and anxiety into excitement. Say to yourself, "I get to try this and see what happens. I get to show others who I am. I get to be challenged by this, and I am about to grow." Depending on the source you have identified, counter your fear with a reframed perspective.
6. Notice any changes in how your body feels.
Rest and Digest
Once a perceived threat has passed, your parasympathetic nervous system helps to restore balance in your mind and body. An amazing thing about this part of your nervous system is that you can influence it through conscious processes like breathing. This means that you can help your body find balance when you're experiencing stress and anxiety. Here's how:
1. First, get into the Child's Pose yoga posture: Kneel on the floor or a bed and have two pillows nearby.
2. Place one pillow in front of you. Place the other pillow on top of your ankles and calves.
3. Sit back on the pillow on your ankles. You can have your legs together, or also try having your big toes touching and your knees wide in a V shape. Experiment with what is comfortable.
4. From this position, fold forward from your hips over the pillow in front of you, turning your head to one side. You can use another pillow or blanket to build this support higher if that feels more comfortable. Place your arms by your sides or out in front of you by the sides of the pillow.
5. Relax into the support below you.
6. Breathe without trying to control or constrict your breath, and count how long you spend on every inhale and every exhale.
7. Next, take a breath counting your natural inhale, but breathe out slowly for twice as long as your inhale. Repeat for a total of five breaths.
8. Feel protected, supported, and safe here.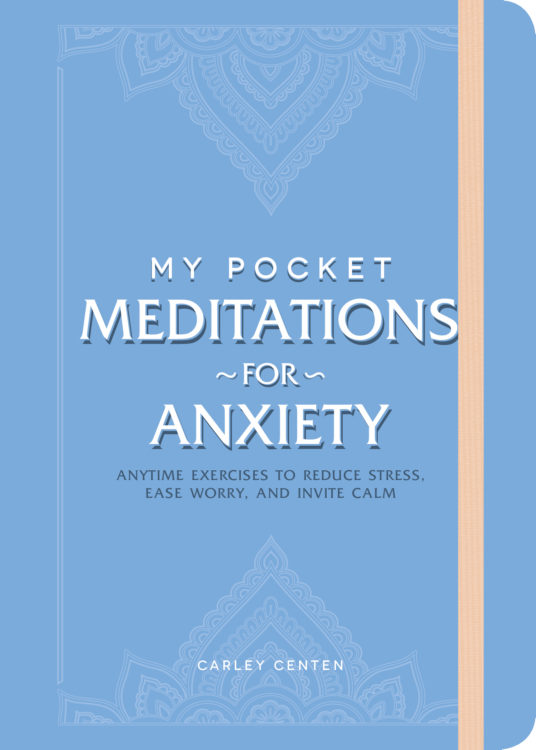 You can get your copy of Carley Centen's "My Pocket Meditations for Anxiety" here.
Header image via Sushiman/Getty Images
Originally published: September 21, 2020