What Happened When I Had a Panic Attack in a Kayak
---
Recently, I had the opportunity to paddle in a kayak down the Potomac River. With my fiancé in the back seat and myself in the front, it should have been a relaxing and leisurely activity. Shortly into our paddle, we began to bicker about the best way to row. I don't do well with confrontation, and usually do my best to avoid it. This time, I couldn't just leave the room. In the middle of a river, in a boat, the best I could do was disassociate and leave mentally. My breath became short and tight against my life jacket, I became nauseated and slow in my speech and my paddle strokes became lighter and lighter.
As I embraced my panic attack in a kayak, I began to think about how well it explains what it's like to have an anxiety disorder and wrote the following poem:
It's a life jacket, The same fear that once kept you alive is now restricting your ability to take full breaths.

It's wearing your life jacket long after you've left the boat on the off chance you encounter water again.
It's the paddle. The extension that allows me to move forward through murky water with minimal contact. It keeps me from really feeling anything at all. But, without it, all I could do is float still.
It's the boat. It's accepting the fact I might not be swimming, but I can still occasionally feel water on my toes. It's the reality and the bravery that I'm not standing on the shore.
My anxiety disorder is a learned behavior from previous trauma. Stressors like a small quarrel don't always make linear sense for the reaction my body produces. Having a stress and anxiety issue often feels restrictive and safe like a life jacket and strong and distant like a paddle. Also, not nearly enough do we recognize the bravery of being on a boat (whatever your boat may be) in the first place.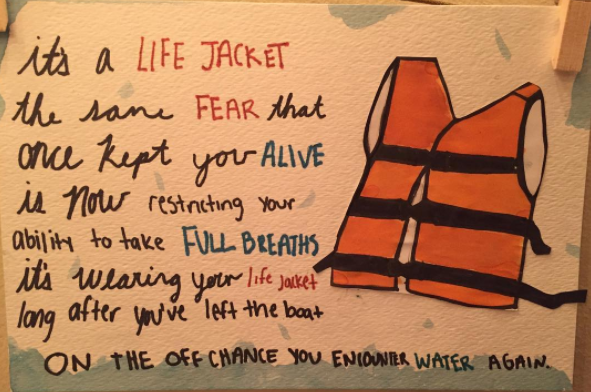 We want to hear your story. Become a Mighty contributor here.
Lead thinkstock photo via Antikwar.
Originally published: July 19, 2017