Why I'm Telling My Anxiety Story Through a Comic Book
---
Mike and Addey, in "The War for Kaleb," are every friend I've never talked to about my anxiety disorder. For those who do not know, "The War for Kaleb" is a comic book, I write, draw and self-publish about a young man named Kaleb who has a severe anxiety disorder in which he is medicated for. In the story Mike and Addey are his best friend and girlfriend respectively, and supporting characters. They aren't front and center, but they are extremely important to the overall plot. Mike and Addey represent the people in our lives who are close, but who are left out of what is troubling people who have mental illness.
Personally, my anxiety and trichotillomania (I pull hair from my face and eyebrows) are not something I usually discuss with others. For a long time, particularly the hair pulling, I believed I was the only one in the world who had these disorders. Over the years it became something I never really talked about, because of the usual reasons: people will think I'm a freak, or they won't be interested or even care. Today I don't talk about it, I guess out of force of habit. One thing I've learned through research is it is helpful, and can be beneficial in the healing process, if one talks about it to others.
I found my own way.
I received my first comic book, "Wolverine #6," when I was 11 years old. I flipped through the pages, and I was in a world that I fully believe to this day can only be achieved through the art of sequential storytelling, or comic books. Of course, spending my more formative years in junior high through high school, reading comics wasn't one of the most popular things in the world. It was the 90's, and most people were more interested in parties, popularity and sports. I was interested in the worlds I was reading about. I wanted to make my own, and I wanted them to be comics, too.
Flash forward to college. I was going to The School of Visual Arts in NYC, with a major in sequential art. I was in a big city alone. I mostly buried myself in the work of creating comics. At the time, I was going through some hardships in my personal life. I had lost a special person in my life, and one of my best friends, my Aunt Barbara, who had died in a car accident.
Barbara also had severe anxiety. The world outside shut her down, and scared her. It's almost as if her being became part of me after she died. Before her death, she would be the person I talked to every day over the phone. She would tell me that she was so proud of me for stepping out into a world that she was so afraid of, and pursuing the goal I set out to achieve, creating comics. The only problem was I was afraid of the world too. I had basically jumped into the deep end without knowing how to swim. I would not leave the apartment, it was extremely difficult to make friends and being in large groups of people made me horribly anxious. This became my stigmata which follows me to this very day.
Years later, I began really feeling the strain of my anxiety. I was having my first panic attacks, my temper got the best of me and worst of all I began taking it out on my wife Desiree'. At the time I was living in Long Island, NY working at a warehouse job picking and packing orders to ship. It was a brainless job without any critical or analytical thinking. This allowed me time to spend in my head for eight to 10 hours a day yelling and arguing with myself about the things that were making me miserable about my life. Eventually the anger about my situation turned into focus, and I started seeing scenes in a comic book. These scenes turned into "The War for Kaleb."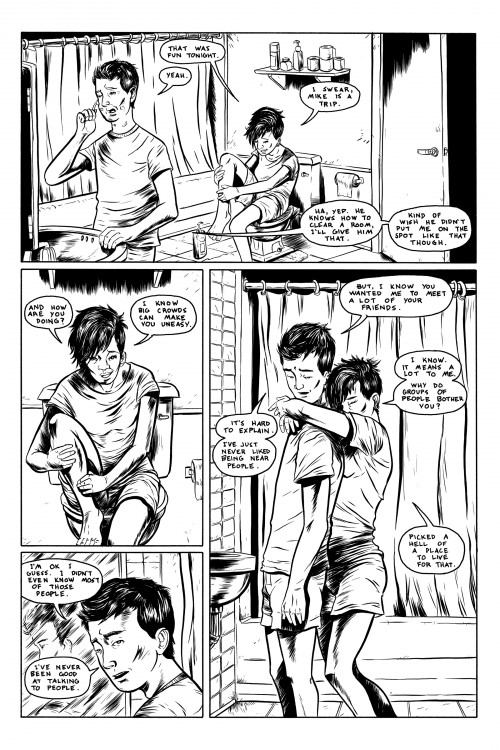 At the time there were a handful of people who knew there was something upsetting me, but I would never talk to them about it. It was and is still not something I like to talk about with people. I talk about anxiety, sure, but only in a general sense of the disorder itself, but not usually the details of what is happening with me. When I thought up "The War for Kaleb," it gave me the freedom to tell "my" story, without telling my story. After all, "Star Wars" arguably came to fruition partly because George Lucas didn't want to work for his father in the family owned office supply store. J.R.R. Tolkien wrote "The Lord of The Rings" based on the atrocities he experienced serving a tour of duty in World War I for the British Army. Those stories became the proxies of their experiences without having to make themselves front and center.
Art in my mind, has always been an outlet for truth. Art is the closest any living person will get to seeing the word through someone else's eyes. Kaleb's story is a semi-fantastical world that is seen through mine. Just like Kaleb, with anxiety, episodes can turn into visions of what we feel, rather than what it is. As far as Kaleb goes he has a hard time separating the two. What's worse is he has an even harder time telling the people he cares about what is going on. Mike and Addey are left in the wake of confusion with what they don't know or possibly understand. Through my story, I can give the "Mikes" and "Addeys" in my life eyes to help understand. And for those who also struggle with anxiety, I can give them a space, and world to enter, where they can hopefully put into perspective what it is they are going through.
In "The War for Kaleb" I use the tool of two superheroes to express this world of anxiety. There is a light hero and a dark hero. They are a purely visual, metaphorical representation of what people don't see, when one is having an episode, brought on by anxiety.
I chose the superhero motif because superheroes are what created my desire to create stories with comics. I've also always been fascinated by the doppelganger superhero; a dark version of the hero that represents light and good. It symbolizes the push and pull of anxiety, and was just one way to show how an episode of anxiety can play out.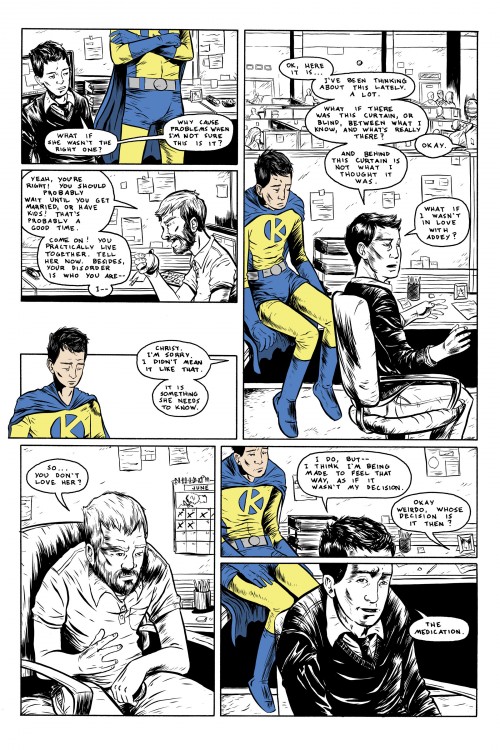 Creating "The War for Kaleb" was important in the sense that through art and storytelling, I could show people not only what it is, but more importantly what it feels like to struggle with anxiety. Kaleb in the story is my proxy. The superheroes that follow him are his proxy. And probably most importantly of all, Mike and Addey are the proxies of all the people I have a difficult time talking to about my disorder. The story also acts as a vehicle for others to see that no, they are not alone in the world dealing with their own disorders. There are plenty of people, myself included, who are here to connect with, and let them know, "We see things just like you." Sitting down to write and draw these stories are the letters to the people I care about, and the world I want so desperately to connect with.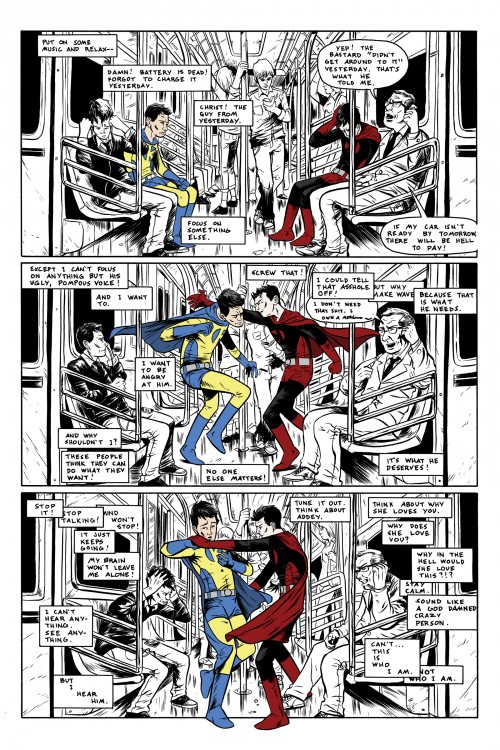 To read "The War for Kaleb, Part One," visit Jason's site. Click here to shop at his store.
We want to hear your story. Become a Mighty contributor here.
Image via Jason Pittman
Originally published: March 6, 2017