Why ABA Can Be Extremely Damaging to Autistic People
---
At Autability, we love things that make life easier for neurodivergent individuals. We are also passionate about making it clear that autism does not need a cure or to be fixed.
Autistic brains are not broken, they are simply wired differently. Some therapeutic interventions are excellent at improving quality of life and enabling the person to cope in situations with minimal anxiety.
There are also those therapies that claim to offer a "cure." Some parents would see this as a golden ticket giving them hope for a brighter future, a magic path to the idyllic life they had previously imagined for their child.
These therapies can turn non-verbal children into children who are able to communicate verbally, sit in their seat at the command of the adult and give eye contact when communicating. Why then are we at Autability saying that this is not a route we would recommend or promote, and would go as far as saying we find them abhorrent?
The first reason is that a number of these "curable" traits are misunderstood. As an autistic woman, Charlotte can give eye contact. She knows it is an expected convention, however, it hurts, and it is stressful and anxiety-inducing. She can become completely fixated on giving eye contact in that moment.
She no longer gives eye contact as she is happy with her autism and not ashamed of it. She would never expect her children to have to correct their autism.
There are also those who were forced to endure these therapies as children and now as adults are struggling with PTSD and describe the therapies they endured as traumatic.
We spoke to a man who we will call James. James had ABA therapy for five years as a child. He went from being in a special education school to a mainstream school. He was able to talk and communicate and he learned to ignore and work through his sensory processing difficulties.
At the age of 11, he passed an entrance test into a grammar school and his parents said his future was "brighter than they could ever have imagined." James was academic and internalized everything he knew that wasn't what was expected of him.
At 15, he woke up one morning unable to get out of bed. His body didn't want to work, he was unable to walk or eat let alone attend school. He couldn't tolerate lights or noise. He ended up in the hospital and had lots of tests with medics unable to work out what was wrong. His parents didn't see James as having autism anymore and didn't mention it to anyone.
James' shutdown lasted 18 months and was described as chronic fatigue syndrome. Gradually, James improved a little but his mental health declined, leading to him attempting to take his own life and being sectioned.
Little by little the team unpicked James' story and discovered that it was PTSD from his time in ABA therapy.
James spent four years learning who he was and accepting his difference as a positive. He was fortunate to have a loving family that stood by him. James is now in his mid-20s and still has relapses in his mental health, but he has just finished a distance learning degree in psychology.
James stims, he doesn't give eye contact, he needs regular movement breaks and will have short verbal conversations but struggles to initiate them. In his own words, James is "happy, fulfilled, and looking forward to the future."
In 2021, most of society is rightly horrified at the thought of a gay person being sent to therapy to "make" them heterosexual. Neurodivergence needs to be accepted in a similar way. Autistic people should be offered support and understanding, not a cure to something that doesn't need to be cured!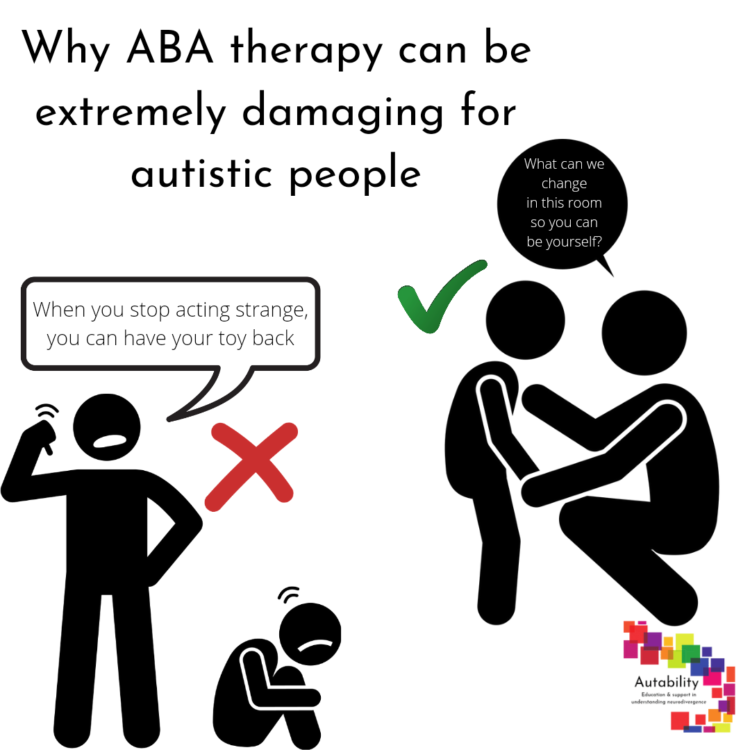 Getty image by Igor Bukhlin.
Originally published: July 25, 2021