This Graphic Shows What the Autism Spectrum Really Looks Like
---
Autism is a type of neurodiversity associated with characteristics like passionate interest in specific topics, difficulty with typical communication methods, sensory sensitivities, and using repetitive motions (sometimes called stimming) to regulate their experience.
There has been so much discussion in the disability community, especially in the autistic community, about functioning labels. That's why Tumblr user levianta created a set of five images to explain what we mean when we say autism is on a spectrum. Below, I've included the images, as well as an explanation of what each means to me as an autistic person.
Autism has always been perceived as a spectrum. When most people think of a spectrum, they think of the graphic below — a horizontal line that runs from "low-functioning" to "high-functioning." Everybody is supposed to fit neatly in their own dot on the spectrum. But, that's not how it works at all.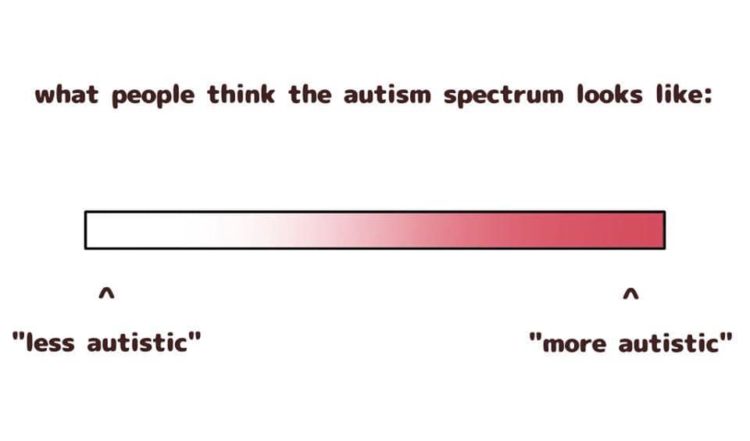 The second graphic is something that is becoming more common in the neurodiversity world. It illustrates how we can be very functioning in some ways and not as much in others. The characteristics reflected in this diagram include depression, fixations, abnormal/flat speech, noise sensitivity, social difficulty, anxiety, abnormal posture, poor eye contact, tics and fidgets and aggression. With this graphic, everyone can map their own personal spectrum.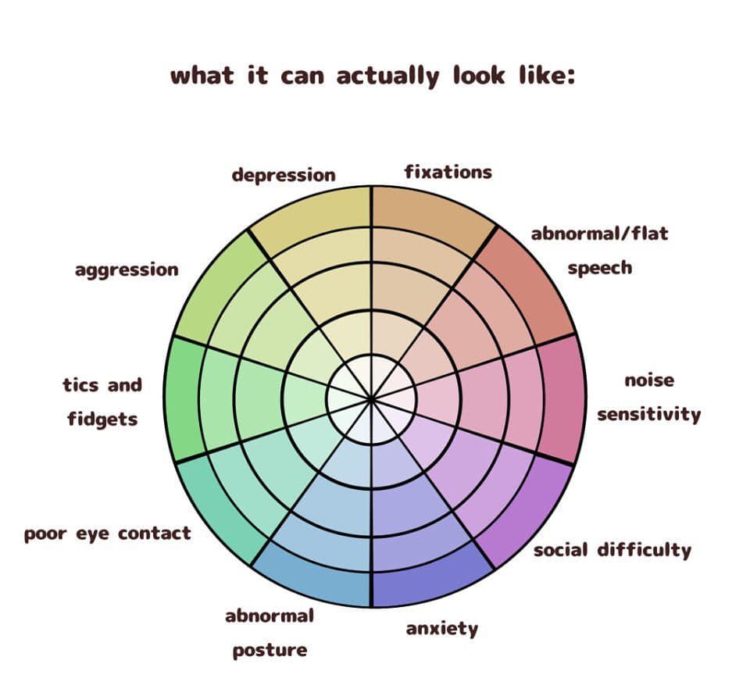 I love this set of graphics. I have been labeled "high-functioning." I've been stuck on the far right end of the linear spectrum by professionals and government agencies my whole life. I present very neurotypically at appointments and interviews, so much so that I have been denied services I desperately need.
I struggle in so many areas. My current mental state right now proves that more than ever. I'm suffering from one of the most severe burnouts in my life, purely because I try to live up to the label of "high-functioning" every day. It is something I have been coached and trained to do and something society expects of me. I am very lucky to have an amazing support system, but masking is wreaking havoc on my life. If I mapped my own autism based on this graphic, I would say I'm "higher functioning" on the verbal and social skills side of the map, but pretty low on things like anxiety and sensory issues.
The third image (pictured below) says, "No two autistic people are exactly alike, but we shouldn't be reduced to 'high-functioning' and 'low-functioning' stereotypes either," and includes two different wheels with different skills and struggles highlighted. The first wheel represents Tumblr user levianta's autism, and the second wheel represents their brother's. Below both wheels it says, "we have the same 'amount' of autism, just different symptoms."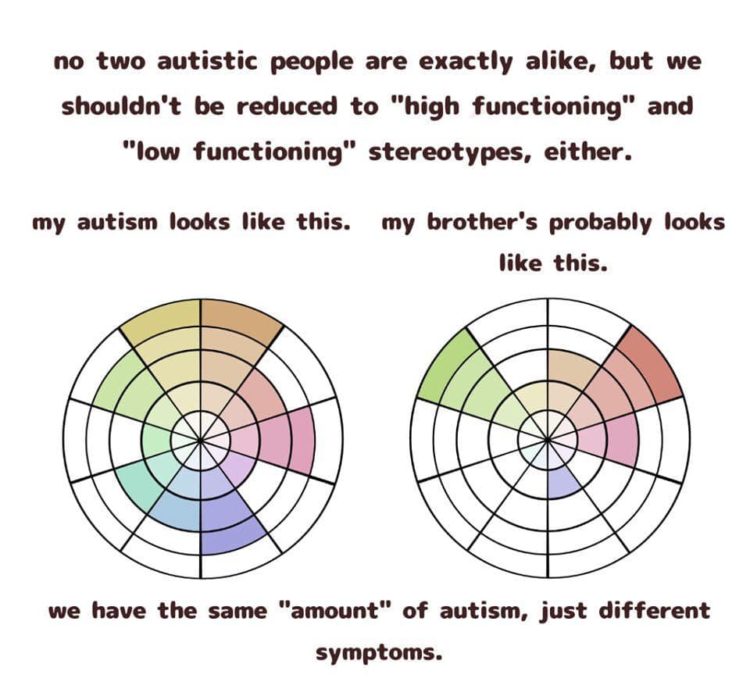 It's worth mentioning that autism is sometimes listed as a "disorder" with "symptoms" in medical definitions, but it is not something that needs "fixing." People on the spectrum simply experience the world differently than typical people.
Even still, I loved this part of the graphic because I had never thought about autism that way, but that's how I'll view it from now on. I have often felt that I wasn't "autistic enough," except maybe on my bad days. My spouse and I would even call those my autistic days. It was freeing to realize that every day was an autistic day. Just because I was stimming a lot, did not me I had a bad or difficult day. It's taking a lot of work, but I can let myself be autistic in public and around people. And being autistic equals being myself.
The next image says: "the spectrum doesn't look like this" with four people lined up, gradually becoming redder (symbolizing the "more autistic" idea mentioned above), while the final image says "we are far more," with four technicolor people lined up (symbolizing how different every autistic person can be!).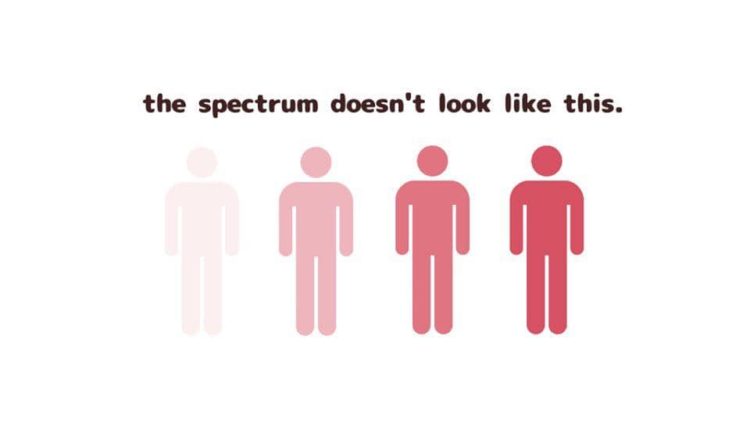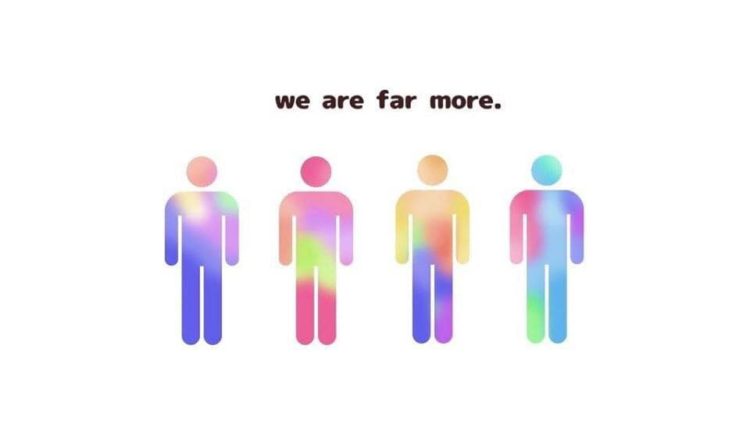 These graphics are so important because they empower autistic people who are considered "high-functioning" and "low-functioning." I think we often base our functioning levels on whether you are verbal or not. But there are people who can't communicate in a traditional way that do things like go to college, which I don't have the capacity to do. People who are considered "lower functioning" can achieve things I could only dream of. By labeling us on a straight line, it hurts the people who can't live up to their label and dismisses the talents and skills of those who are considered "lower-functioning." Let's empower every autistic person!
Originally published: March 12, 2020