When I Stopped Hiding My Chronic Illness on Social Media
---
Since my health has deteriorated, I've really struggled to accept how my life has changed. I've kept myself private and hidden. I cropped half my face in pictures or heavily filtered my face so people couldn't tell I'm poorly or see the yellow feeding tube.
Although I've suffered for many years with an autoimmune disease, I've managed to hide it well. During a flare, I would hide away until things passed and during remission, I would paint on a smile and try to push though. Well, that only worked for so long. Eventually, my body totally crashed and I couldn't hide it any longer. I had to start relying on a wheelchair and walking aids. After seven months of throwing up and losing a lot of weight, I had an NJ tube fitted to start giving me the nutrients that I needed.
I really struggled to leave the house knowing I'd be in the wheelchair or using walking aids. I struggled with the concept of people seeing me with a tube stuck to my face and thinking the worst. I hate seeing the reactions of people when they look at me. I know with most people, their intentions are good and it's genuinely just a shock to see such a drastic change in my health. But that doesn't stop the feelings of insecurity, dread, anxiety, etc. every time I leave the house.
It's taken me a long time to accept that my life has changed, and there is no point being stuck in the past or dwelling on what I used to be able to do/what I used to look like. One of my best friends recently said to me that I'm still the same person inside, and if anything I'm stronger now. She said, "Don't hide the tube in photos — be proud. You're still stunning, you look just as beautiful, never hide."
This really made me realize the important people in my life don't care if I'm in a wheelchair or if I have a tube attached to my face. So, after hiding away on social media for a long tome, I finally posted a photo of me — not some half-cropped photo or heavily filtered image. No, it was me, with no makeup and my tube in full view. I explained I wasn't hiding anymore and this is just a part of me now.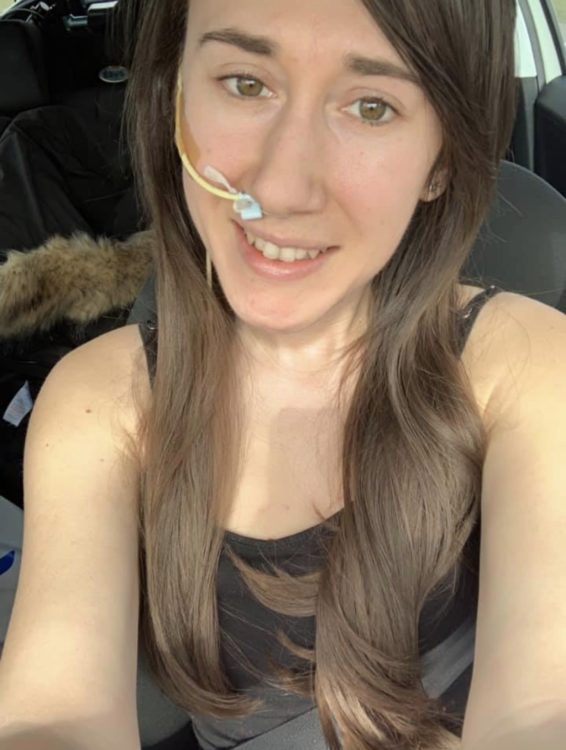 The response I got from this one photo was so overwhelming. I spent so long hiding and convincing myself that people wouldn't want to know me now that I'm unwell, and that I'm burden rather than someone others can lean on. I was however proven wrong on so many levels! The amount of love and support I received was so overwhelming and touched my heart. With over 300 likes and over 100 comments just from my family and friends, I instantly felt like I wasn't alone and I have no reason to hide away.
I guess the point I'm trying to make is don't hide away, don't assume you're on your own. I did exactly this and I isolated myself for no reason.
Originally published: June 11, 2019