What This Photo Project Taught Me About Body Positivity
---
Editor's Note
If you live with an eating disorder, the following post could be potentially triggering. You can contact the Crisis Text Line by texting "NEDA" to 741741.
I've waited on this blog post since October 2017. The Body Aesthetic Project is so much more than a social work project for artists; it's honesty about the human condition. Back in 2014, I conceptualized Theatrical Trainer as a place where artists, creative minds and creative people could find wellness opportunities. Back then, almost five years ago, it was so rooted in alternative means of health and wellness. Now, in 2019, it's become more. It's become my calling, not just my passion. I've learned a lot in that time, but also, the world around us has changed; as such, we change with it. We grow sometimes, sometimes we don't … we struggle, triumph and step back and forward. Sometimes things are seamless, sometimes they aren't.
In October 2017, I asked my staff, colleagues and board to begin to investigate something that is so tactile for us, yet something we often have a complicated relationship with: our bodies. The staff, artistic community and Philadelphia itself would begin to talk about more than just physical manifestations of wellness; we would talk about what it truly means to be "well" in our body. What I learned changed my life … concepts were both macro and micro at the same time. There was applause for the pride some felt in their skin, and pain as others opened up about what it meant to be creative as actors, dancers, painters, playwrights, poets, singers, builders and makers and when they opened up, sometimes the flooding of emotions and trauma was scary. It was scary because I knew it was there for so many of us, but we don't talk about it.
On this day in 2017, over 100 people showed up and poured their hearts out. We expected 20. Over 50 other people took our survey when they couldn't make the event. On this day, I learned more than I was prepared for. Our board and staff jumped head-first into making it run smoothly, our photographer was graceful and kind in allowing people to unveil their authentic selves. We learned of body dysmorphic disorder (BDD), trauma, eating disorders, fear of mirrors, shame and unrealistic industry expectations. We learned of gendered, binary and wrongful assumptions on both sides of the table. We learned of the shared experience of silence in the creative arts, which we wanted to break. We learned of the freedom of words and allowing them to pour out. We also learned of compassion, of learning when to sit back and let others tell their story. We saw happiness and self-love. We saw excitement and sexuality. We learned about the human condition, and how it never ceases to amaze us all.
After watching countless others open, it was my turn. I often catch flak for being so open about my body, my tattoo art or my self-expression. I assert my belief in body positivity, but also, I don't talk about my fears, struggles or survival of trauma. That day, I thought about my mother. She carried me, and when I was born, had a delivery that could have cost her her life. That doctor was amazing, yes, but I think about her. She was the warrior. She gave me something I could never thank her enough for — this body. At that moment, I thought about all the times I felt shame in my body, and yet, she was willing to risk her life to give it to me. As a dancer and actor, I was always told my "meaty" thighs were "sexy and strong" — they allowed me to move and do great things. They come from my mom … but she heard other things growing up, like "thunder thighs" or painful comments. It made me think that day, about how strange and painful this world could be. The blessing she gave me was something others made her feel so shameful of growing up. That day, I thought to myself: "Thank you, Mom, and I'm sorry you heard other things growing up." It all made me think of perception, gender, body image and the world around me … and creative people. Thank you, Mom; our thighs are beautiful and strong and deserve space. I wish there was a world where that didn't need to be said.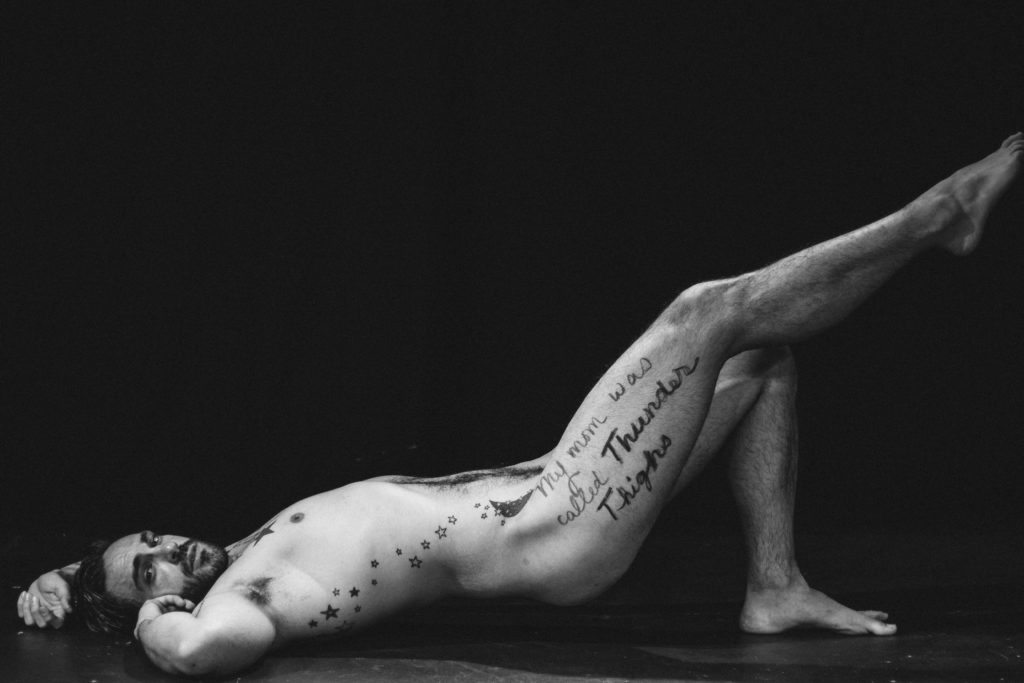 So my post today, albeit a rambling, comes full circle to a journey. After that day, the many participants and the research, years later, I am not continuing to Theatrical Trainer, expanding wellness opportunities to creative people, but I'm also doing something else.
I'm learning and watching. I'm listening to others and trying to practice the self-love I advocate for.
That day, reading the statements, looking at the surveys and talking with the participants, I came alive with a realization. I thought to myself, I can't always provide answers, but I want to do more… I want to look at the intersections of art, science and psychology. I want to open dialogues and challenge and learn and have permission to fail.
So, here I am, one semester into a program working toward becoming a psychologist devoted to the research of the creative mind and working to build a foundation where creative minds can find every bit of assistance they need under one roof, regardless of access to healthcare. I want, under that roof, to be mental health services, physical therapists, personal trainers, classes, seminars and a holding space for us to learn more about the human condition and ways of being. I want us to have access to healing and trauma-informed practice and I want us to be open, to talk when we need to and also to be silent and listen to others when we need to.
This is what The Body Aesthetic Project means to me. In 2019, we will now plan the second Body Aesthetic Day in Philadelphia. We will explore and learn, and I will pour myself into a world where I can marry all of these intersections so that creative minds can continue to provide that vital service — art — while protecting their vital asset, their body.
I will also be open about my struggles. We all have them. I think there is danger in trying to provide answers without being open about the journey. I too struggle when I look in the mirror. I too look for validation in the wrong places. I too don't always take time for self-care and love.
Let's change that together, and allow for us to have days where we fail or don't get it right; hell, let's have weeks, or years. It's OK. It's never too late to try to make positive changes. Let's not think about the new year as the "new year, new me" model because the old you, while not perfect, was still beautiful in that you are still here, trying, learning and working toward something, even when it doesn't feel like you've made a step forward. Just breathe; that is a step in and of itself.
I thank the many people who have trusted me and allowed me the opportunity to do what I love, but I want to do more. My goal is to keep moving forward, keep learning and keep sharing.
After all, aesthetic can be what we decide it is. Let's all take moments to create our own body aesthetic.
Yours in Health,
Peter A. Danzig
Founder, Theatrical Trainer.
Originally published: November 5, 2019