Borderline Personality Disorder Community Tells Instagram to 'Stop Silencing Us'
---
Editor's Note
If you experience suicidal thoughts or have lost someone to suicide, the following post could be potentially triggering. You can contact the Crisis Text Line by texting "START" to 741741.
People in the borderline personality disorder (BPD) community asked Instagram to stop silencing them after the social media platform removed or blocked access to the #BPD hashtag page. According to Instagram, the move will "protect" users from "content that may encourage behavior that can cause harm and even lead to death."
In mid-November, people in the BPD community noticed the #BPD hashtag on Instagram had been blocked or removed from the platform. While a current search shows more than 1.3 million posts attached to the hashtag on Instagram, the landing page now shows an error message that says the link may be broken or the page has been removed. People in the U.K. got the message the page was removed because of unsafe content.

Instagram's decision to block the #BPD hashtag, the community said, silences people with the diagnosis, blocks an avenue for people to build community and connection, and perpetuates harmful myths about BPD.
"When I was first diagnosed with bpd it felt like a life sentence. my first search of the illness saw me find articles talking about how deadly the illness was," wrote Instagram user Charlotte (@charlotteo_riordan), adding:
Under the [#BPD] hashtag I found stories of people recovering, something I didn't know was possible. more than that I found a whole community of people working through their illness and sharing their recovery with others to help inspire them.
View this post on Instagram
BPD is a mental health condition that can include symptoms such as difficulty regulating emotions, fear of abandonment, splitting (or black-and-white thinking), doubting or being unsure of your identity, impulsive behavior, feelings of emptiness and self-harm or suicidal ideation.
People with the diagnosis are often incorrectly labeled as "difficult," "dangerous" or "manipulative." It's one of the most stigmatized and misunderstood mental illnesses, even among mental health professionals. Yet with proper support, BPD is one of the most treatable mental health conditions.
View this post on Instagram
Instagram and its parent company Facebook have long faced pressure on how to respond to self-harm and suicide-related content on their platforms. They have both collaborated with suicide prevention and mental health nonprofits globally to address ongoing issues.
Instagram's current policy prohibits and removes posts that encourage self-harm or suicide. It also removes posts with graphic imagery, which was later expanded to include fictional depictions of self-harm. Artificial intelligence (AI) automatically flags as much as 90% of unsafe content, according to Instagram.
"We use technology to help us proactively find and remove more harmful suicide and self-harm content," Adam Mosseri, head of Instagram, explained in a recent blog post. "Our technology finds posts that may contain suicide or self-harm content and sends them to human reviewers to make the final decision and take the right action."
The block on the #BPD page followed shortly after Instagram announced it was expanding its mental health moderation procedures in Europe and the U.K. According to the Wayback Machine, which archives older versions of webpages, the #BPD page on Instagram previously included a content warning. After acknowledging the warning, users could still access posts tagged with the hashtag.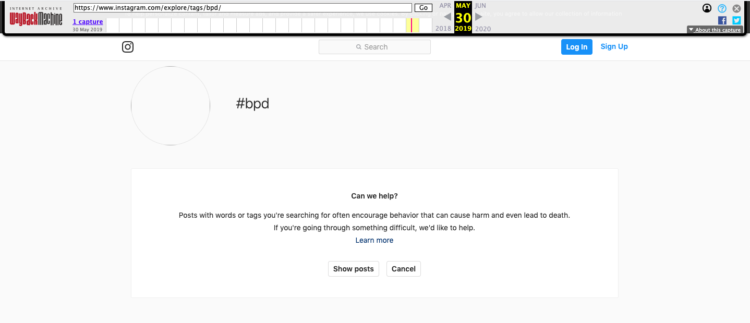 The effectiveness of Instagram's policy to prevent negative mental health consequences is unclear. A systemic review of studies published between 2010–2019 looked at self-harm content policies on the platform. It found little evidence Instagram's approach was effective.
The review, published in September, also found there isn't enough research to determine the emotional effects of discussing self-harm and suicide online. Some studies noted the content could be harmful, while others found it beneficial because social platforms allow for community and connection.
In response to Instagram's #BPD block, the borderline personality community rallied around #hashtagBPD to call out the platform for silencing people with BPD and increasing isolation for the community.
"To silence is to shame, and to shame is to stigmatise," wrote Chris Jones (@cjontheborderline). "We won't stay quiet about the BPD hashtag being banned because it's tough enough living with a complex mental health condition."
View this post on Instagram
Carley Ward (aka @bpd_diagnosis_safe_space) started a Change.org petition asking Instagram to reverse the #BPD ban. It has been signed by nearly 6,000 people since Nov. 20. She and other members of the BPD community also created a YouTube video explaining why banning the hashtag perpetuates stigma about the diagnosis and increases isolation among people with BPD.
Other Instagram hashtags with fewer posts related to BPD, including #borderlinepersonalitydisorder, have not been blocked. The Mighty reached out to Instagram for comment and has yet to hear back.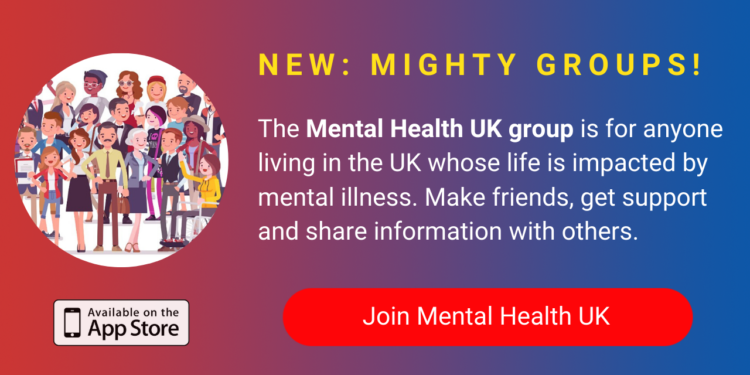 Originally published: November 30, 2020