3 Ways I Enjoy the Holidays as a 'BPD Challenger'
---
I write this sitting in an airport lounge with people passing me by in swarms, the holiday rush visibly apparent in their strides. Yet there's a certain peace about it. Holiday seasons can be extremely tough on those who struggle to feel "normal" in the conventional sense. But there's also definitely something positive about it, which I want to let everyone in on.
1. As people with borderline personality disorder, or as I call us "BPD challengers," one of the greatest issues we face is how to handle the variety of people/situations/emotions the holidays usher in. However, it also brings with it an excitement we probably couldn't feel otherwise. Perhaps it's because it's something new, fresh, exciting, different. Perhaps because it's simply a reason to celebrate. Whatever it is, it's an occasion to feel. Something I really struggle with. Only this time I get to feel amazing. Feel holiday cheer. Feel joyful. It's really rare, so let's cherish the moments!
2. People tend to rush around a lot. They're always in a hurry. Buying gifts, putting up decorations, organizing social gatherings, meeting expectations. It doesn't have to be that way. Think of it instead as a season to accomplish a lot of things. Use the month of December particularly to revisit and renew ties that might have been neglected in the midst of daily mundane routines. To challenge ourselves to really think about those who are near and dear (even if we may be currently splitting and hence "hating" them ) and truly appreciate them instead. Perhaps replace expensive gifts with a personal letter. And not just an email. Those good ole handwritten ones that seem almost too good to be true nowadays! Instead of buying decorations, choose to spend evenings when you feel unloved and alone by occupying your mind and heart. A good example could be making festive ornaments out of used items. And then making more to gift others. (Below is a picture of Christmas tree I've made out of recycled newspapers! Method courtesy Stephania blog).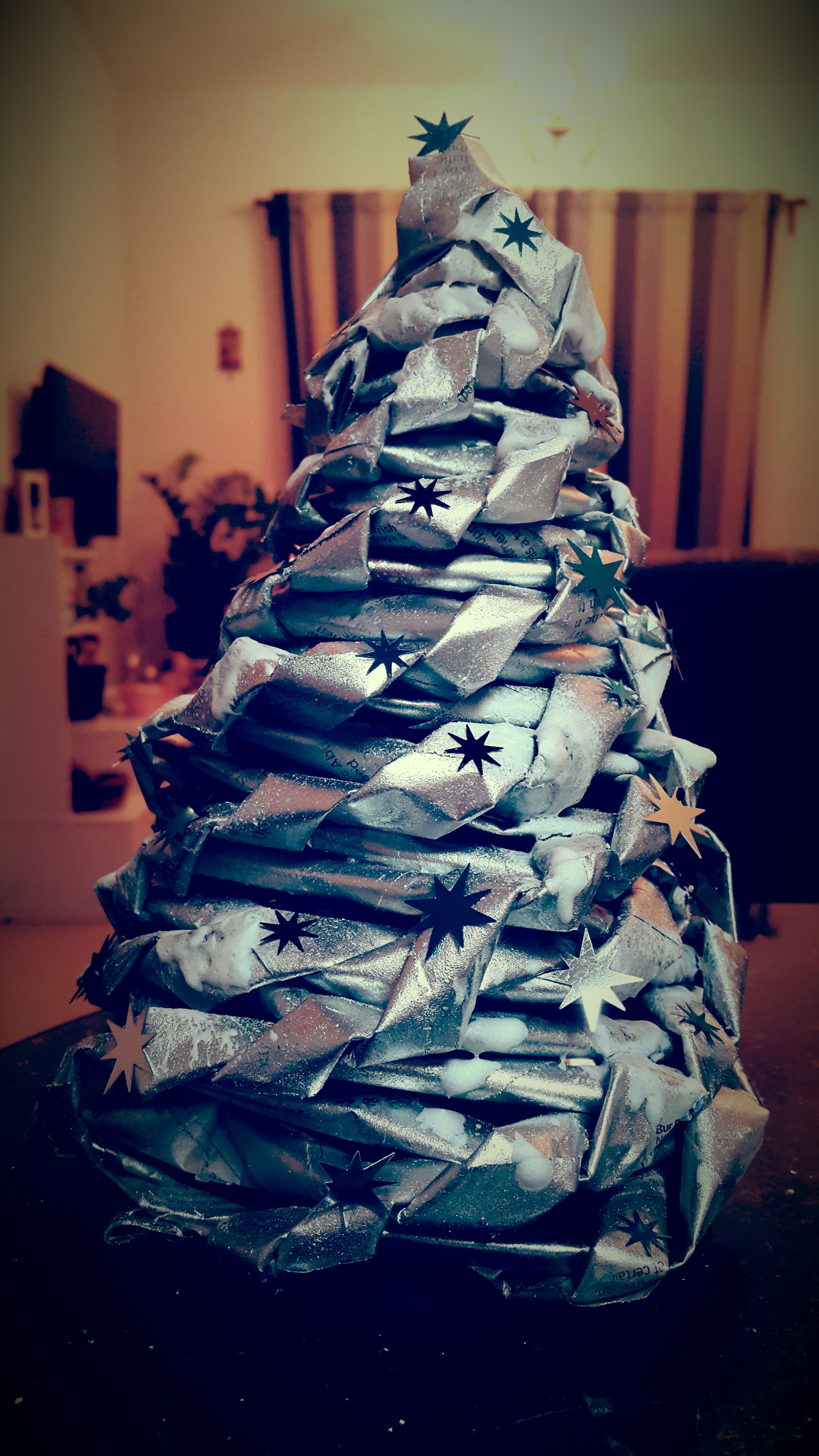 It's a great cathartic outlet and keeps idle hands (and minds) busy. There's no expectations when it's one of a kind and it's made with our own hands! And it doesn't have to be limited to crafts. If you can't craft, you can sing or read a book out loud and record yourself. Or make a play list. Or a slideshow. Or write a story/poem/letter. Or volunteer to help others who have much less than we have. The possibilities are endless!
3. Family gatherings are inevitable. And they often tend to get a bit too emotionally draining. However, they also present opportunities for growth. It's the same people each year. We know them inside out and what to expect from them. If we set aside some time to prepare ourselves for what we know that uncle is going to say or what that cousin twice removed will do to get on our nerves, then it's really not unexpected, isn't it? Rationalizing their thoughts and actions well in advance removes a lot of the emotional strain on that particular day. And what better season than the festive season to practice self-awareness and depersonalization? The best part? We get to pat ourselves on the back for getting an early start on our new years resolutions!
There are tons more where these came from. As BPD challengers, we often find it difficult to see the good in what we have. It's just too much emotionally. Or we just can't. But we can. You can! And I'd love to hear from you on all the other ways in which the holiday season is really positive and wonderful for you!
We want to hear your story. Become a Mighty contributor here.
Originally published: December 20, 2016