The Wall Art That Captures What It Feels Like for Me to Have BPD and PTSD
---
On Bell Let's Talk day, I shared this photo on Instagram and promised a blog post, so here's that post!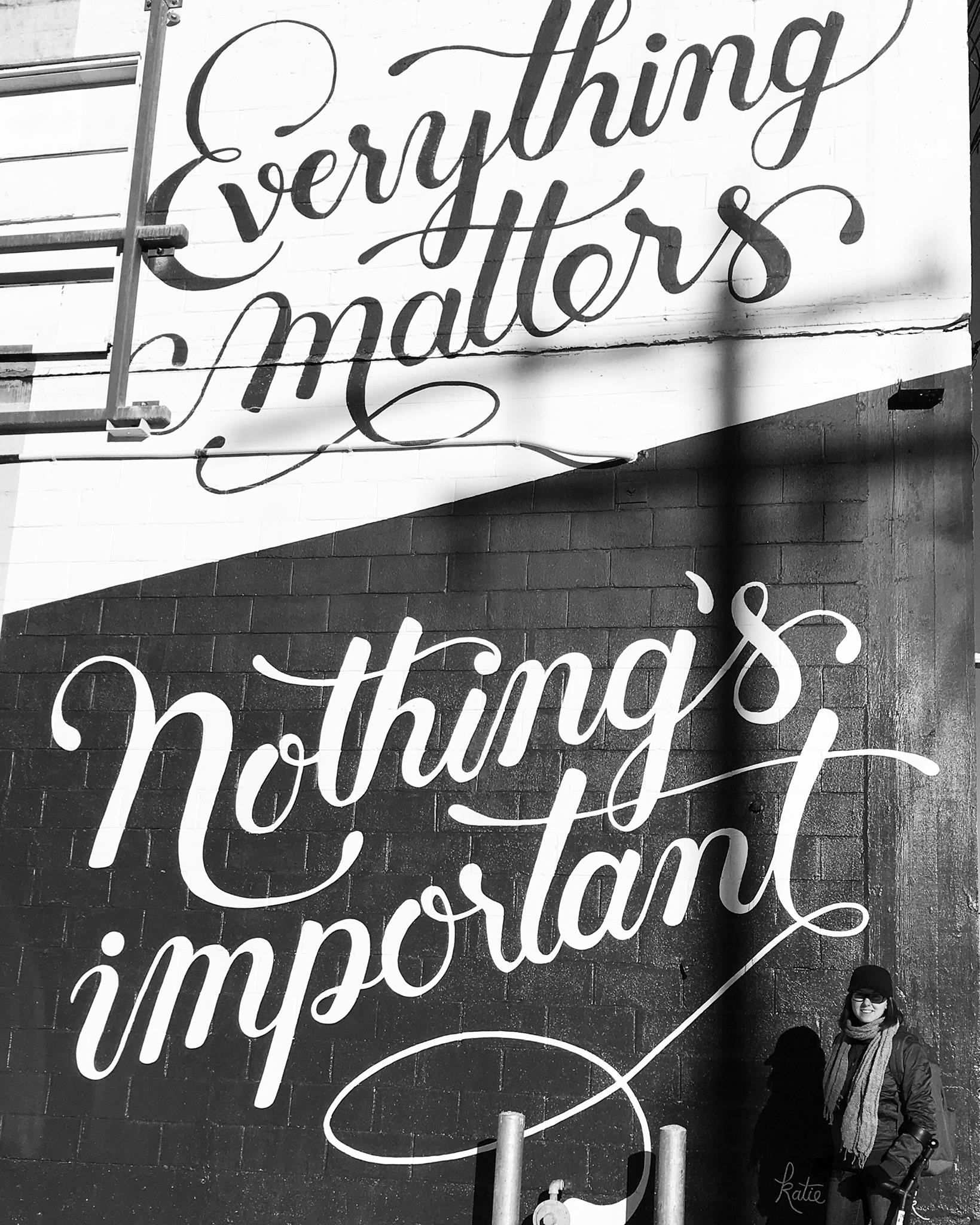 When my friend Audrey and I were downtown looking for street art, we came across this painting that says "everything matters, nothing's important," and I immediately felt it completely describes how I often feel living with post-traumatic stress disorder (PTSD) and borderline personality disorder (BPD).
Living with PTSD/BPD is tough, painful, sad, exciting, joyful, happy, and debilitating. At times it feels like "everything matters" — like life is nothing but wonderful. But it can also feel like "nothing's important" — like life is too painful to continue on. And it switches back and forth like that quickly, constantly. Sometimes it's even like everything matters and nothing's important at the same time, and that's really confusing.
It wasn't until recently that I've started learning more words for feelings; before that, things were just good or bad and there was nothing in between. I still have to challenge myself to figure out how I'm truly feeling. Everything is driven by emotions I don't understand. I find myself going back and forth between hating people in my life and loving them with my whole heart. Many moments are either dreadful or filled with so much joy that it's like I might just explode. I think the reason why things seem either good or bad is because when I experience positive or negative emotions they're to the very extreme.
For example, even with this blog post – when I post it I will likely feel confident and happy. Then, an hour later or a day later I might suddenly hate it, wish I never posted it, feel ashamed of my mental illness, and think people will hate me. Before I know it, I might even switch back to feeling confident and happy. Usually for no reason at all, or maybe I just haven't dug deep enough to find the answers or reasons yet.
But it's more than just the feelings. There's nightmares, flashbacks, and horrible anxiety – one or the other effects me almost every day. I want to work through the memories behind the PTSD symptoms, and I have been trying for years, but disassociation and difficulty trusting people makes that challenging. I can also be impulsive in a variety of ways to cope with the things I feel. Self-harm is one of those ways… one that's hard for me to talk about.
There have been so many dark moments but so many moments where the light has shone through. And although I greatly dislike that I have to go through all of this and that it often seems impossible to get through, I know I would not be me without these experiences; it allows me to feel empathy, to connect with people, to feel intense creativity and inspiration. Ask me another day, I might tell you how very angry I am and how much I despise having mental illness. But I always come back to the fact that everything matters. Life matters, I matter, and these experiences matter.
This is just my experience and definitely doesn't describe what everyone goes through with PTSD or BPD, but it is a little glimpse of how I experience the world.
Originally published: March 10, 2017