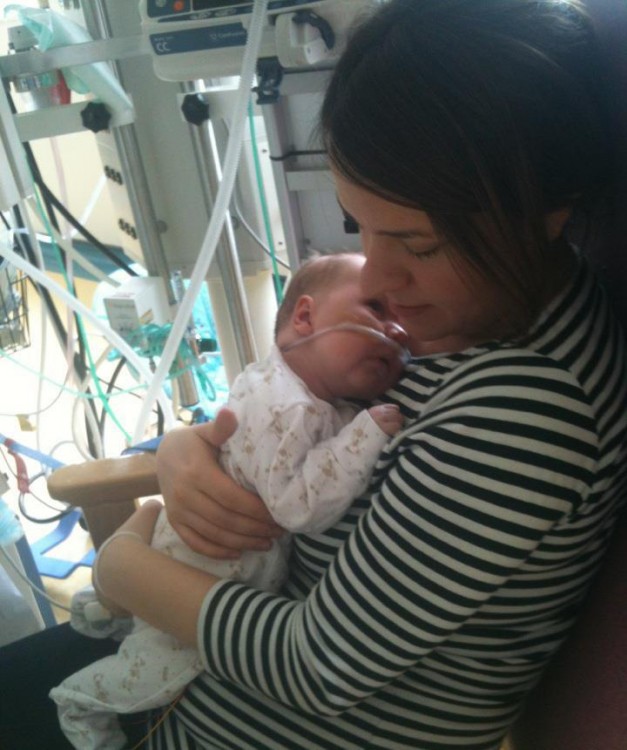 "It's not so difficult to save a life; it's much harder to save a brain." That was the response from my son's pediatrician when I commented on how lucky we were that my son, Leo, was still with us.
Leo, now nearly 3 years old, suffered shoulder dystocia at birth which caused a lack of oxygen to his brain. He was diagnosed with Hypoxic Ischemic Encephalopathy (a brain injury), and we were discharged from hospital with a bleak prognosis. The likelihood of severe disability was extremely high, and we were warned "not to rule out the worst end of the spectrum." Leo had no suck or swallow and was tube fed through his nose. He didn't make eye contact or track objects, his movements were a little stiff, his breathing was noisy. We got to grips with his round-the-clock care. We syringed medications and formulas down the tube. We learned how to use the suction machine to stop him from choking on his own drool.
It was a strange time, those first few weeks at home. Friends arrived with home cooked food, belated new baby cards and small gifts they weren't sure if we wanted. I opened the door to sad faces, people who didn't know what to say; it was as if someone had died. It was a confusing time, and as parents we were exhausted, shellshocked by all that had happened. Disappointed? Perhaps. Devastated? No. We were numb with grief but felt determined. We were grateful for the opportunity to bring Leo home and for the rehabilitation to begin.
Hypoxic Ischemic Encephalopathy (HIE). I'd never heard of it. It was impossible to pronounce, much harder to understand. So I did what any parent would do, and I Googled it. I learned quickly that as a special needs parent, Google is not your friend. There was little on the Internet that I could find to offer any hope. In desperation, I typed "HIE" into YouTube and a little video came up of a small boy in Australia playing in his backyard. He was moving around, sort of bunny hopping to play with his toys. He looked… happy. I emailed his mother to thank her for the video and for being able to offer a little flicker of hope. To my surprise, she emailed me back. She invited me to join a support group on Facebook. She told me there was a whole community of people who had children with HIE on Facebook from all over the world. She said there was a variety of different outcomes, and no two children were exactly alike, but there was always someone there, any time of day or night to answer my questions and offer support.
I will never forget that euphoric feeling of finding the HIE support forum. People familiar with all the terminology, people who understood. Suddenly I wasn't alone. There were children and families on there with the full spectrum of outcomes, from a full recovery to severe disability. I asked so many questions in those first frightening few months. I wanted to know what the future held, even though at times it was overwhelming. But they offered me so much hope, they gave me a picture into the future, and it wasn't so black. They shared photos of little boys with feeding tubes standing tall and proud at a family wedding, little girls rolling on their play mats, smiling and laughing at 3 years old, children in wheelchairs off for their first day of school. I was starting to see that life could and would go on — or as my Australian friend told me: "Things will be all right, you just have to change your definition of 'all right.'"
Seeking reassurance and advice from other mothers is a natural and normal part of being a parent, but it's one of the many things you're robbed of when you have a special needs child. This is simply because it seems no one can relate to the problems you have or the things you're going through. My aunt is a retired social worker who worked with children with disabilities and their families, and I remember her saying to me in those initial first days how lonely it was going to be. I wonder, though, if we're the generation that can change that. Even though it's difficult to get out on the house, even though visitors are thin on the ground and respite care doesn't seem to exist, we're not alone. There's always someone to talk to online.
In the U.K., we couldn't find a specific charity that offers support to parents of children who have suffered HIE. So as parents on the forum, we've decided to start our own, and I'm lucky enough to be a part of it. We've just had our first meeting in London. It was amazing to sit across the table from old friends who knew me well, even though we'd never before met. We shared our stories for the first time face-to-face, and I couldn't hold back the tears. In the real world, I've tried so hard to be strong for my son and not break under inhumane level of pressure a birth brain injury puts on the mother. People wonder so often how I cope with it all, but I'm lucky that I've found my village online. I realize that in obsessing about how to help save my son's brain, I've found the support of other mothers to help save mine.
Want to end the stigma around disability? Like us on Facebook.
And sign up for what we hope will be your favorite thing to read at night.
Originally published: March 2, 2015