These 8 Words Changed My Life After My Breast Cancer Diagnosis
---
We had already been shopping for rings when I noticed a small lump on my right breast one summer morning. Neither was a surprise but in 48 hours time, the eight words — "You have breast cancer" and "Will you marry me?" — changed my life forever.
Carter proposed two days after I was diagnosed.
Most newly engaged women jump right into wedding planning. (After all, who hasn't been keeping a three-inch binder/idea book of wedding dresses and ideas since we were six years old!) This binder, however, was filled with test results, blood work and treatment options.
Most newly engaged women shop for a wedding dress. I shopped for a wig since I would be bald on my wedding day.
Most newly engaged women research honeymoon destinations. I researched mastectomy options, surgeons, oncologists and hospitals.
Most newly engaged women pour over details like if their invitations should be white, cream, ivory or ecru. I poured over Oncotype and BRCA tests.
Our lives were complicated even further trying to plan for the wedding because we only had a one-to-two month window in between when my treatment ended and when Carter deployed to Afghanistan. (I know… I know… some people like to collect coins or stamps… we were collecting major life events!)
Our wedding was small — just us, his son, my parents and his mother, along with the JP. We paid the $30.00 and called it a day. I was sick and bald, but it was still a very special day for us.
Instead of a traditional wedding reception, the six of us went to dinner the night before.
We toasted. And we enjoyed a little "wedding cake."
Instead of a traditional wedding reception with lots of songs and dancing, we put a traditional wedding song playlist on the iPod and listened to it in the car as the three of us drove to the "Familymoon."
And instead of a traditional lovey dovey honeymoon, my new husband, stepson and myself took a long weekend to the Great Wolf Lodge indoor water park.
It certainly wasn't the wedding most girls dream of. But instead of spending nine months pouring over meticulous details of a wedding day, I learned about real love.
My boys stood by me every step of the way.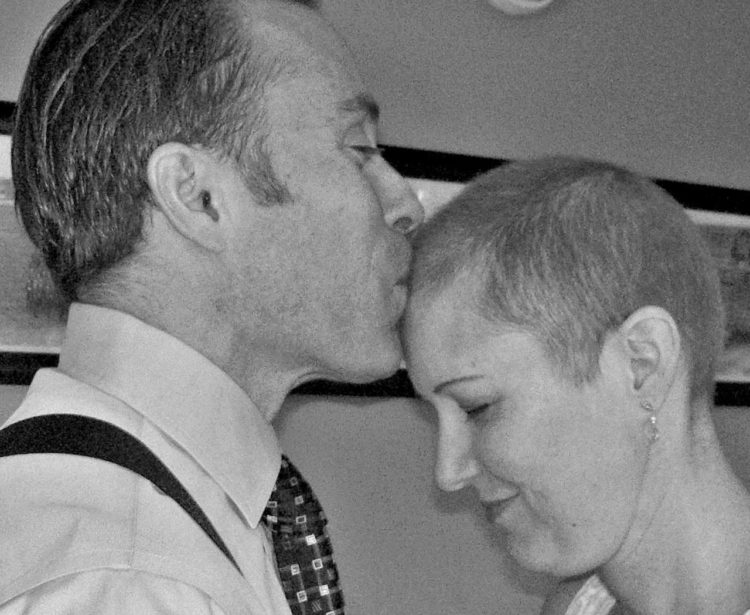 Those eight words changed my life. And I'll never look back.
This post was previously published on Pink Fortitude.
We want to hear your story. Become a Mighty contributor here.