Drugs, Hugs and Losing My Jugs: A Breast Cancer Journal - May 21, 2015 - Burying My Hair
---
This is the sixth entry in a 31-day Breast Cancer Awareness Month exclusive series featuring the real journal entries of breast cancer survivor, Jessica Sliwerski. Read the previous entry here.
I slept well last night after the festivities; the kind of deep sleep where you wake up momentarily forgetting who you are, where you are, what happened.
My pillow smelled like peppermint and for a moment I couldn't figure out why. And then I remembered the new product in my hair. And my new hair.
Fortunately I couldn't dwell on it too long because I also felt a massive pimple on my neck that urgently needed to be popped.
I caught a passing glimpse of myself in the mirror over my dresser as I headed out of the bedroom. I flipped on the lights in my bathroom and there I was. It was me, but not me. Or at least not the me that I've been so used to seeing for so many years.
Apart from my hair never being this short before, it's never been this dark. I have weird blonde patches all over my head, the scattered remains of expensive highlights.
"You look like a leopard," my friend Paul said. "That's hot." "I look freaky," I thought.
I walked out of the bathroom and into Penelope's room. I peered into her crib where she was babbling to herself and cooed, "Good morning, baby girl." She looked at me with her big blue eyes, drool all over her face, and gave me the biggest, happiest, gummiest smile. And like it always does, my heart split wide open. I was relieved that to her, I still looked like mommy.
More than anything, that's what I need right now.
Penelope doesn't give a fuck what I look like. She doesn't love me because I do or don't have hair. (If anything, it will be a relief to not have her grabbing fistfuls of my hair and painfully pulling it.) I know it's the same with Kyle and my friends and my family. They really don't care what I look like. They love me because I'm funny and smart and kind.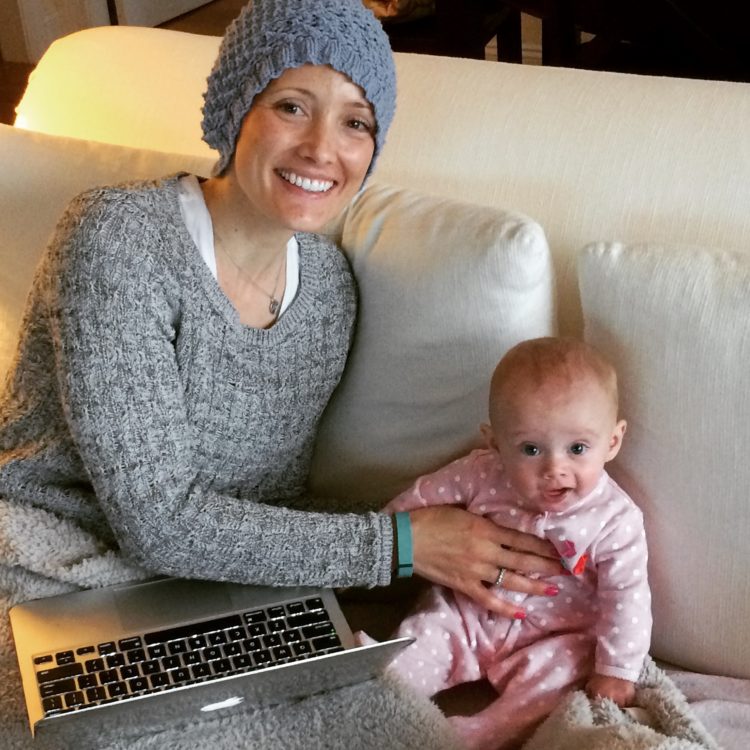 But it's hard to remember those things about myself right now. It's hard to love myself when I feel so battered, when I feel like everything has happened so quickly with very little time to process the magnitude of it all. And when I look in the mirror, it's hard not to focus on the scars and bruises and swelling and lumps.
I want to find beauty there, but I'm shocked and horrified by the foreignness of it all. And I'm still so damn anxious about the chemo and then the hormone therapy and my oncologist's response to my question, "When will I actually be out of the woods?"
She was silent for a moment, thinking. So I asked, "Will I ever be out of the woods?" And the answer is that although my cancer is "curable" and although the tumor is gone and the lymph nodes were clean, these cells are microscopic and I am young and my cancer was aggressive and it could come back. And if it does, it will be in my bones, my lungs or my liver.
And so, while I grieve for the loss of my hair, I also grieve out of fear of the unknown and the loss of my ability to be utterly carefree.
I saved the hair clippings. They are in a mesh bag from the salon. Jeanette told me, multiple times last night, that I cannot keep the hair.
When I got home from dinner, I opened the Aveda bag, examining the products Kyle bought me — fancy shampoo, conditioner, pomade. All thoughtfully purchased to make me feel better and I love him so much for this.
And then I looked at the little bag of hair. This morning I looked again. Jeanette said I have to say goodbye and bury it.
Since I don't live in the suburbs and I lack both a yard and a shovel, I joked about burying it beneath Kyle's pillow. "Or maybe I could make bracelets and sell them on Etsy," I said.
I also thought it would be funny for one of my colleagues to bring it to work and place it on my desk just to fuck with people. "What's that?" someone may ask. "Jess' hair," he could nonchalantly reply as he banged away at emails on his laptop.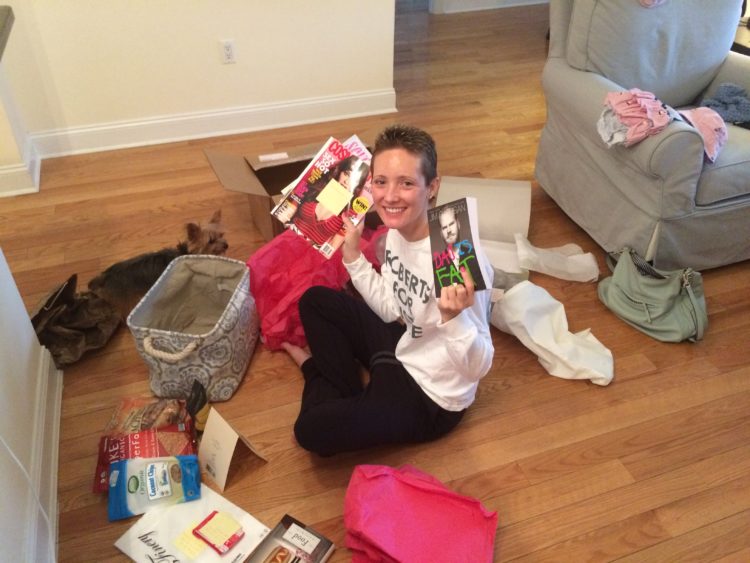 For now, I will bury the bag of hair in the back of the cabinet beneath my bathroom sink. When I am done grieving, I will probably bury it in the trash beside the toilet, where I thoughtlessly threw all my clumps of hair in the past.
We want to hear your story. Become a Mighty contributor here.
All photos courtesy of Jessica Sliwerski
Originally published: October 6, 2017