Drugs, Hugs and Losing My Jugs: A Breast Cancer Journal - May 27, 2015 - House Arrest
---
This is the eleventh entry in a 31-day Breast Cancer Awareness Month exclusive series featuring the real journal entries of breast cancer survivor, Jessica Sliwerski. Read the previous entry here.
After yesterday's performance, I spent today under house arrest.
Well, I was granted one reprieve. I left the house at 8 a.m. this morning with Jules, my former-nanny-now-chaperone, and headed to physical therapy all the way in Manhattan. I cannot go anywhere by myself right now, not just because I'm obviously a drug addict who cannot be trusted, but also because my blood counts are low and it's not safe. I could pass out again…
At therapy, Jules watched "Mad Men" on her phone while my therapist-goddess rubbed my boobs and, because she is kind, my self-inflicted back, neck and shoulder pains. I started crying on the table because it felt so good to be massaged and because I haven't had a mental therapy session going on two weeks now and I have a lot of emotions at the moment. Like, a lot.
When I got home I was told I had to r-e-s-t. Rest rest rest rest rest rest rest and rest some more.
"Upper management says you gotta rest," Jules informed me, looking at my grandma out of the corner of her eye while also (I knew) alluding to my husband.
I was now relegated to a third-class citizen in my own home and my comrades were Rusty and Penelope, the laziest dog ever and a baby who spends an inordinate amount of time talking to her feet.
I learned today, while freaking out on the phone with my oncologist, that there is a reason I cannot rest right now. My steroid dose was too high. It made me manic, err, more manic. I then didn't sleep. I am now overly exhausted and actually cannot sleep. I also learned, in case I hadn't already figured it out, that I, "shouldn't consume edible marijuana as a sleep mechanism."
"I'm sorry!" I wailed into the phone to my oncologist. "I've never done it before. It's not a habit. I don't 'do' drugs. I just needed to sleep. I… can't… sleep," I sobbed repeatedly into the phone.
My episode got me an appointment at the hospital first thing tomorrow morning. I will again be escorted by my chaperone, Jules, who will again be able to binge watch "Mad Men" while I stomp around in my ninja boots and my Fuck Cancer t-shirt because I already know I will be in that kind of mood.
They aren't just bringing me in because I yelled at my oncologist on the phone or because I "consumed edible marijuana as a sleep mechanism." I'm having some legit chemo side effects of the "call immediately" nature. That's the other thing I had a lot of time to do today — take inventory of precisely all the ways cancer is and is not fucking me up, which was simultaneously enlightening and depressing.
Here's what I discovered, in no particular order.
Neck rash: I thought I just had severely dry skin. Wrong. It's a reaction to the medicine I took 3 days ago. It's puckered, scaly, burns and is quite red.
When I responded with an answer I use for pretty much any blemish anyone ever asks me about, "I tried to pop a pimple," the man said something like, "I don't think so."
The funny thing is, I actually thought that's what the conversation was about because I was stoned out of my mind and completely unaware, until today, of the raging 'roid rash covering my neck.
Mouth sores: It's happening. One on the inside of my bottom lip. And they must be in my throat (yes, those fuckers are deceivingly named) because my throat hurts, too. This makes me more sad than the ugly rash.
Taste buds are virtually gone. Poof! Nada. I feel textures, but I ate a piece of Table 87 pizza tonight and there was nothing. And I love that pizza hard, especially when it's covered in basil like this slice was. And it tasted like nothing.
Tonight I am grieving my taste buds. Such a silly thing, really, but I feel very sad since I quite enjoyed food.
Blinding head pain: Head hurts like a bitch. Having never hit my head like this before, I never knew what it was like to have my head hurt so much I can barely see or stand or sit. I walked around with an ice pack for half the day. I took Tylenol.
I really did a number on myself. It won't stop hurting anytime soon.
Trashed right vein: Ugly bruise on the right arm. Please let it heal by next chemo session, please. I really do not want a port…
Bruises: On my shoulder, on my neck, on my back, on my hip, on my thigh, on my temples, on my chin.
Some are visible — ugly purplish blue marks that will fade to green and yellow and slowly disappear just as new battle wounds appear. Others are beneath my skin's surface, but I feel them just the same with their dull ache that cleverly evades ice and Tylenol.
And then there's that persistent bruise that is simply cancer. That one hurts the most.
Scratch: On my shoulder blade. I think it's from my collision with the trash can as I was gracefully falling from the toilet to the counter to the tile floor. Stupid fucking trash can. Seriously? You had to be right there?!
Numb left triceps: Still numb from the lymph node biopsy during my mastectomy. Slowly regaining some feeling and Penelope's claws don't cause as much pain when they incessantly pinch me. Progress!
Sticky tape: Tarry black pieces of EKG residue all over my body. They really do put those stickers everywhere.
Acne: Another gift from the steroids. On the face and chest. Likely soon to be on my back. So far they are of the itty bitty whitehead variety so I am exercising self-control and not picking them in hopes they will just go away. I doubt this will be the case, but a girl can hope.
Hairy armpits: They are still hairy. I have not shaved since my mastectomy. I can't. I had surgery and then drains and then stitches and now I'm healing and am at greater risk for infection.
I am simultaneously disgusted and fascinated by my armpit hair. Disgusted because the weather is hot and I want to wear tank tops when I'm allowed outdoors and I already feel so stripped of my femininity. Fascinated because any day now those little hairs are going to fall out.
I'm just waiting. And watching. And knowing that it will happen. I suppose this horrifies me more than fascinates me, actually.
Pink, pink nails: I painted my nails bright pink before my mastectomy. That polish stuck until two days before chemo, when I repainted them. I cannot get my nails done during chemo, again because of infection paranoia. So I'm waiting.
And this manicure, like each of my little hairs, needs to try to hold on a damn long time.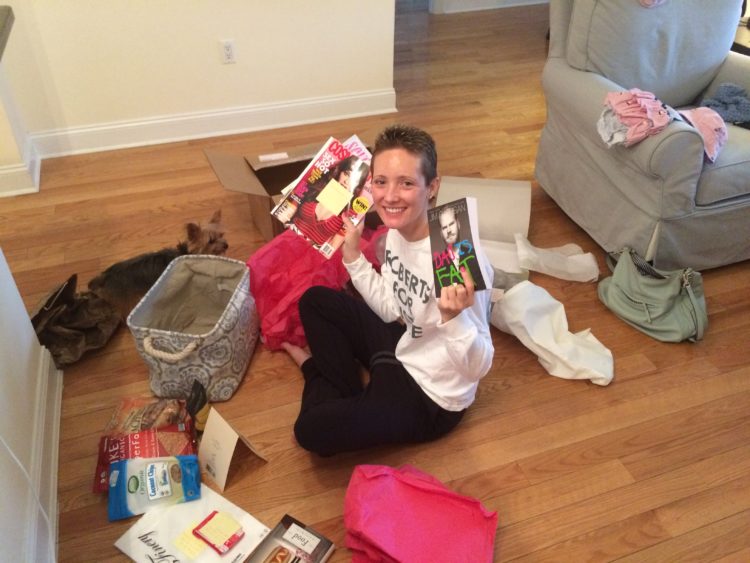 We want to hear your story. Become a Mighty contributor here.
All photos and videos courtesy of Jessica Sliwerski
Originally published: October 11, 2017