Drugs, Hugs and Losing My Jugs: A Breast Cancer Journal - May 28, 2015 - Nurse Donna
---
This is the twelfth entry in a 31-day Breast Cancer Awareness Month exclusive series featuring the real journal entries of breast cancer survivor, Jessica Sliwerski. Read the previous entry here.
Today Jules and I spent the day at the hospital. Jules, by the way, is now my nanny.
I walked into the infusion area, sat down in a chair and just started to sob. Donna, the lead nurse, came over with my nurse Ashley. They didn't need to ask what was going on because they already knew everything, including my emergency room visit.
"I'm looking at you and you need fluids," Donna said.
"That's what I told the paramedics. I said I was dehydrated and they said, 'If you can cry, you're not dehydrated,'" I tattled.
"Those animals!" Donna roared.
"Yeah. Those fucking animals!" I said, pissed. "And then they looked at the rash on my neck and tried to act like my husband did this to me," I said, getting all fired up.
"All they needed to do was look at your platelets and listen when you and your husband said 'chemo' and they would have known what the issues were. Those people!"
"I just feel like shit. I'm trying so hard, but I feel like shit. I suck so bad at chemo," I whimpered.
Donna leaned down and looked at me. "That's because you've had a lot of poison dumped in your little body. We're gonna get you right today, OK?"
"And I got my period," I told Donna. "I'm already low and now I'm losing more blood. Like, what the fuck?!"
"Of course you got your period. Of course!" she was getting fired up again. "On top of everything else you had to get your period because you aren't going through enough!"
"Yeah! Fuckin' mother nature doesn't give a fuck right now, Donna! She doesn't give a fuck about chemo and she really doesn't give a fuck about the fact that I wanted to wear my white pants today."
"Fuckin' periods, man. Fuckin' chemo. C'mon, let's get you taken care of, honey," she said leading me into an infusion room and tucking me into the comfortable chair.
"You want warm blankets?" she asked.
"Yes," I nodded. Warm blankets appeared.
"You hungry?" she asked.
"Yes." Food appeared.
"You're gonna be OK," Donna said as she turned down the lights and left the room. On her way out, she sent the massage therapist in to rub my feet.
For the next several hours I just let myself be taken care of by Donna and her angels. And then I went and saw my therapist upstairs and had a really good cry.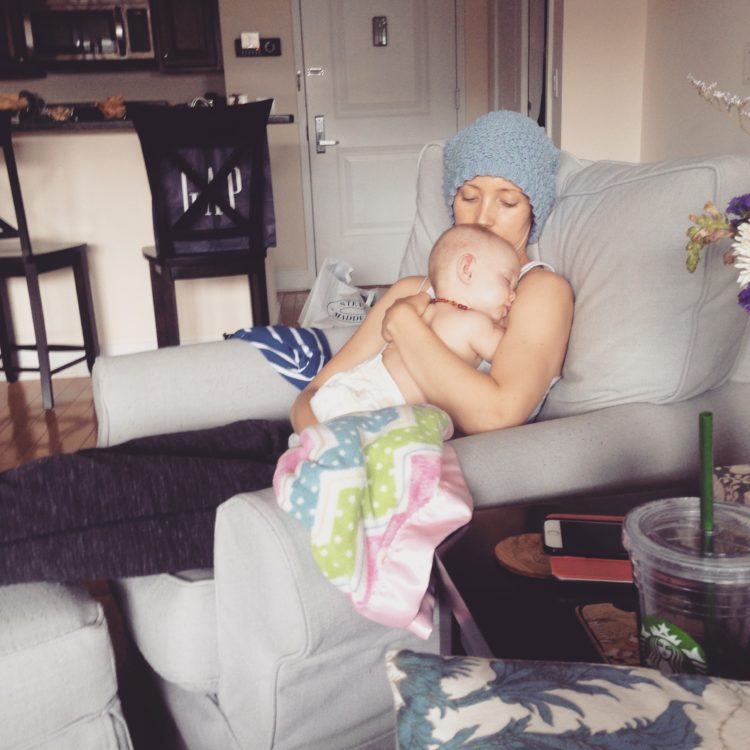 And tonight, I think I might be able to sleep.
We want to hear your story. Become a Mighty contributor here.
All photos courtesy of Jessica Sliwersk
Originally published: October 12, 2017